The 7 Most Successful 'Shark Tank' Products Ever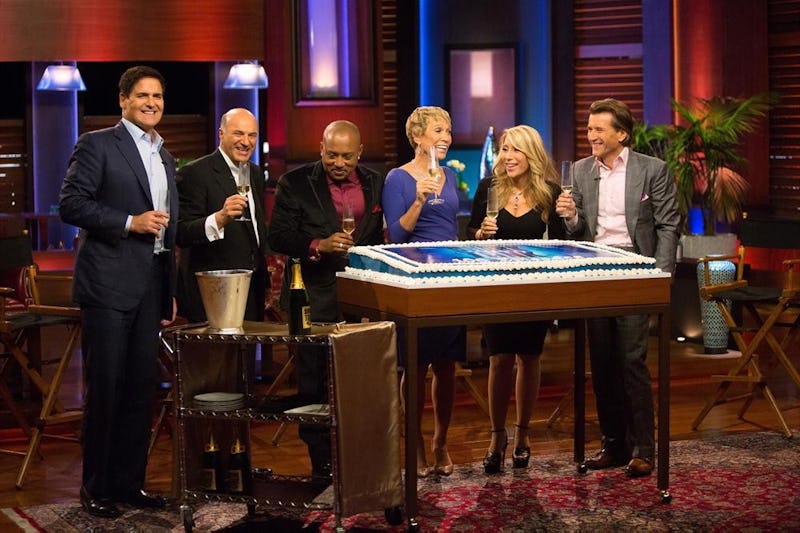 Throughout the past six seasons, Shark Tank has seen over 500 original products waltz, shimmie, sashay, and swim through its grand wooden doors. Many have inspired, "Why would you ever need that?" from viewers, but the few, the proud, have inspired, "How did they ever think of that — I wish I had thought of that." As a longtime fan of the show, my favorite part of every 60-minute episode comes not when Mark Cuban informs someone trying to sell popsicles for cats exactly how off the mark they are, or when one of the other Sharks goes at it with Mr. Wonderful. No, my favorite part is when, after the first one or two hopeful entrepreneurs have pitched their products, we get to see a "Shark Update," someone who the process has actually worked for.
Because while every deal made on Shark Tank may not be the beginning of a multi-million dollar business, the show has, indeed, put dozens of names on the map that otherwise would still be sending group emails to their friends and family about investing in their dreams. Just ask these millionaires, who are responsible for some of Shark Tank's most successful products.
Maybe thanks to my Southern roots, or more likely because of my forever-rooting-for-the-underdog attitude, but my personal favorite success story will always be Daisy Cakes. Like me, Barbara Corcoran often thinks with her heart; but lucky for her, Barbara's heart has a lot of intuition. Corcoran invested $50,000 in Kim "Daisy" Nelson's mail-order cake business for 25 percent equity. Barbara's only caveat was getting back $1 per cake sold until her investment was repaid... which she was, just three weeks after making the televised agreement. In her last Shark Tank Update, Nelson was projecting 2014 sales at $3 million.
Food-with-character seems to be a key ingredient for Shark Tank success. And again with the heartstrings (and business acumen)! Stay-at-home mom, Raven Thomas, wanted to set an example for her son by finally following her entrepreneurial dreams. And from that dream, The Painted Pretzel was born: at the time of filming, Thomas had just under $150,000 in sales in a little over a year, and $140,000 in orders she wasn't going to be able to fill without an investment... oh, and a $2 million order from Sam's Club. Mark Cuban knew growth when he heard it and agreed to her pitch of $100,000 for 25 percent equity, and now he's sitting pretty as an investor in a company that's likely to bring in $1.5 million in revenue in 2014 alone.
What has to be one of the most original products in Shark Tank history, is also one of the most successful. ChordBuddy is a device of long-time music teacher, Travis Perry's own invention, to help guitar beginners learn guitar on a guitar. It kind of turns a real guitar into a Guitar Hero guitar, assisting students in learning the chords until they're ready to advance. Perry partnered up with Robert Herjavec's offer of $175,000 for 20 percent stake in the company in 2013, and he clearly made the right choice. ChordBuddy is on track for $2 million in 2014, has broadened its product line, and brought on John Rich of Big & Rich as its national spokesperson. This one has nothing but growth potential in front of it.
One of Shark Tank's best and earliest successes was started by a few accidental entrepreneurs. Two guys with a great taste for barbecue sauce, Heath Hall and Brett Thompson, entered their renowned sauces into the National Barbecue Cook-Off in 2009, placed second, and suddenly had a business on their hands: Pork Barrel BBQ. Hall and Thompson entered the Tank with 10,000 units sold, and an order for 30,000 more, and left with a $50,000 investment from Corcoran for 50 percent of the company. It was a big chunk of equity to give up, but with $4 million coming in from their sauces annually, and a new brick-and-mortar restaurant in Alexandria, Va., Hall and Thompson (and Corcoran) are probably doing alright.
It's often the most innocuous of products that bring in the big bucks. I don't personally wear glasses that need to be taken on and off, so little did I know there was a gaping hole in the market just waiting for ReadeREST to fill. But if there's anyone I'd trust to recognize a product that people need (or at least think they need), it's Lori Greiner, "Queen of QVC." Greiner saw the small magnetic glasses holder as a product millions of people would see a use for, with tons of room for mark-up. And she was right! After an initial investment of $150,000 for 65 percent, she and QVC have helped bring inventor Rick Hopper's sales to over $8 million in the last two years, as he told CNBC.
Of course, every successful new business doesn't have to start with an invention. Stephan Aartsol entered the tank with a solid business strategy for a hot ticket item: paddle boards. Even though his initial pitch looked like it would come to a stuttering halt, a little encouragement from Kevin O'Leary — "It's only the biggest moment in your life" — got him back on track to tell the sharks how keeping his brand, Tower Paddle Boards, exclusively online meant lower overhead, which meant a lower price-point in sales, which meant sales had gone from $3,000 in Tower Boards' first month to $35,000 in its fifth. Mark Cuban had heard enough; he offered $150,000 for 30 percent, and now he's sitting with a company on track for $5 million in 2014 sales alone, as reported by the San Diego Union Tribune.
And finally, the big daddy of all Shark Tank investments: Scrub Daddy. Shark Tank can see all the Silicone Valley smarties it wants, all the most driven bakers in the world, but in the end, the greatest power of televised entrepreneurial-ship ends where it began: the good ol' fashioned infomercial. That was Aaron Krause's approach when he entered the tank, with a pitch for a new cleaning tool that will "scrub right through that mess." And wait… there's more!
The Scrub Daddy changes texture with the temperature of water applied to it, with no scratches left behind, even at its firmest texture. With nothing like it on the market, the Sharks went straight into a bidding war, but this was always QVC Queen Greiner's to win — and she did, with twice the amount Krase came in asking for: $200,000 for 20 percent. The two (now) partners were on QVC selling Scrub Daddy the day after its episode of Shark Tank aired, and sold out in no time, as it has every time its made a repeat visit to the network. Scrub Daddy is also now available in thousands of retailers, and Krause and Greiner together have brought its sales up from $100,000 at the time of air to over $18 million today.
Scrub on, Sharks!
Images: Michael Desmond/ABC; thepaintedpretzel.com