Presenting: The Worst Sex in Fiction in 2014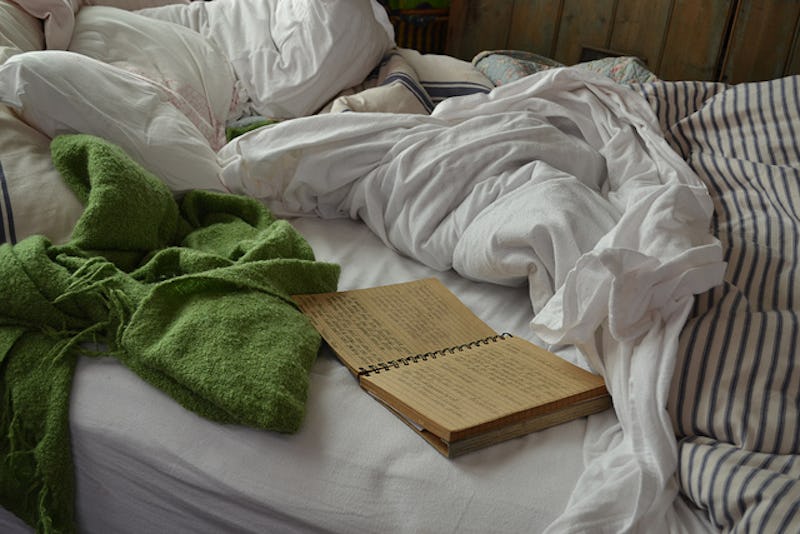 Norman Mailer, Tom Wolfe, and Lifetime Achievement Award winner John Updike can all lay claim to a shared crown: they're all past recipients of the annual Literary Review Bad Sex in Fiction award. Dubbed "Britain's Most Dreaded Literary Prize," the 2014 shortlist of nominees was just announced, and heavyweights like Haruki Murakami, this year's Man Booker Prize winner Richard Flanagan, and Pulitzer Prize winner Michael Cunningham made the cut. Here are the rest of the names:
The Snow Queen by Michael Cunningham
The Narrow Road to the Deep North by Richard Flanagan
The Hormone Factory by Saskia Goldschmidt
Colorless Tsukuru Tazaki and His Years of Pilgrimage by Haruki Murakami
The Age of Magic by Ben Okri
The Affairs of Others by Amy Grace Loyd
Desert God by Wilbur Smith
Things to Make and Break by May-Lan Tan
The Lemon Grove by Helen Walsh
The Legacy of Elizabeth Pringle by Kirsty Wark
You can read all the nominated passages at The Guardian.
The point of the awards is to "draw attention to poorly written, perfunctory or redundant passages of sexual description in modern fiction, and to discourage them." Sort of like a good-natured literary task force.
"It's not hard to find terrible writing about sex in fiction, even among the most literary authors," declares Carolyn Kellogg in the LA Times. NPR concurs, stating, "Even literary luminaries are guilty of bad sex." So, as evidenced by the nominees, not everyone can craft a poetic-yet-hot passage worthy of Anaïs Nin, Catherine Millet, or dear old D.H. Lawrence.
This year's nominated passages include words and phrases like "pudenda" (never sexy), "Above blood-jagged drool, its slobbery mouth clutched a twitching fairy penguin" (I am not even sure how to process this), and "It's like sticking your cock into the sun" (doesn't sound very pleasant at all).
Last year's winner (Manil Suri for The City of Devi ) was announced by mistress-of-bodice-rippers Joan Collins, so let's hope the 2014 nominees can take all of this with a grain of salt. Hot, sticky, heaving salt. See — it is hard to write erotica.
The lucky winner will be announced on December 3.