Will We See Kenya Moore's Secret BF on 'RHOA'?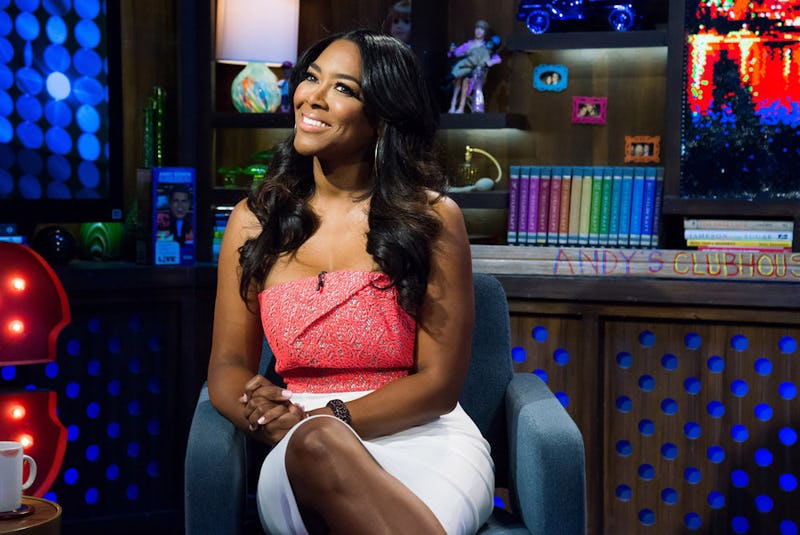 Kenya Moore has had some of the most unsuccessful relationships in television history. However, I can't feel that bad for The Real Housewives of Atlanta star, because she's also had some of the fakest relationships in human history. Now, supposedly Kenya has a new boyfriend, and, in an interview with The Real, she hinted that fans will have to watch the season in order to find out who he is and if he even exists. As to who this mystery man could be? There are a few possibilities floating around the Internet, and each is more far-fetched than the last.
I feel like we're being set up for yet another Kenya Moore showmance. Fool me once and we get the amazing sequence where Walter dumps her while fishing in Gucci sneakers. Fool me twice and we have to listen to "my boyfriend from Africa" stories for all of Season 6. But fool me three times? No thank you, Miss Twirl. It doesn't help that the rumors about who her new BF will turn out to be are already outrageous.
If you remember the "African prince" from Season 6, some diligent social media hounds uncovered that last spring, Kenya posted a photo of Nigerian businessman Tonye Cole at his Harvard graduation ceremony. Some believe that Cole is Kenya's "prince" BF.
By the way, that's not Kenya in the photo — that's Tonye's wife. Cole is still married, even though a man who looked very similar to him was photographed with Kenya last year around the time she was supposedly dating this mysterious man. It's possible that the two are friends, or that Kenya encouraged the confusion in order to drum up more attention for her relationship. But if not, and they were dating for the past year, that has got to be the least subtle extramarital affair of all time.
The Season 7 RHOA trailer doesn't help, though it does show Kenya flirting with Roger Bobb, a producer in Atlanta who was raised in the US but is of African descent (could he be the prince?), but he's in a public, longterm relationship with new cast member Demetria McKinney.
Another one of the BF rumors is that Kenya is engaged to a model from Germany whose visa was sponsored by Bravo solely so he could appear on The Real Housewives of Atlanta to "play" Kenya's fiancé. There's no proof that it's a credible theory, but Kenya did post a few Instagram pics complete with model-ready abs (that do not look like they belong to Tonye Cole) and relationship-esque captions.
That sounds completely insane, needlessly complicated, and exactly like something Kenya would do in a heartbeat if it meant she got to lord it over the recently single Phaedra and Porsha. A real romantic relationship would be too complicated. Kenya can't be bothered with that when she has accusations to launch at Nene or snide comments to script.
Personally, I imagine that Kenya spends most of the time that she's not on camera either in some kind of incubator that lets her maintain the same appearance she had in 1997, or in an all-white room Christian Bale's character would have coveted in American Psycho, sifting through the mountains of files she keeps on her co-stars in order to figure out the most devastating way to destroy them. I guess she's right — we'll have to watch the season in order to see how a boyfriend fits into her plans.
Image: Charles Sykes/Bravo; Giphy