Is Rihanna's 'Rated R' About Chris Brown?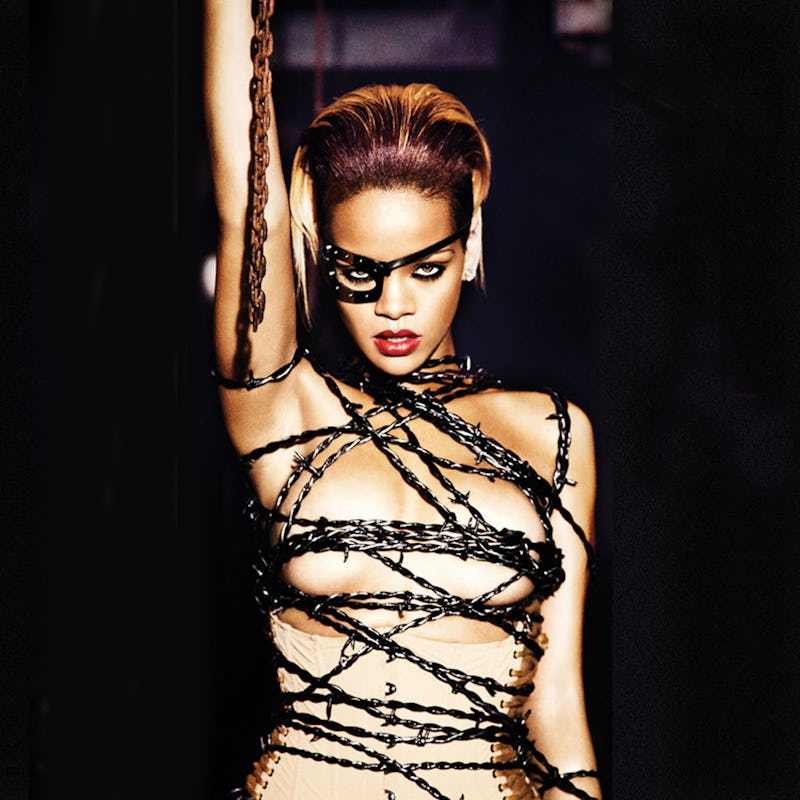 Thursday marks the fifth anniversary of Rihanna's Rated R, the 26-year-old pop superstar's most critically acclaimed and, arguably, most personal album to date. Unlike her previous efforts, Rihanna co-wrote the majority of the songs on Rated R — songs that deal with love, sex, and perhaps most notably, toxic relationships. Surprisingly, Rihanna began working on Rated R just two months after she was brutally beaten by her then-boyfriend, Chris Brown, on February 8, 2009. According to court documents, Rihanna and Brown argued in his car about a text message he had received from another woman before he became violent. Brown pled guilty to felony assault and was sentenced to five years probation for his crime. Rihanna, who understandably didn't speak publicly about the terrifying incident for several months, may have looked to music to help her heal.
Though producer Chuck Harmony astutely observed shortly before Rated R's release that people were going to assume any music Rihanna put out at that time was about Brown, there are definitely legitimate reasons to believe that the now 25-year-old singer inspired some of the album's lyrics — even if Rihanna didn't always write them herself. While Rihanna told MTV in a November 2009 interview that not all of Rated R 's songs were about Brown, she also said that, as a whole, the album is an "expression" of all the feelings she had experienced since that horrible day in February.
On this, Rated R's fifth anniversary, let's take a look back at the powerful lyrics that seem to point to Rihanna's troubled relationship with Brown.
"Stupid In Love"
"Stupid In Love" is about Rihanna's relationship with a liar and a cheater. Her friends tried to warn her that this guy was no good, but she just wouldn't listen. Hmm. Interestingly, there's a car reference at the beginning of the song:
...
I left the engine running
I just came to see
What you would do if I
Gave you a chance
To make things right
So I made it
Even though Katy told me that this would be nothing but a waste of time
And she was right
Don't understand it
Blood on your hands and still you insist on repeatedly trying to tell me lies
And I just don't know why...
"Russian Roulette"
Dark and cinematic, "Russian Roulette" finds Rihanna playing the deadly game of, well, Russian roulette — which could easily be a metaphor for her entire relationship with Brown. She's terrified, knowing that the next pull of the trigger could be her last — but for some reason, she keeps playing. She's no longer able to see the "value" of her life:
Take a breath, take it deep
"Calm yourself," he says to me
If you play, you play for keeps
Take the gun and count to three
I'm sweatin' now, movin' slow
No time to think, my turn to go
...
As my life flashes before my eyes
I'm wondering will I ever see another sunrise?
So many won't get the chance to say goodbye
But it's too late to think of the value of my life...
"Fire Bomb"
"Fire Bomb" is, once again, about a relationship that Rihanna knows is headed for disaster, destined to end in a fiery car crash. There's mention of the police and an ambulance being called near the end:
...
Where I'm going, I don't need my bakes
Can't wait to see your face when your front windows break
And I come crashing through
The lovers need to clear the road, oh oh
'Cause this thing is ready to blow, oh oh
I just wanna set you on fire so I won't have to burn alone
Then you, then you'll know where I'm coming from
Fire bomb
...
As we were burning, the world called the police
Fire department, ambulance
You can call me crazy
'cause I believe the only move for me and you is to go out blazing...
"Photographs" (feat. will.i.am.)
In "Photographs," Rihanna reminisces about a past relationship and questions where it all went wrong. She's still in love with this man — even though he broke her heart:
Here's a little story I gotta tell
'Bout this boy I know so well
Back in the day was cool and all
Fell in love, I fell in love
Thought he was the one for me
Others boys, I could not see
And look what happened to our love
I'm like, how could it be?
...
Baby, I'm hurting now
I know you're a better man when I was your girl
This land is a better land when you're in my world
Today will be better babe
If it were like yesterday...
"G4L"
"G4L" is a violent revenge fantasy set to music. In the song, Rihanna sings about being a part of a gang of female vigilantes who travel the world making men pay the ultimate price for their crimes. Damn. Obviously, I don't condone these lyrics, but there's no denying their power — especially when you consider Rihanna's history with domestic violence:
I lick the gun when I'm done
'Cause I know that revenge is sweet
So sweet
This is a gang
Ladies bang, baby, bang
Tell me what you need, oh
Any motherfucker wanna disrespect
Playin' with fire finna get you wet
How that feel down there on your knees?
...
We driving by with them headlights off
We know where you stay
Know what you did
We don't play that shit
...
Guns, check
Girls, check
Come on, we ain't done yet
Got a lot to handle
We ain't take over the world yet
We're an army
Better yet, a navy
Better yet, crazy
Guns in the air
Guns in the air, guns in the air
Can't hurt us again when you come around here...
"Cold Case Love"
The lyrics to "Cold Case Love" speak for themselves, really:
On my roof
Dark and I'm burning a rose
I don't need proof
I'm torn apart and you know
What you did to me was a crime
Cold case love
And I let you reach me one more time
But that's enough
Your love was breaking the law
But I needed a witness
So, pick me up when it's over
It don't make any difference
Will it ever be solved?
Or am I taking the fall?
Truth was there all along
Tell me, how did we miss it?
We opened up a cold case love
And it got the best of us
And now prints, pictures, and white outlines
Are all that's left at the scene of a crime
Of a cold case love...
Image: Def Jam