Aaliyah & Damon Dash Were R&B's Royal Couple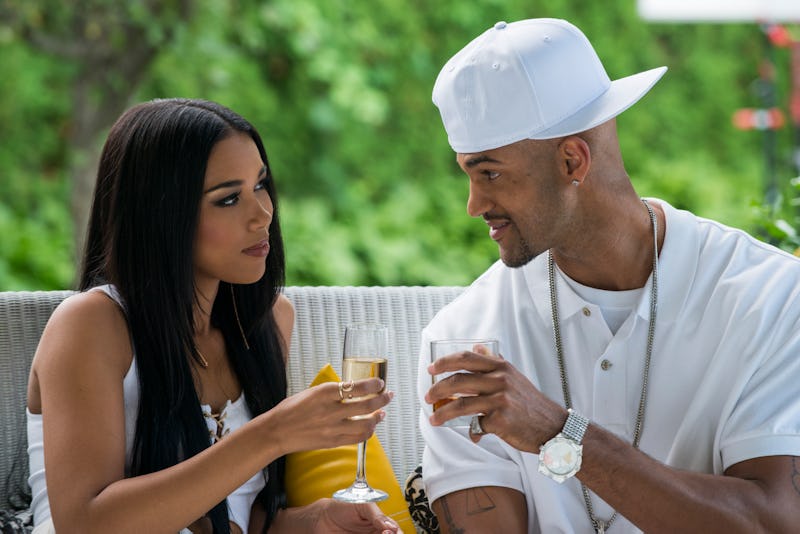 On Saturday, Nov. 15, Lifetime will air its controversial biopic about the life of Aaliyah, Aaliyah: The Princess of R&B , one of the most influential and tragic figures in R&B history. There was certainly enough material in the late singer's career to make a movie, though she was just 22 years old when she died. While many people are familiar with her music, Aaliyah's romantic life may draw some more curiousity. At the time of her death, she had been dating Damon Dash — the co-founder of Roc-a-Fella records — for over a year. What was Aaliyah and Damon Dash's relationship like? According to every source I could find, Dash says that these stars of the music industry were deeply in love.
Aaliyah and Dash first met through his accountant in 1999 (not exactly the most romantic situation, but they made it work). "Soon thereafter the couple was inseparable, smooching in snapshots and roaming from movie premieres, softball games to the Hamptons," according to Billboard. Aaliyah was only 20 years old at the time, but the pair's eight- year age gap didn't seem to faze either one of them. They were not formally engaged, but Dash said they both wanted to marry once their busy schedules allowed for it, according to MTV.com. Aaliyah had allegedly been married once before, to R. Kelly, when she was just 15 and he was 27.
After Aaliyah passed away, her boyfriend was heartbroken. As he told MTV:
She was the best person I ever knew. … I never met a person like her in my life. ...Every day that we were together, we cherished. Every memory — every day was a special event, whether it was going to a store or going to a movie or just sitting in a house. Wherever we were was like our own little party, in our own little world.
The couple obviously cared greatly for each other. At the time Dash and Aaliyah met, they had both already achieved tremendous success in the music industry. The Princess of R&B was signed to her first record contract in 1992 at just 12 years old, and released her first album, Age Ain't Nothing But a Number, two years later, according to the Telegraph. In 1996, she put out her second album, One in a Million, featuring the single "Are You That Somebody?" By 2001 — a year after she and Dash began dating — Aaliyah had released her final self-titled CD. It debuted at number two on the Billboard charts.
Back in the '90s, Dash was an even bigger figure in R&B. He and Jay-Z co-founded Roc-a-Fella Records together in 1995. The label released Jay-Z's first several albums, as will as Notorious B.I.G.'s, and later signed Kanye West as well as many other hip hop and rap performers.
Despite their demanding careers, Aaliyah and Dash still made their relationship a priority. As he told Billboard:
She was always working and shooting movies. She was always gone for like four months at a time, then come back and be gone for another month. She had to rehearse and I was doing my own thing, so it was really hard for us to get long stretches of time together. When you're with someone like that you buy into a life of being separate, but again, I couldn't help my feelings.
Looking back on their time together, and remembering his grief after Aaliyah's death, Dash added, "It was like something was going down in history every time I was with her. Every time I was around her I felt it was the place to be...She was one of the best people I ever met. Even with the pain I felt, I would do it all over again."
Images: Christos Kalohoridis/Lifetime; Getty; Giphy (2)