Which Wine Pairs Best With Your Chipotle Order?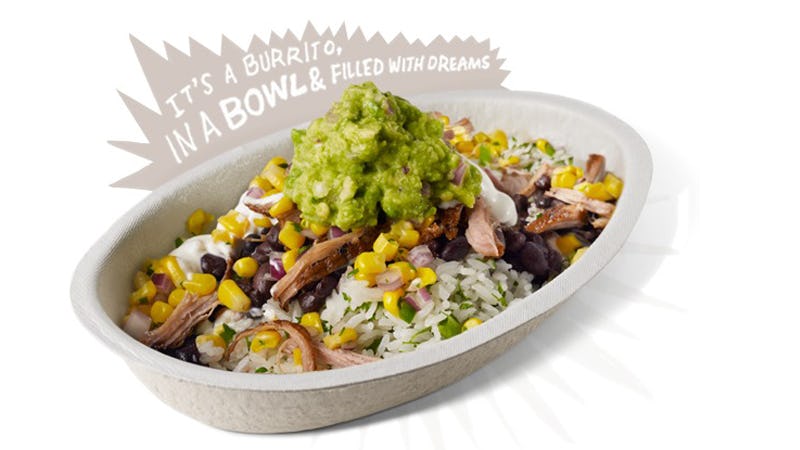 It's a common truth that the only thing in this world better than Chipotle is Chipotle paired with a glass of wine. After a long, rough day at work, sometimes all you really want is a delicious chicken burrito bowl with all the fixings and some vino — and there's no reason why you shouldn't have both. The problem? Those two things don't exactly mix… or at least they don't always seem to. The good news is they can go together — but it's all about picking the right wine to go with your preferred meal.
As an enthusiast of both wine and Chipotle, combining the two sounds like an excellent idea to me (in fact, I may or may not be contemplating this exact meal for dinner as we speak). So after a little digging (all in the name of journalism, of course), I figured out an easy way for you to figure out which wine you should pair with your favorite Chipotle meal to make it even better. The best part? These rules apply to most Mexican dishes, so you can use them any time you're craving a burrito (so basically, always).
Here's the secret: Spicier dishes should be paired with fruitier, sweeter wines that have a lower alcohol content to balance out the flavors. So if you like your Chipotle carnitas tacos with lots of hot sauce, go with a nice Riesling to complement the spicy taste. Not a fan of white wine? Rosé will also do the trick, or if you have to go red, a medium-bodied low-tannin wine like a Pinot Noir will work.
If you're avoiding spice altogether, another super simple rule of thumb you can follow is to pair white meat with white wine, and red meat with red wine. It's not an exact science, and the serious winos out there may not agree that this is always the case, but it works most of the time. And let's face it — we're talking about Chipotle and wine here. Clearly, it's impossible to go wrong.
So whether you're a chicken burrito kind of person or prefer chips and guac, whether you're into a rich Malbec or like your wine light and crisp, check out our handy Bustle infographic below to see which Chipotle-wine pairing works best for you. And if all else fails, pour yourself a glass of Pinot Gris or Sauvignon Blanc — as you can see, those two go with almost everything. Happy feasting!
Image: Chipotle; Giphy, Caroline Wurtzel/Bustle