31 Concerns About the 'Fifty Shades' Trailer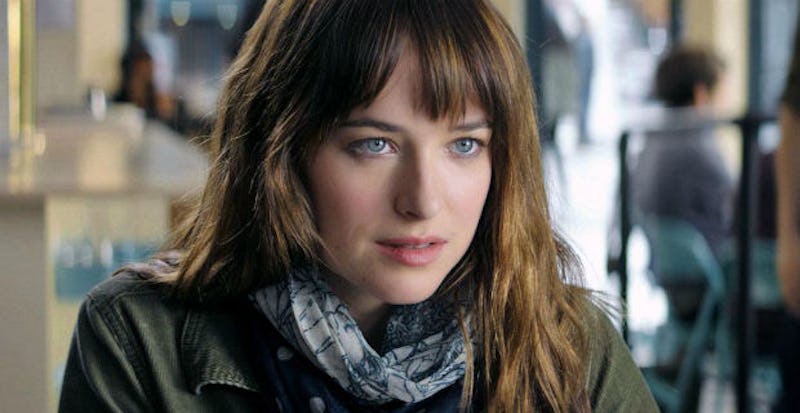 I'm just a simple gal, really. I get up every morning, I snooze about three times, finally I rip my exhausted body from my bed, brush my teeth, take a shower (sometimes not in that order), get dressed, eat breakfast, go to work. But then there are some obstacles put in my way that make my mundane routine morning a little more, well, interesting. Like say, when I innocently stumble upon the new trailer for the Fifty Shades of Grey movie when I've never read the books — because everyone knows there's only time for reading on mass transit and I'm not brave enough to do that in public.
Because of this, there's only a few things I can say about the trailer other than, UM... WHAT? Guys, for real... W.H.A.T?! And this was supposed to have stemmed from a Twilight fan fiction? Did E.L. James read Twilight? I see they're in Seattle, so she must have at least read a synopsis, but whoa, this is something else. It isn't even wild with explicitness, it's just suggestive enough that I feel I may need to bring moral support if I ever do manage to make it to the movie theater to see it.
Here are all the thoughts that went through my head as a non-Fifty Shades reader as I watched the trailer for the story that captivated nearly everyone:
IS THIS A HORROR MOVIE?
YOU PROBABLY COULD GET SOME VERY TOUGH STAINS OUT ON THOSE ABS
I SHOULD REALLY ORGANIZE MY CLOSET LIKE THAT
...OR MAYBE JUST CLEAN IT
IS THIS PORN FOR TYPE A PEOPLE?
I LIKE HER BANGS. THOSE ARE GOOD BANGS.
IS HE A REALLY SEXY DENTIST? I'M GETTING THAT STERILE ENVIRONMENT SORT OF VIBE
IS SHE QUICKLY TELLING HIM WHAT RELIGION SHE BELONGS TO BEFORE THE ELEVATOR DOORS SHUT?
OH RIGHT, THAT'S HIS NAME. IS HE HER RELIGION?
UNREALISTIC. ANYONE WITH BANGS KNOWS THAT RAIN IS OUR KRYPTONITE
DO DENTISTS DO PHOTO SHOOTS?
I FORGET EVERYTHING, JAMIE DORNAN'S EYES HAVE ERASED MY MEMORY
HE EXERCISES CONTROL IN ALL THINGS?
...BECAUSE I EXERCISE CONTROL IN ALL THINGS. WE'D HAVE A VERY TOUGH TIME COEXISTING
IS IT POSSIBLE TO DIE BECAUSE SOMEONE HALF SMIRKS?
OH DAMN, THAT IS A KISS IF I HAVE EVER SEEN ONE
WHAT THE HELL GOES ON IN WASHINGTON STATE?
INSTANT MOOD KILLER: TAKE ME ON A HELICOPTER RIDE AS I WRITE MY LAST WILL & TESTAMENT
OF ALL THE UNDERWEAR IN ALL THE LAND, YOU WORE THOSE?!
WHERE DID SHE GET THAT NIGHTGOWN? 1872?
HOW DOES HE KEEP THAT WHITE SHIRT SO CLEAN?
DO YOU THINK HE USES TIDE TO-GO PENS?
IT IS A HORROR MOVIE
IS THAT A GRADUATION CAP TASSEL?
DID HE INVENT JEANS? BECAUSE CLEARLY, THEY WERE MADE FOR HIM
TOO MANY AERIAL ACTIVITIES!
I'M SCARED
THAT LOOKS PAINFUL
OH... IS THAT THE POINT?
WHY?!
GREAT, NOW I'M SCARED OF Beyoncé
Images: Focus Features; Giphy (30); greyxsteel/Tumblr; fyeahfriendsgifs/Tumblr