Where Can You Find Energy In Kim's New Delhi?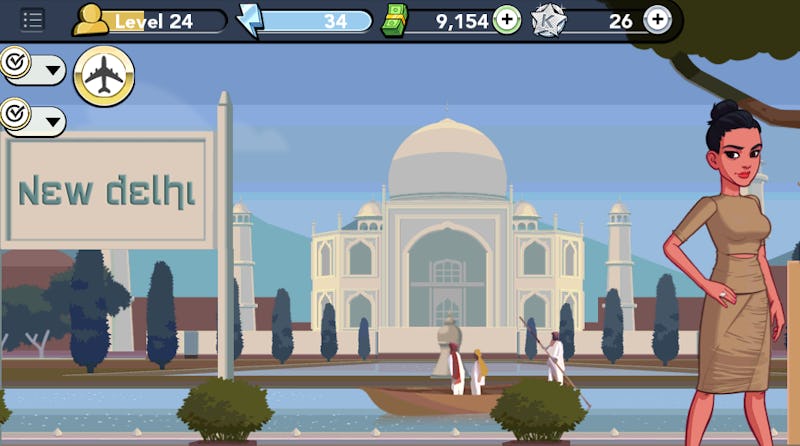 She might've broken the Internet, but she didn't break the Kardashian game. (Thank god.) We all might be focusing on Kim Kardashian's full-frontal Paper magazine spread, but what we really need to be talking about is the new Kim Kardashian: Hollywood update. Last week, the Kardashian game debuted its new update, which features a new location — New Delhi — among other great advancements (yay for private jets). Because Kim Kardashian wants us all to be Bollywood stars, people. But, while I'm excited about the idea of taking my talents and fame to greater, international heights, the typical KK: H pitfall still applies. Where can you find energy in New Delhi?
If you've made it this far and you're still trucking along on the road to Kardashian-level cyber-fame, you already know the struggles of running out of energy bolts. Being famous and working as hard as Kim is a tough job and it really can be draining, especially when you refuse to spend real money on this game like I do. (I know, I'm the worst Kardashian fan ever — I should be throwing my money at them for a chance to succeed in Kim's vision.) So, when you reach Bollywood stardom, where can you find energy in New Delhi? You're going to want to tap your heart out.
This Statue Can Save You
The items to tap for energy in New Delhi are limited, but the cow statue to the right of my avatar will grant you coins, cash money, and energy bolts.
This Little Monkey Isn't Just Adorable
Both the three-wheeled car and little monkey wearing the cute, little fez are also your tapping destinations for New Delhi. Also, when you tap the monkey, he dances and it's adorable.
See you in Bollywood, my fellow Kardashian wannabes!
Images: Kim Kardashian: Hollywood (3)