Thanksgiving-Flavored Kettle Chips: Yea or Nay?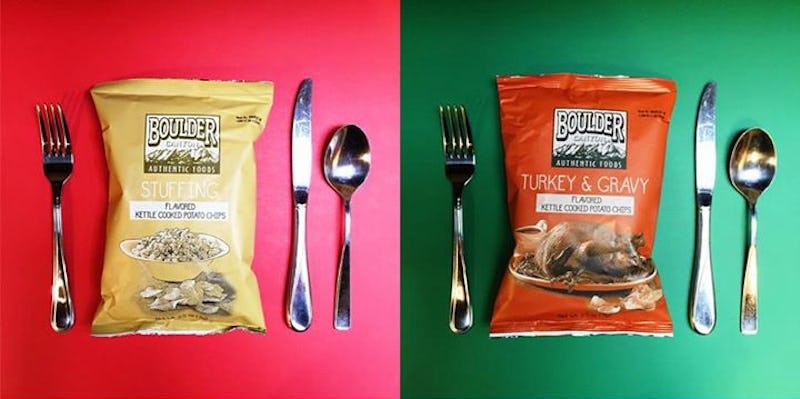 Violet Beauregard's fate after popping Willy Wonka's Three-Course Dinner Chewing Gum in her mouth is probably one of the most horrifying moments in children's literature — but until she starts turning into a giant blueberry, the idea of something as small as a stick of gum tasting like a whole three-course meal is actually pretty appealing. I don't know whether that was the inspiration for Boulder Canyon's Thanksgiving Feast kettle chips, but it may as well have been: They've somehow managed to squash an entire Thanksgiving dinner into four kettle chip flavors. For real. Are you impressed? Because I am. I mean, I'm also a little grossed out… but mostly, I'm impressed.
The Wonka analogy may not be perfect — as far as I know, eating four bags of potato chips will not make you as full as we all inevitably do after celebrating Thanksgiving — but it's probably as close as we've gotten to that wacky chewing gum IRL since Jones Soda first came into existence. The Thanksgiving Feast package contains bags of kettle chips in Turkey and Gravy, Stuffing, Cranberry, and Pumpkin Pie flavors; according to Food Beast, you'll be able to snag them exclusively at Target through the end of November. Wild, right?
I haven't been able to give them a test myself (yet!), but a couple of brave souls who posted a video review on YouTube have. They note in their review that they didn't actively seek out Boulder Canyon's holiday edition offering; they just kind of stumble upon them and decided they'd give them a shot. Here are their verdicts on each one in a few proverbial nutshells; scroll down to watch the whole video:
Turkey and Gravy:
From the guy on the right: "That is phenomenal! It tastes like KFC gravy!" Well done, Boulder Canyon!
Stuffing:
According to our buddy on the left: "It reminds me a lot of [the turkey ones] — just a little… weaker." It was also described as "spice-y" — not spicy in the hot sense, but spice-y, as in, full of herbs and spices. They seem a little less taken with this one.
Cranberry:
First off, the chips are dusted red. Just, y'know… FYI. The fella on left noted that they "have a sweet cranberry flavor to them" that does in fact taste like cranberry sauce; no one really seems to like them, though, so do with that what you will.
Pumpkin Pie:
It happened, you guys: Pumpkin spice potato chips are officially a thing, and apparently they're actually pretty good. "I think they nailed that one pretty well," noted the dude on the right. I think the guy on left's face says it all: That's the universal expression for "Not bad."
I'm both fascinated and terrified. Anyone else?
Watch the whole review here:
Images: Boulder Canyon Natural Foods/Facebook; Tami Dunn/YouTube (4)