19 Quotes from Books to Boost Your Christmas Cheer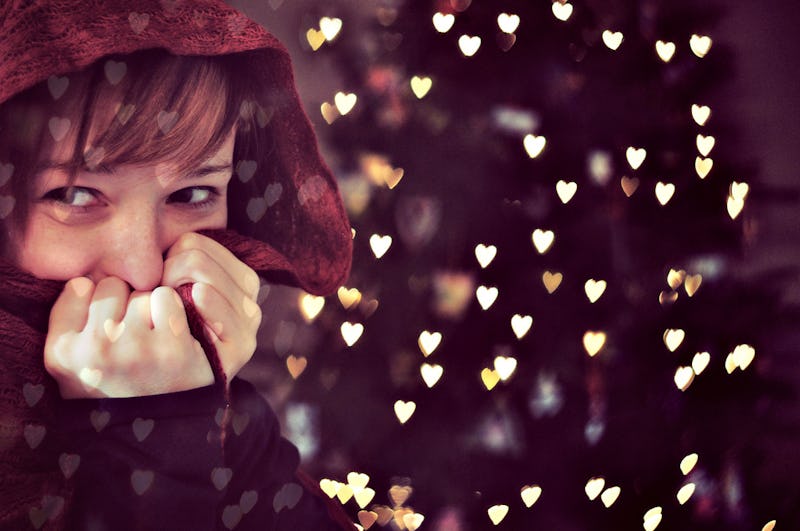 Now that it's beginning to look a lot like Christmas, there's a whole lot of hustle bustle out there trying to finalize travel plan chaos, check the weather reports (snow. always.), and find the best Christmas presents everyone will enjoy without completely depleting your hard-earned dollar bills. In all this madness, you can sometimes forget to just sit back, crank up the jolliest Christmas carols, and do a little Snoopy dance at how awesome the holiday season can be.
Luckily, writers both contemporary and classic are there to help you remember with these Christmas quotes from books. They're like little Tiny Tim spreading the Christmas spirit, even when your plane was overbooked and delayed with what the weather forecasters are calling a "wintry mix" and — of course — it seems like the only travelers at the airport with you have screeching children. In these times, remember what Scrooge learned from the ghosts of Christmas past, present, and future, put a little Mariah Carey Merry Christmas album on your sound-blocking headphones, grab an egg nog latte with extra nutmeg, and repeat some of these quotes like a holly jolly mantra in your head.
And even the Grinchiest of holiday Grinches: I promise your heart will grow three sizes.
1. "The dance, like most dances after supper, was a merry one; some of the older folks joined in it, and the squire himself figured down several couple with a partner, with whom he affirmed he had danced at every Christmas for nearly half a century."
―Washington Irving, Old Christmas
2. "I don't want Christmas season to end, because it's the only time I can legitimately indulge in on particular addiction: glitter."
―Eloisa James, Paris in Love
3. "Christmas Eve was a night of song that wrapped itself about you like a shawl. But it warmed more than your body. It warmed your heart... filled it, too, with melody that would last forever."
―Bess Streeter Aldrich, Song of Years
4. "And how did little Tim behave?" asked Mrs Cratchit, when she had rallied Bob on his credulity and Bob had hugged his daughter to his heart's content.
"As good as gold," said Bob, "and better. Somehow he gets thoughtful, sitting by himself so much, and thinks the strangest things you ever heard. He told me, coming home, that he hoped the people saw him in the church, because he was a cripple, and it might be pleasant to them to remember upon Christmas Day, who made lame beggars walk, and blind men see."
―Charles Dickens, A Christmas Carol
5. "Thanksgiving was nothing more than a pilgrim-created obstacle in the way of Christmas; a dead bird in the street that forced a brief detour."
―Augusten Burroughs, You Better Not Cry: Stories for Christmas
6. "At one time, most of my friends could hear the bell, but as years passed, it fell silent for all of them. Even Sarah found one Christmas that she could no longer hear its sweet sound. Though I've grown old, the bell still rings for me, as it does for all who truly believe."
―Chris Van Allsburg, The Polar Express
7. "It was the beginning of the greatest Christmas ever. Little food. No presents. But there was a snowman in their basement."
―Markus Zusak, The Book Thief
8. "Christmas Eve was a night of song that wrapped itself about you like a shawl. But it warmed more than your body. It warmed your heart... filled it, too, with a melody that would last forever. Even though you grew up and found you could never quite bring back the magic feeling of this night, the melody would stay in your heart always ― a song for all the years."
― Bess Streeter Aldrich, Song of Years
9. "Pray, dear madam, another glass; it is Christmas time, it will do you no harm."
―William Makepeace Thackeray, The Kickleburys on the Rhine
10. "Christmas day is the children's, but the holidays are youth's dancing-time."
—Booth Tarkington, The Magnificent Ambersons
11. "He had been to see Mrs. Erlich just before starting home for the holidays, and found her making German Christmas cakes. She took him into the kitchen and explained the almost holy traditions that governed this complicated cookery. Her excitement and seriousness as she beat and stirred were very pretty, Claude thought. She told off on her fingers the many ingredients, but he believed there were things she did not name: the fragrance of old friendships, the glow of early memories, belief in wonder-working rhymes and songs."
—Willa Cather, One of Ours
12. "A lovely thing about Christmas is that it's compulsory, like a thunderstorm, and we all go through it together."
—Garrison Keillor, Leaving Home
13. "Miracles happen on Christmas, Pat. Everybody knows that shit."
—Matthew Quick, The Silver Linings Playbook
14. "Christmas is like candy; it slowly melts in your mouth sweetening every taste bud, making you wish it could last forever."
—Richelle E. Goodrich, Smile Anyway
15. "Christmas was close at hand, in all his bluff and hearty honesty; it was the season of hospitality, merriment, and open-heartedness; the old year was preparing, like an ancient philosopher, to call his friends around him, and amidst the sound of feasting and revelry to pass gently and calmly away."
—Charles Dickens, The Pickwick Papers
16. "And if it happened to be a Christmas-night when the great bell seemed to rattle in its throat as it called the faithful to the midnight mass, there was such an indescribable air of life spread over the sombre facade that the great door-way looked as if it were swallowing the entire crowd, and the rose-window staring at them."
—Victor Hugo, The Hunchback of Notre Dame
17. "There is something about Christmas that requires a rug rat. Little kids make Christmas fun. I wonder if could rent one for the holidays. When I was tiny we would by a real tree and stay up late drinking hot chocolate and finding just the right place for the special decorations. It seems like my parents gave up the magic when I figured out the Santa lie. Maybe I shouldn't have told them I knew where the presents really came from. It broke their hearts."
—Laurie Halse Anderson, Speak
18. "Then the Grinch thought of something he hadn't before! What if Christmas, he thought, doesn't come from a store. What if Christmas... perhaps... means a little bit more!"
―Dr. Seuss, How the Grinch Stole Christmas!
19. "I will honor Christmas in my heart, and try to keep it all the year."
―Charles Dickens, A Christmas Carol
Images: Courtney Carmody, Lars Plougmann, Lara604, safmedia, Andrés Nieto Porras, garlandcannon, MattysFlicks, Jack Berry, William Warby, Courtney Carmody, jadepalmer, Bridget Coila, ingrid eulenfan, Kevin Dooley, Carol VanHook, Origami48616, sunlight cardigan, Kevin Dooley, Barb Watson, Sarah_Ackerman, Kiewic/Flickr, Giphy