A Definitive Ranking of Every Song From 'Frozen'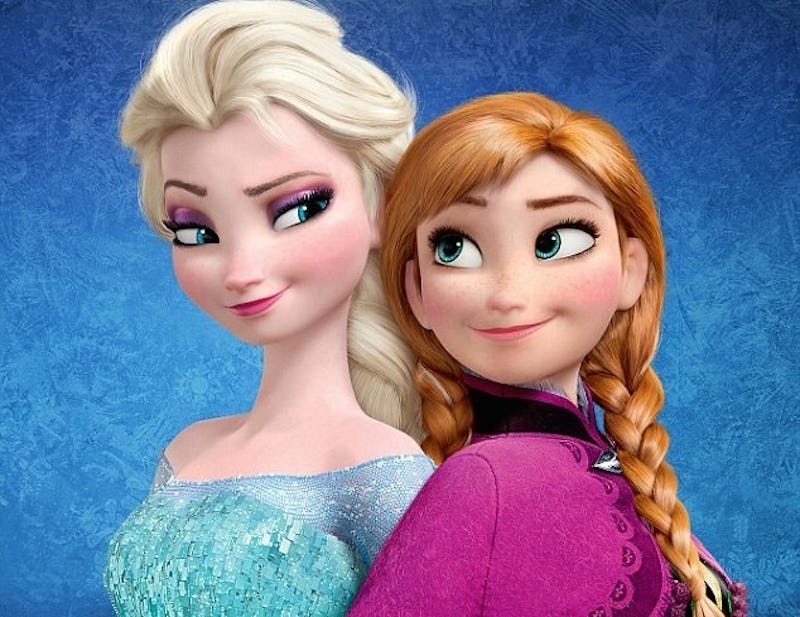 It's hard to believe Frozen is only a year old — partly because I feel like I've known Elsa and Anna all my life, and partly because I've heard "Let It Go" more times than I ever dreamed I'd have to. Released November 27, 2013, Frozen is obviously one of Disney's best movies ever. How could it not be, with Kristen Bell and Idina Menzel voicing the film's leading princesses and a plot that just about anybody could identify with? I'm still not tired of watching my DVD over and over again. Frozen has become one of those things that the entire human population has in common. When I'm not writing, I'm a Girl Scout leader, and nothing gets a nervous, shy kindergartener talking faster than bringing Queen Elsa of Arrendale into the conversation.
Another huge contributing factor for Frozen's success? The soundtrack, which is now one of the top selling albums of 2014. Disney always does music well — in fact, it's a given. But with Frozen, Disney has completely outdone itself. There have been more parodies and lip synch videos to songs from the movie than I can count, and just about every song lends itself exceptionally to a car ride sing-along.
What's the best song from Frozen? You'll have to keep reading to find out. I've ranked all seven songs from the movie — excluding the score — from worst to best.
7. "In Summer"
I realize tons of people are Olaf fans, but I am not one of them — and I fast forward through this song every time I watch the movie. Yes, Olaf is cute, and I'm willing to admit he does have a few funny moments, but to me he felt like the weakest link in the movie.
6. "Fixer Upper"
A random musical number with trolls? I realize that this song was used as a device to move the love story between Kristoff and Anna along, but can we not?
5. "Reindeer Are Better Than People"
This isn't just a song, but a fact. More often than not, reindeer are better than people — and Kristoff seems to be the only person who understands the love I feel toward my own animal companions. Not to mention that he's one of the most attractive Disney dudes ever (although no one will ever be as hot as Flynn Rider. Yum). Oh, plus, the song is pretty good, too.
4. "Love is An Open Door"
I love this song, and I love the viral video of the cutest family ever that spawned from it. It's super adorable — until, of course, you realize that Hans is a major douche. But in the moment? It's the perfect summation of everything you feel when you first fall in love, and I will probably play it at my wedding.
3. "Let It Go"
The love for "Let It Go" is so insane among Frozen's most loyal devotees that I'm almost scared not to rank this as number one, but to me, it's definitely third. Despite the fact that it's an awesome anthem for the movie (and life in general), people are obviously crazy about it, and Idina Menzel is a musical genius, it's simply not the very best the movie has to offer... especially when the lyrics are compared to the ones in the other songs. Also, it doesn't hold up quite as well. Now that it's been so overplayed, I wouldn't be sad if I never heard it again for the rest of my life.
2. "For The First Time in Forever"
In second place, we have Kristen Bell's solo as Anna, and it's one of my favorite Disney songs ever. Although Elsa's face is plastered all over most Frozen merch, the story, to me, is about Anna — a girl who has lost her parents, is ignored by her older sister, who used to be her best friend, and has been dying to see what's beyond the castle walls. Just as much as Elsa's been trapped, Anna's been trapped too.
1. "Do You Want to Build A Snowman?"
Obviously. Not only does it feature the adorable kid versions of Elsa and Anna, but it also manages to be upbeat and soul crushingly sad at the same time. A truly wonderful song is one that can make you smile, cry, and instantly tie to your own life experiences, and "Do You Want to Build a Snowman" is awesome at accomplishing all of those things.
Images: Disney, Giphy (5)