Obama Speaks on Killing of Peter Kassig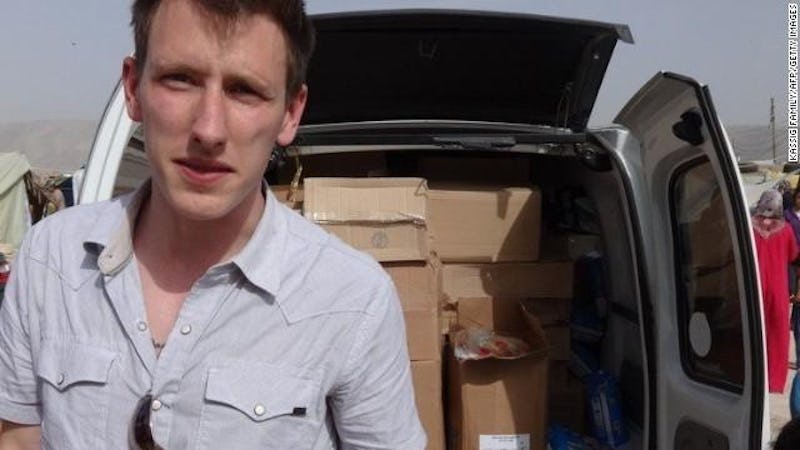 By now, you may already have heard the name Peter Kassig. Sunday brought the bad news — reports broke that ISIS had executed yet another hostage, this time 26-year-old former U.S. army solider and aid worker Peter Kassig. Like James Foley, Steven Sotloff, David Haines, and Alan Henning before him, Kassig's death was recorded and released on the internet, ostensibly as a means to antagonize President Obama and British Prime Minister David Cameron. Responding to the incident Sunday, President Obama called Kassig's killing "pure evil," and expressed care for his family's anguish.
Kassig, who converted to Islam and adopted the name Abdul-Rahman in 2013, was the third U.S. citizen to be killed by ISIS in this fashion (Foley and Sotloff were both American journalists, while Henning and Haines were both British aid workers), and as was the case for the previous victims, his death has sparked widespread outrage and condemnation. It's also spurred many outlets to report about Kassig's remarkable life and legacy, and that's a very positive thing — while fair people may disagree, there's something to be said for remembering these people for their lives, rather than risk letting them be defined by the actions of their killers.
For President Obama, however, a response to Kassig's death was inevitably going to broach the topic of his killers, as well as his remarkable life.
Abdul-Rahman was taken from us in an act of pure evil by a terrorist group that the world rightly associates with inhumanity. Like Jim Foley and Steven Sotloff before him, his life and deeds stand in stark contrast to everything that ISIL represents. While ISIL revels in the slaughter of innocents, including Muslims, and is bent only on sowing death and destruction, Abdul-Rahman was a humanitarian who worked to save the lives of Syrians injured and dispossessed by the Syrian conflict.
While ISIL exploits the tragedy in Syria to advance their own selfish aims, Abdul-Rahman was so moved by the anguish and suffering of Syrian civilians that he traveled to Lebanon to work in a hospital treating refugees. Later, he established an aid group, SERA, to provide assistance to Syrian refugees and displaced persons in Lebanon and Syria. These were the selfless acts of an individual who cared deeply about the plight of the Syrian people.
Kassig was doing humanitarian aid work in Syria when he was captured by ISIS militants back in 2013, which began a harrowing yearlong captivity, both for him and his family. The video showing Kassig's death was determined to be real by the U.S. Sunday, and the leader of the other Western power that's suffered citizen deaths in this way, British Prime Minister Cameron, offered his condolences and condemnation, as well.
Leading up to his death, Kassig's family did what they could to try to secure their son's return — just like the families of Steven Sotloff and Alan Henning did, they tried to appeal to ISIS to let him go, reportedly citing his conversion to Islam as a reason for mercy. Sadly, just as with Sotloff and Henning, ISIS doesn't seem willing to think in merciful terms. Kassig's family released a statement Sunday, sharing their grief for their son and for Syrians who've lost their lives, too.
We are heartbroken to learn that our son, Abdul-Rahman Peter Kassig, has lost his life as a result of his love for the Syrian people and his desire to ease their suffering. Our heart also goes out to the families of the Syrians who lost their lives, along with our son.
Images: CNN/Twitter; Getty Images