'State of Affairs' Has Some Truth to It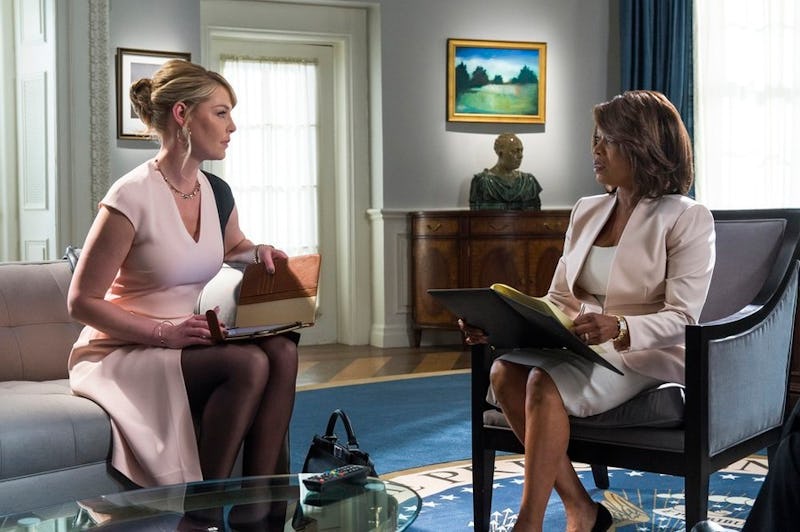 NBC's new political drama features plenty of scenarios we could only wish could come true in real life, but is State of Affairs based on a true story in any way? Alfre Woodard plays President Constance Payton, TV's first black female commander-in-chief, while Katherine Heigl holds the key to national security as Charleston "Charlie" Tucker, a CIA analyst who prepares the President's Daily Briefing — the daily summary of the top threats facing the country. It's a very high pressure job an someone's gotta do it, right? Too bad it's not such a simple scenario as it might seem. Premiering Monday night, State of Affairs features a tragedy that ties President Payton and Charlie together, and while it might seem real, the plot is mostly fiction.
That's not to say a top CIA analyst and the president's son couldn't fall in love and get engaged. In State of Affairs, Charlie was about to become Constance's daughter-in-law, until her fiance — and the First Son — was fatally and brutally shot in Kabul. The show opens a year later, with both Charlie and Constance trying to move on — and vowing to take revenge.
While that's a back story cooked up by the shows writers and producers, many of the elements of the show have roots in reality, such as...
CIA Love Affairs
Romance among the analysts and operatives is very common. Robert and Dayna Baer met while they worked at the CIA as operatives sent to Bosnia to prevent an assassination attempt. After returning to the United States, they went out on a date, later married, and wrote a book about the whole deal called The Company We Keep: A Husband-and-Wife True-Life Spy Story.
"You have someone you can talk to about what you do," Dayna Baer told NPR. "You can share things with them. It's much easier to have a relationship with someone inside the CIA versus the outside."
First Kids in Love
From Chelsea Clinton and Jenna Bush to Sasha and Malia Obama, there's always been a certain fascination with the children of the commander-in-chief — especially their love lives. The weddings of Jenna Bush Hager and Clinton received a lot of media attention, even though they got married to their respective spouses during their post-White House lives. None of have gone onto marry a CIA analyst — that we know of, anyway.
President's Daily Briefing
Known in the White House as "the book," this Top Secret and very classified document definitely exists. The first known briefing was put together in 1961 and since then, it has been put together by a CIA team to educate the president on the day's top threats to national security. State of Affairs exec producer Rodney Faraon produced the Daily Briefing for Presidents Bill Clinton and George W. Bush.
Images: Michael Parmelee/NBC (3)