The 'Interstellar' Unlimited Ticket Would Be Better Suited For These 10 Movies From 2014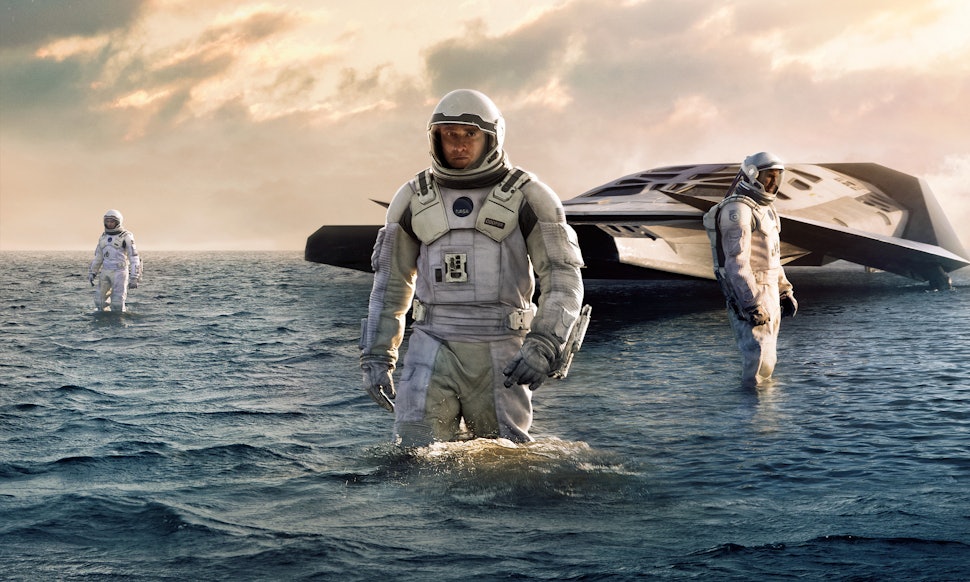 With Interstellar comes something new, daring, exciting, perhaps revolutionary... and it has almost nothing to do with the movie itself. Paramount Pictures, the studio behind Christopher Nolan's science-fiction epic, and AMC Theaters have teamed to offer the viewing public a unique opportunity: a special ticket to see Interstellar as many times as the purchaser wants.
While many theater chains or art house cinemas allow for pay-for-the-month packages and deals of this ilk, there has never to date been an unlimited ticket for a single movie like we're seeing with Interstellar. Sure, it's an engaging, mind-bending hit that is holding fast to the public conversation, but is Interstellar really the best option for a multi-view opportunity like this?
As much as I liked Nolan's latest, I'd wager that 2014 has given us (and will continue to give us) a number of films far more conducive to, or that would themselves benefit more from, multiple trips to the theater. Movies that get funnier with every watch, or that warrant two or three screenings to truly appreciate, or that simply leave you wanting more... even if it's more of the same.
As such, here's a few picks from the year in film that deserve their own unlimited tickets.
Image: Paramount Pictures
'SNOWPIERCER'
One of the kookiest, slyest, most original action adventures in cinema in years, Snowpiercer cannot be relegated to a single viewing. Everyone should watch this film twice or three times in order to mine all of the twisted fun it has at its disposal.
Image: RADiUS-TWC
'BOYHOOD'
If you're going to devote more than one in-theater viewing to a three-hour movie this year, Interstellar shouldn't be your top choice. The nigh magical Boyhood is certainly one to benefit from supplemental viewings.
After a first go 'round teaches you not to "expect" the constructs of normal narrative drama, the second will allow you to enjoy every moment of the pristine picture to its fullest capacity. Plus, watching Boyhood more than once is the closest you'll ever get to reliving childhood, so cherish the opportunity!
Image: IFC Center
'UNDER THE SKIN'
Sometimes, a repeat viewing is best utilized as a means to answer questions. The strange, probing Scarlett Johansson film Under the Skin will leave even the most astute viewers a trifle puzzled, perhaps enough to go back and tackle the enigmatic piece once more.
Image: A24 Films
'THE GRAND BUDAPEST HOTEL'
In the grand tradition of the age old farces of the Marx Brothers and Billy Wilder, The Grand Budapest Hotel gets funnier, sillier, and more delightful with every viewing.
Image: Fox Searchlight Pictures
'ONLY LOVERS LEFT ALIVE'
Just about the coolest movie to hit theaters in 2014, Only Lovers is the kind of movie you just want to hang out with. Making weekly late night showings of the hip picture a part of your crowd's regular routine will no doubt up your cred.
Image: Sony Pictures Classics
'WHIPLASH'
Long after its 106-minute runtime concludes, Whiplash's momentum stays with you. No one will blame you for wanting to experience the rush again and again with this impeccably paced music picture.
Image: Sony Pictures Classics
'GUARDIANS OF THE GALAXY'
Of all the mega blockbusters to hit theaters this summer, Guardians of the Galaxy might be the most fun. While Godzilla was a better testament to cinematic artistry and Edge of Tomorrow a more impressive genre experiment, the Marvel ensemble piece is as good a time as a superhero flick has been in ages. Thus, rather conducive to follow-up viewings.
Image: Disney
'ENDLESS LOVE'
Sometimes the best watches (or rewatches) come with the worst movies. Goofing on Endless Love, a dead-from-the-neck-up yet effectively bananas remake of the 1980s pseudo-classic romance, made for some of the most fun I've had at the movies all year. Winter's Tale and Labor Day also make for viable candidates in this category.
Image: Universal Pictures
'THE HUNGER GAMES: MOCKINGJAY'
You can bet that a large portion of the die-hard District 12 fans who flock to to opening night showings of the third installment of the Hunger Games franchise will, in fact, be back for more.
Image: Lionsgate
'INHERENT VICE'
It hasn't reached the public yet, but New York Film Festival attendees assert that this trippy, bonkers stoner comedy is rich enough in its weirdness to promise ample rewards to anyone willing to brave a second or third viewing.
Image: Warner Bros.