Adrienne Maloof Will Have a Huge Impact on 'RHOBH'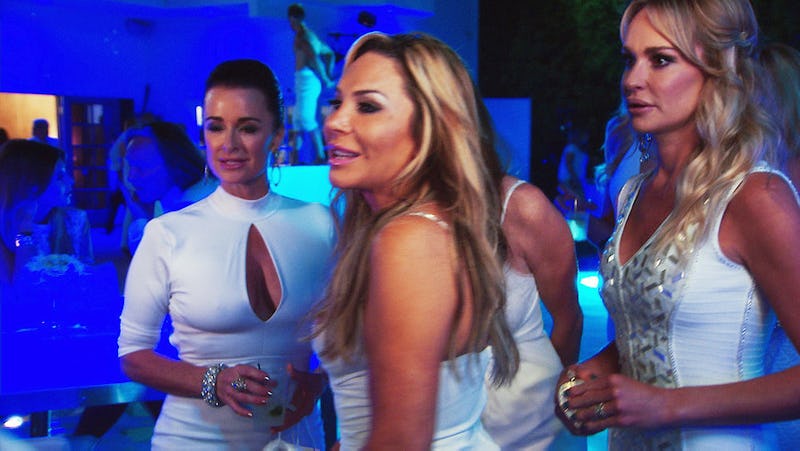 I cannot wait to see The Real Housewives of Beverly Hills premiere — because everyone's returning. Even Adrienne Maloof will be on RHOBH Season 5. Yep, even though she quit after Season 3 and hasn't been seen on Bravo since, she's finally back! Adrienne will appear occasionally throughout the season, even though she's not a main member of the cast. And she'll absolutely be in the premiere at Kyle Richards' White Party, which will feature all of the original RHOBH cast; Kim, Kyle, Lisa, Taylor, Camille and Adrienne will all be in attendance.
Adrienne says she's ready to go back to the show and is prepared to make amends with everyone on the show. She didn't specify whether or not she meant that she'd apologize to former best friend/neighbor Lisa Vanderpump, or if she's still expecting Lisa to apologize to her. Over the summer, Adrienne was spotted hanging out with Brandi Glanville, something that would come as a surprise to any RHOBH fan. This could mean that she'll be back as an ally for Brandi, who's been totally cut out by the rest of the ladies following Season 4, what with the tabloids prank and all the other stupid stuff Brandi did to piss off Lisa last year. Or, it could mean that Brandi's desperate to find a friend but Adrienne, trying to get back into Lisa's good graces, is taking Brandi to task for the things she's done. We'll see if that lunch ends up on the show.
But Adrienne isn't back in the cast full time, so you won't be hearing a new catchphrase or seeing her new house. Instead, she'll be recurring, so we'll just check in with her every once in a while, probably at whatever parties or events she's invited to.
Then there's the fact that she may have hosted a very important event in Season 5. A report from Radar Online alleges that Kim and Kyle Richards got into a huge fight over Kim's continued sobriety. Kyle doesn't believe that Kim has been able to stay sober, especially from their Season 4 cast trip to Palm Springs to the 2014 cast trip to Amsterdam. Their confrontation back in Season 2 was a big part of what prompted Kim to go to rehab, so, even if they aren't getting along because of this fight, it might turn out to be a huge turning point for the Richards sisters. Even without coming back full time, Adrienne will have a big impact on The Real Housewives of Beverly Hills this year.
Image: Bravo