Camille Grammar Deserves More Than a 'RHOBH' Cameo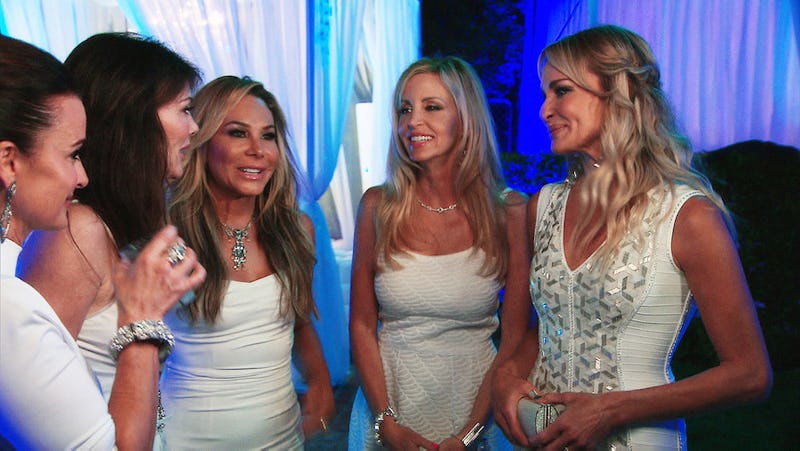 Camille Grammer is one of the greatest Bravolebrities of all time. If I'm being totally honest, I don't think The Real Housewives of Beverly Hills has even been as great since she left. Thankfully, the Bravo gods (Andy Cohen) have answered my prayers, because Camille Grammer will appear in the RHOBH Season 5 premiere! After missing years of psychic dinner parties, we're finally going to get another little taste of Camille. And while Bravo hasn't promised anything yet, she seems so excited about the season that I wouldn't be surprised if we see her return a few times throughout. She's not officially listed on Bravo's website as a cast member or a recurring "friend" of the ladies, but neither is Adrienne Maloof — who's already confirmed that she'll be appearing in a few cameos beyond the premiere. Fingers crossed that Camille will be doing the same.
The reality TV star has been very busy since she left the show, but now we'll get to see what she's been up to for all of 2014. Camille was diagnosed with endometrial cancer, and went into treatment at the end of 2013. Now that she's done with her treatments, Camille has become an anti-cancer activist.
We may even get to see some of The Race to End Women's Cancer, a huge national event that Camille has helped promote, on the show. The RHOBH love to show up for a good charity event, and no high heels required. Kyle Richards even posted on Facebook that she was excited to help support the cause by participating. And Camille made a very memorable modeling appearance at Betsey Johnson's NY Fashion Week show, where she dressed as a demented bride with raccoon makeup and, if you look close, a necklace that reads "PRENUP."
But even with all that going on, Camille has made time to excitedly tweet all week about the RHOBH premiere, throwing out #TBT pics featuring the original cast and telling all of her fans that she always makes time to watch the show.
And now we'll get to see her on screen again! I'm all for it. They need to give Camille as much screen time as she's willing to take. It's a fun reminder of the early seasons, and hopefully it will change things up from always revolving around Lisa, Kyle, and the friend police. Because Camille transcends all of that. PRENUP necklace, people. Prepare yourselves for amazingness.
Images: Bravo; Getty Images