The Best AirBnB Listing Ever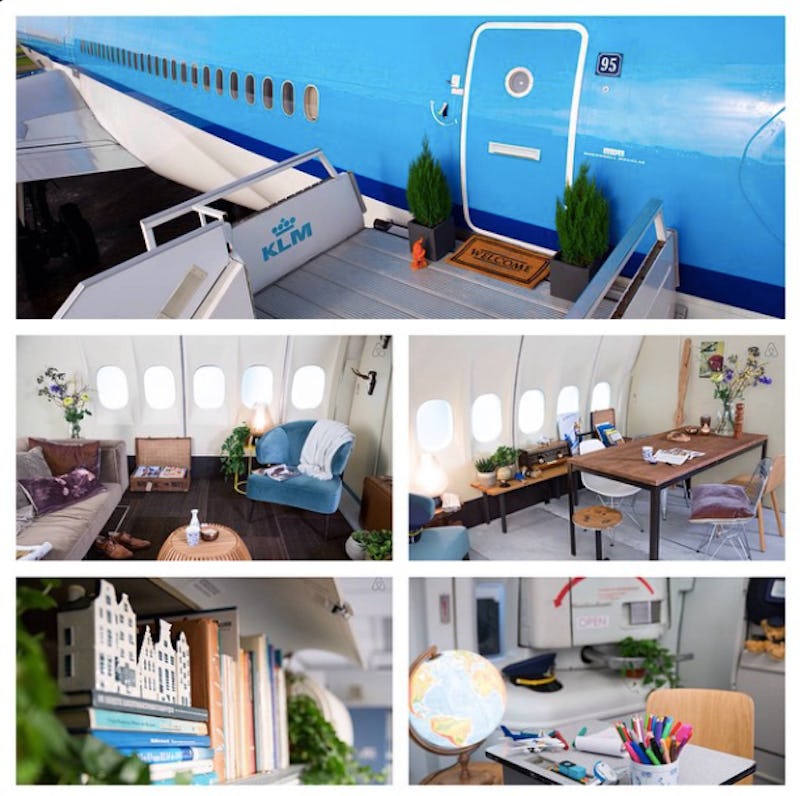 If you don't have any plans for the weekend after Thanksgiving then I might have just the thing to fill your schedule. Dutch airline KLM teamed up with Airbnb to offer lucky contest winners the chance to stay in a KLM airplane apartment for a night on November 28, 29, or 30.
But what, exactly is an airplane apartment? KLM refurbished one of their retired planes into a luxurious living space, complete with two bedrooms, eight bathrooms, a game console, a cockpit panorama window, and two kitchens. They will even be offering guests access to their entertainment system and provide airplane classics like Snakes on a Plane and Top Gun.
KLM's airplane apartment is currently listed on Airbnb, and three lucky contest winners will be able to spend one night on the plane with three companions of their choice. The airplane apartment is stationed at Schiphol Airport in Amsterdam, but the contest winners will be flown there and back. This is such an awesome idea...for those of you who have always wanted to explore a plane but have been stayed put because of the fasten seat belt sign, this is your chance.
There are, however, a few house rules that may put a damper on your airplane apartment fantasies.
• No flying. • Don't use the inflatable emergency slide. • Smoking is not allowed when the non-smoking sign is on. • No marshmallow roasting with the jet engines. • Please water our plants and feed our fish. • The consumption of alcohol is not allowed. • Please treat our plane like you treat your own plane.
Note: They said don't use inflatable emergency slide….this means that you are still free to play with any emergencies rafts that you may find. Also, I'm sure that the winner will be able to find something besides marshmallows to roast with the jet engines. So airplane aficionados...what are you waiting for? Enter for your chance to win here.