Cumberbatch Writes a Story About Kim K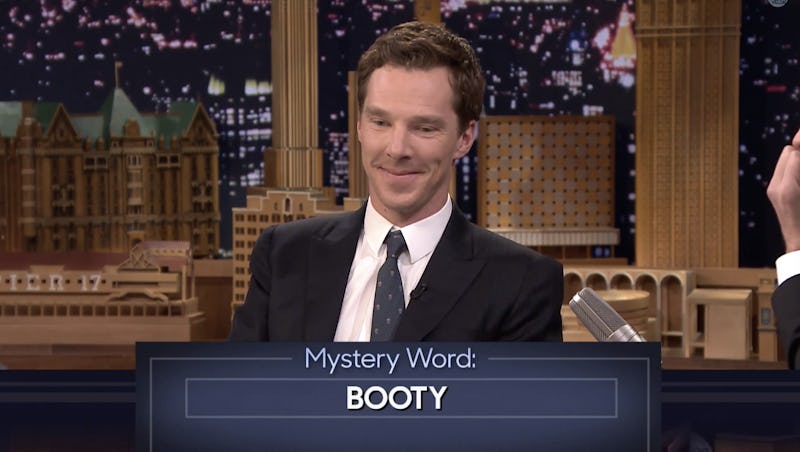 It's times like this when you remember that another golden prince is off the dating market and, ignoring the fact that you've never met and he probably wouldn't date you anyway, you feel the loss like a physical pain. That was the case when Tumblr Prince Benedict Cumberbatch announced his engagement to the lovely Sophie Hunter, breaking the hearts of anyone who still had a whole heart left after the announcement that Ryan Gosling and Eva Mendes (allegedly) had a baby. However, when the Sherlock actor appeared on The Tonight Show with Jimmy Fallon, he reminded us again exactly why we love him so much. In a new game called Three Word Stories, Cumberbatch wrote a story about Kim Kardashian's butt that surely will be repeated for ages.
The point of the segment was for Fallon and Cumberbatch to go back and forth writing a tale, three words each at a time. The catch? The story had to incorporate a mystery word that was pulled from a deck, and the person who pulled the word had to steer the tale in a way that would enable the other person to guess and say the word. Suffice it to say, Cumberbatch was...not very good at the game, although, in his defense, he genuinely didn't seem to be expecting to pull the word booty and was likely having a difficult time telling a story that didn't objectify anyone.
Is it the best story about Kardashian's butt in the world? Definitely not. Was it overly long and prone to frequent tangents? Definitely yes. The whole thing could have been over so quickly had Cumberbatch started his tale with, "Kim Kardashian's magazine," and let Fallon run with that, but I admire him for not going with the obvious choice until he had no other option. I mean, I admire him for many reasons, but his natural charm and politeness is a part of that.
Check out the video for the entire tale below.
Image: YouTube