This Thanksgiving, We're "All About That Baste"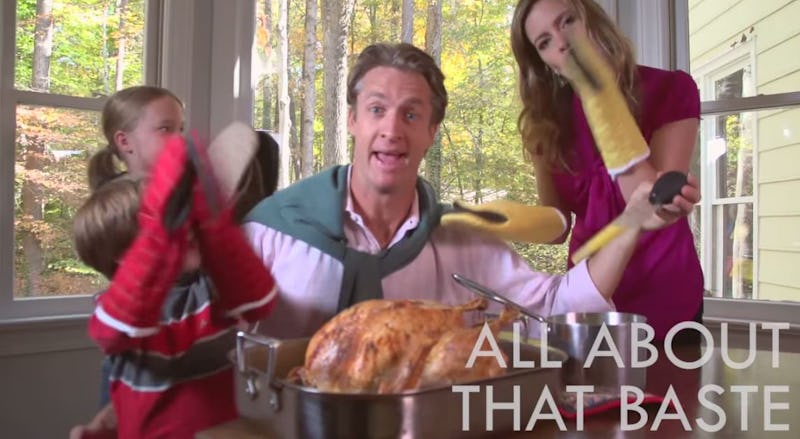 I know, I know — another "All About That Bass" parody? Well, yes…but this time, it's seasonally appropriate: The Holderness Family's "All About That Baste" video is definitely the Thanksgiving-themed version of Meghan Trainor's runaway hit you had no idea you wanted. There's a lot to love about this one, so settle in and get ready to laugh — and also don't panic because you just realized Thanksgiving is only a week away and you haven't figured out what you're doing for it (if anything) yet.
The Holderness Family first burst on the scene during the 2013 holiday season with their video Christmas card, "#XMAS JAMMIES." Consisting of dad Penn, mom Kim, and kids Lola and Penn Charles, the family has become well-known on YouTube over the past year for their pieces of musical comedy like "Snow Day: The Musical" and their spin on Frozen titled "Do You Want to Have Some Broccoli?"
Kim and Penn were both television news casters; however, Penn realized after 18 years in the business that "he isn't really interested in about half of the things he talked about on the news." Accordingly, he quit (do what makes you happy, right?). He now runs a video production/digital marketing company, Green Room, with Kim as his business partner — and he started a blog to "showcase the 100 percent of things he actually cares about." These things include comedy, music, holidays, pop culture, and — most importantly — his family (he's really loving, for example, the fact that he's now home for family dinner every night instead of just getting home from work at the kids' bedtime). The videos are always a family effort, and they all look like they're having so much fun making them that it's kind of impossible not to start grinning while watching them.
As Penn explains, "All About That Baste" grew out of what Thanksgiving is usually like in the Holderness household: Kim is a wiz in the kitchen, while Penn kind of…isn't. As such, it's usually his (mostly idiot-proof) job to baste the turkey whenever its timer goes off. Hence: All about that baste. You really have to watch it to experience it, but I will note that my favorite rewritten line turned the somewhat problematic "I'm bringing booty back, go ahead and tell them skinny bitches that no, I'm just playing" from the original into "I'm bringing butter back, don't try to wear those skinny britches, nah." Because let's face it: We all know that failing to wear stretchy clothing to Thanksgiving is a huge, huge mistake.
Watch the whole thing here:
And just for the lulz, here's a look back at "#XMAS JAMMIES." Head on over to the Holderness Family's website to catch all their videos:
Images: The Holderness Family/YouTube; MRWGifs