Things Girls With Short Hair Are Tired of Hearing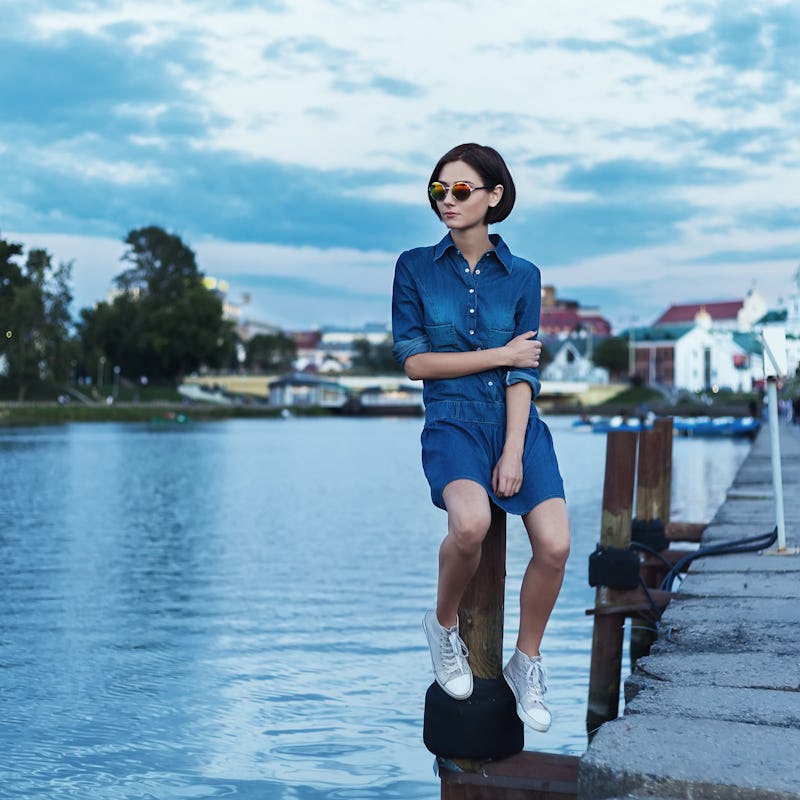 I rock a super-short hairdo. I did the big chop about three years ago now, and I've never looked back (except on Halloween when I wear insane wigs because Halloween). For the most part, people around me seemed to be staunch supporters of my new look. There were initial oohs and ahhs when I chopped it off the first time, and (not that it mattered really what other people think) being fussed over in such a fashion definitely made me feel pretty great. But into every single bowl of soup some snot must fall (I totally just triggered my own gag reflex by saying that)—not all the short hair feedback is positive.
Because I live in a big city and encounter strangers almost every day as I wander the streets, I am made privy to the thoughts of strangers when it comes to what my hair is doing on any given day. For the most part, strangers are also complimentary (except for the guy who offered me his seat because he thought I was pregnant that one time. I'm not complaining. I'd had a heavy breakfast and was thankful). But equally jarring as the praise of strangers is the their hidden, stinging criticisms. Here are 9 of the things people said to me the most often after I cut my hair that I know other short-haired girls out there are tired of hearing.
"I Could Never Pull That Off!"
This one is perfidious, because it SOUNDS like praise until you dismantle it...what is it about YOUR face that makes you able to pull off this "dramatic" look. The feeling this one gives me is akin to when I do something like wear a bright pink shirt and have people tell me that they would never "dare" to wear something so bright. It's like you're suggesting I lack the understanding to do know that I've done something awful to myself but are too "kind" to let me know.
"Do You Get Really Cold In The Winter?"
Spoiler alert: Yes. I do. So do you. So does that guy over there. So does Rapunzel. We all get cold in the winter, because it is cold out. That's how coldness works.
"Did You Cry When They Chopped It Off?"
It's not like they did it without my consent—I asked to get this specific haircut. I was prepared. It was not some "Anne Hathaway turning to prostitution and selling her locks in an epic French musical" situation. The only tears were those of my enemies as they realized I was now hotter than ever before.
"It's So Bieber!"
I don't care if you're the Beebs' biggest fan, comparing a grown-ass woman to Justin Bieber is not ever okay.
"I Bet It Takes You, like, Zero Time To Get Ready."
Sure, if I don't bathe, style, choose a cool outfit, blow-dry, put product in—OH WAIT. IT TAKES THE SAME AMOUNT OF TIME AS BEFORE EXCEPT SOMETIMES LONGER BECAUSE I CAN NO LONGER GET AWAY WITH LETTING MY HAIR GET DIRTY.
"How Often Do You Have To Get It Cut?"
This is an understandable query, but a sucky one because it reminds me that yup, now that I've got short hair I have to get it cut a whole lot more. I mean, I skip an appointment if I must, but that means I wander around for a week or two looks like a Englishman from the mid-1970s. It's not hot.
"OMG, Rosemary's Baby!"
Yup. I have short hair. Mia Farrow did as well that one time. We're basically twins.
"OMG, Twiggy!"
It's funny, you're not the first person who has compared me to the woman who defined being super-skinny cool—ha ha ha ha, oh wait, yes, you are. Having short hair, for most people, does nothing but accentuate how much we are nothing at all like Twiggy.
"When Are You Growing Your Hair Back?"
I don't know, when are you next getting your anus waxed? I will never know, because I will never ask. Because it isn't my business. Assuming that I want to grow my hair back is as good as telling me you think I've made a grievous error in judgement with my recent chop. And that's rude, yo.
Images: Fotolia; Giphy (9)