Things That All Close Mothers And Daughters Do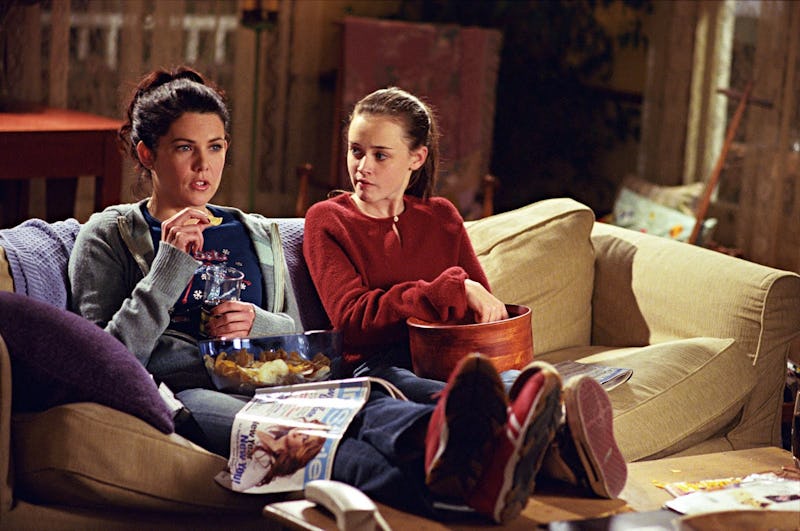 Being close with your mother is a strange and beautiful thing. I am very close with my mother, in part because we spent many years as just the two of us, and also because I don't have any sisters to share her with (sharing with brothers is a totally different, less invasive kind of mother-sharing). My mom is my best friend, and (save for a few brief teenage years where I thought it would be cool to wear tube tops. I was slightly rebellious but on a really dorky level.), we've been tight ever since I left the warm environs of her uterus to join her in the real world. My mother is my moral compass, sometimes my Robin, sometimes my Batman, my conscience, my mirror into the future, my rock and, well, my mother.
She gives me her friendship in equal measure with her motherly reprimands and wisdom. And as I get older and wiser and turn more into her every day, I think I am doing the same for her. When people tell me I'm just like my mom, I'm secretly swelling with pride, because I know that lady, and she is one cool broad. I could really do a lot worse. Between my mom and I, there's an endless supply of unconditional love, sharing of secrets, and mutual supporting being done. For those daughters reading this who find that all too familiar, here are 6 habits of mothers and daughters who have awesome relationships.
1. DRINK WINE
It goes without saying that when you're close with your mom, a couple of bottles of wine on a Saturday afternoon will go down pretty easily, and pretty often.
2. SHARE A PSYCHIC SENSE OF HUMOR
Mothers and daughters who are close know what the joke is before it's even said. Don't be offended if you're around a mother and daughter who burst into laughter for no reason. They just shared a psychic joke that no one else would get if they tried to explain.
3. ENGAGE IN PERIODICAL OVER SHARING
No topic is taboo between mothers and daughters who are close, although it's not like they're potty talking like Samantha Jones every day either. Once in a while, however, moms and daughters who have tight relationships will be sure to catch each other up on nitty-gritty, or share a sexy story from the past, perhaps incorporating both number one and number two from the list.
4. HOLD HANDS
Mothers and daughters with awesome relationships can literally not let go. My mom and I often still hold hands when we're walking down the street, or at least link arms. It's a physical closeness that goes hand-in-hand with emotional and intellectual closeness.
5. CRY WHEN THE OTHER CRIES
When I'm sad and crying, my mom plays tough and supportive for 30 seconds, then breaks down too. Likewise when she cries; I try and keep a poker face but end up a blubbering mess too. It's an outpouring of empathy and love.
6. BE TOTALLY HONEST WITH EACH OTHER
The biggest habit mothers and daughters with awesome relationships get into is honesty. Brutal, but fair, honesty. Your mother isn't the one who should tell you what you want to hear, nor should you ever sugar coat things for her. Together, you know you can be honest about everything, from the most mundane things to the bigger life stuff, in a way that's loving and not hurtful. There's really no one else in the world you can have this sort of unconditional love and trust with. That's why being close with your mom is the best.