This German Town Fights Back Neo-Nazis With Prank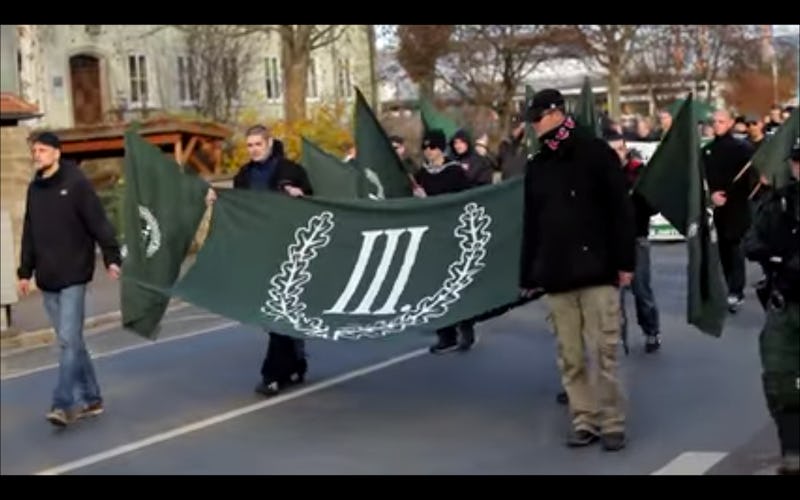 For decades now, the town of Wunsiedel in Bavaria becomes the unwilling host to an annual neo-Nazi rally, much to the misery of its residents. But in a gleeful case of comeuppance, this year, the small German town pulled an anti-fascist prank on the neo-Nazis, tricking them into raising $12,500 (or €10,000) for an anti-extremist charity.
The town is these fascists' location of choice because Hitler's Deputy Führer, Rudolf Hess, was buried there — until 2011, when Wunsiedel's 1,000 or so residents managed to get Hess' remains exhumed and his gravestone destroyed, to the agreement of his family members — thus making it a "pilgrimage site" of sorts for fascists.
Having had enough of their nonsense, the town devised the campaign Rechts Gegen Rechts (or Nazis against Nazis, according to the website's English section), in what the organizers called "the most involuntary walkathon in Germany."
This Nov. 15, on the neo-Nazis' National Heroes' Remembrance Day — cue deep, isn't-this-the-21st-century-eye roll — instead of the usual protests against the demonstration, Wunsiedel's residents and businesses pledged $12.50 (or €10) for each meter the 250 participants marched, effectively turning the rally into a charity walk. They altogether raised $12,000 (these neo-Nazis are a fit bunch) that was donated to EXIT Deutschland, an initiative that provides assistance to those who want to leave extremist groups.
With their wicked sense of humor, organizers recreated the vibe of a sporting event for the rally. "Start" and "Finish" lines were drawn on the route and banners with motivational slogans like "Donate, Walk!" and "If only the Führer knew!" were strewn across town. A "Mein Mampf" (my munch) poster was put up next to a tableful of bananas for participants to snack on towards the end. A sign at the end of the march thanked the marchers for their "donations," reported The Guardian.
One banner also made a reference to the Holocaust — "Final sprint instead of final victory," since many neo-Nazis refuse to acknowledge that Hitler's goal was to gain a "final victory" over the Jews. Although the neo-Nazis were surprised, the Washington Post noted they went ahead with the walk anyway — because of course they are nothing if not stubborn — inadvertently contributing to an organization committed to their downfall.
The goal of the campaign was to "create an alternative to counter-demonstrations," Fabian Wichmann, an education researcher at EXIT Deutschland, told The Local. He also observed that only one banana had been taken, although there was no confirmation as to who took it or whether it had been eaten. When asked if the neo-Nazis were likely to return the following year, Wichmann said:
They probably won't go away. The history of the town is too important to them, but at least we've created something good out of it.
Images: Rechts Gegen Rechts/Youtube (Screenshot)