This Movie Adaptation Just Might Work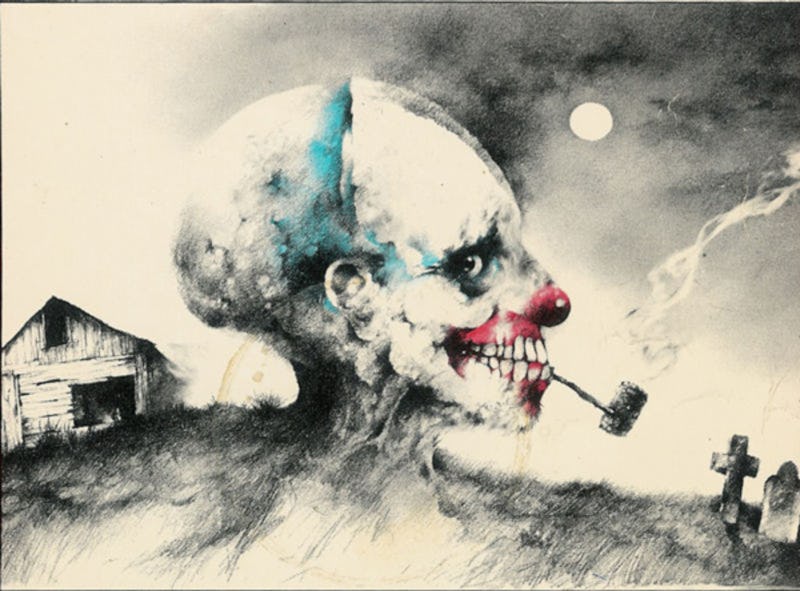 Were you worried when you read that the Scary Stories to Tell in the Dark movie was going to be written by the team behind the Saw franchise? Of course; me too. Well, the CBS Films production has shifted gears and announced that Big Fish and Frankenweenie writer John August was signing on to write the film adaptation of our childhood's spookiest stories. This is a very, very good change.
Scary Stories to Tell in the Dark and its two sequels More Scary Stories To Tell In The Dark and Scary Stories 3: More Tales To Chill Your Bones probably still haunt the nightmares of anyone between the ages of 18 and 35. Writer Alvin Schwartz terrified us with collections of horror stories (and one totally funny one about a window washer named The Viper) based on folk tales and urban legends. I can't possibly be the only one who to this day is concerned about a spider laying eggs on my face while I'm sleeping, right?
But just as much as the stories themselves, the books were famous for Stephen Gammell's completely nightmarish illustrations to accompany them. When updated releases of the books changed switched out Gammell's drawings for much tamer versions, there was outrage.
However, this news that August will pen the new script for the Scary Stories to Tell in the Dark movie has the potential to right some of these wrongs.
Do you remember the movie Big Fish? Ewan McGregor starred as a son who lived out his father's wildest tall tales and legends as his father was on his deathbed. I'm taking the fact that August was behind this movie as a very, very good sign. August was able to weave all of these folk tales together, with a sense of magical realism, into one cohesive and completely charming story. That's just what Scary Stories to Tell in the Dark needs. And August was also behind the screenplay for the incredible Corpse Bride and Frankenweenie, which shows that he's got some of those Gothic, spooky chops.
The change from Saw to Frankenweenie, when it comes to writers, is a major directional shift in tone for the movie, and one that could definitely work. Maybe what we need from the Scary Stories to Tell in the Dark movie is not gory, slasher movie horror. Maybe we need that sense of fun, nostalgia, and wonder that us grown-ups get when we think of the books now. It seems that this is just what CBS Films is realizing.
But you guys at CBS: Promise us that Gammell's drawings will be incorporated somehow. Please?
Image: Harper & Row