Facebook Has Another App For You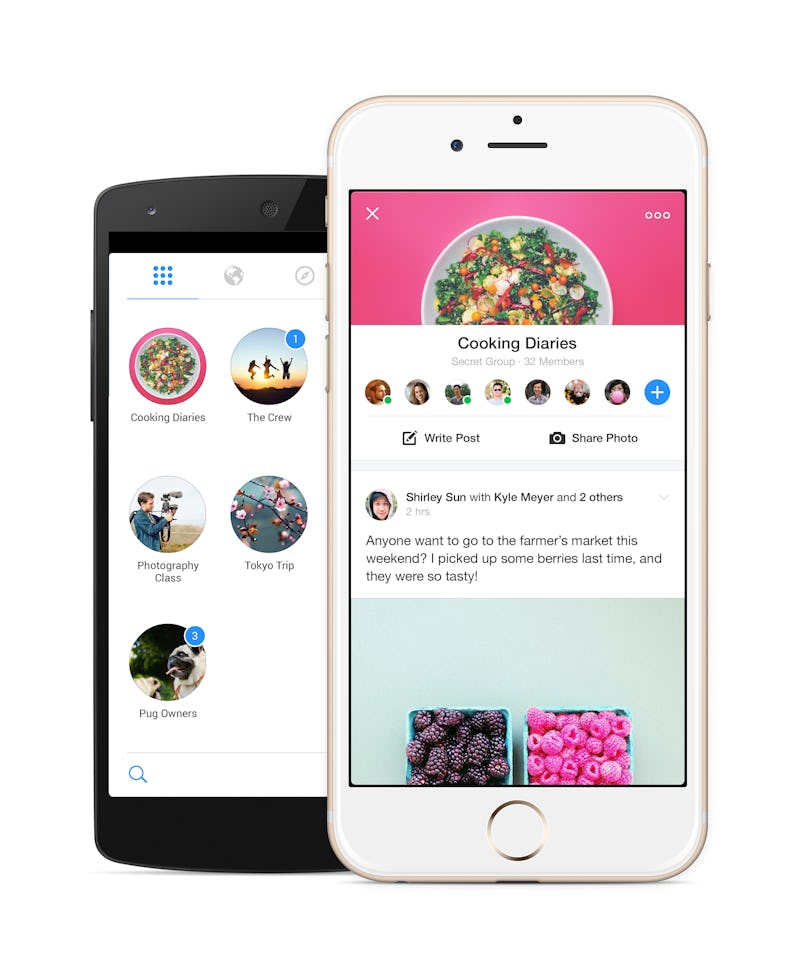 Have you ever thought to yourself, "Gee, I sure use Facebook Groups a lot but my mobile experience is sub-par"? Well, have we got news for all ten of you. Facebook launched a standalone Groups App on Tuesday that will optimize your rarely used social media function. But, mostly, it'll just take up more room on your phone.
The app puts all of your groups in one place, with the most frequently used groups at the top. You can conveniently toggle between groups and create new ones within the app using customizable notification controls.
In its release, the company tries to defend its creation of yet another standalone storage-sapping app by offering examples of the limited amount of people who use Facebook Groups with frequency. And while I'm glad that dental students in Brazil will be able to post about assignments with ease, I still feel like the reported 700 million people who access Groups at least once a month are just trying to get a notification to go away.
We built this app with the people who use Groups the most in mind, like:
Students from Donda's House, an arts nonprofit in Chicago, who use groups to stay in touch during and after a 12-week music program
A class of dental students in Brazil who use a group to post notes and reminders about upcoming tests and due dates
Nine best friends spread out across Japan, Malaysia, Singapore, Hong Kong and England who use a group to keep connected
The nice thing is that unlike Facebook's Messenger app, which it rolled out in July, you won't be forced to download the Groups app to access your Cat Lovers United updates. The Messenger app disabled the traditional way to use chat functions on Facebook mobile, forcing people who wanted to look, send, or reply to Facebook messages to download a separate app that managed the functions.
Groups has been around since the birth of Facebook and was relaunched with updates in 2010, but at no point has it been widely used. The app is designed to benefit the social network's 456 million exclusively mobile users, which has been steadily increasing. Groups app could potentially excavate Groups from the mobile crush of the Facebook mobile app, which currently makes the feature pretty difficult to access. Granted, the Messenger app really did take away a lot of the clunkiness of the mobile experience.
But I have a bone to pick with you, Facebook. Stop taking up room on my phone. For the last year I've gotten a daily reminder that I don't have enough room on my iCloud to even back up my phone, so why do you think I need yet another standalone app? I'm dying here, OK? Do you know how many pictures of my brunch entrées I've had to delete to even have enough space to use basic functions? Now I can no longer reflect on the greatness of that eggs benedict. And that, good people of Facebook, is a travesty.
Images: Facebook Newsroom (2)