What to Read if You Love 'Serial'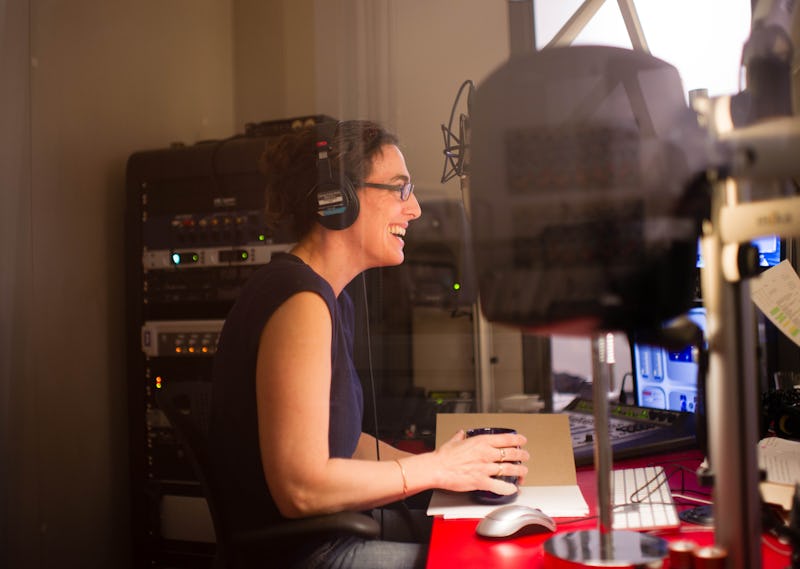 When This American Life announced that they would be producing a spin-off show called Serial, a podcast that tells the true story of a murder investigation by producer Sarah Koenig (seen above), the radio nerds of the nation responded with a unanimous, Yes, please. Because, basically, we're all still 7-year-olds who like nothing better than to have someone tell us a good story.
And it is a good story. Adnan Syed has been in prison for the past 15 years — he was convicted of murdering an ex-girlfriend and fellow high-school student Hae Min Lee. He says he didn't do it and that the case was mishandled in a lot of ways. In the podcast, Koenig plays the role of private investigator. She checks alibis, track down witnesses, replays the day of the crime. She picks through the sordid lives of a group of urban teenagers to try and find out what really happened.
Of course, the podcast has one major flaw — there's a finite number of episodes.
Serials are a torturous pleasure. When done right, they pull you so deeply into a story you cannot guess what might happen next. You become desperate to find out so you drop everything else in your life to read (or listen). And then they end. And it's not cool. There's only one answer for it that I have found — exhaust every serial on the face of the Earth and try not to compare yourself to an addict.
For those of you who cannot get enough of a good mystery, who grapple with instant gratification yet love a cliff-hanger, and who, like me, polished off every Serial episode in one bout of house-cleaning, these are the books you need to stay up until four in the morning to finish.
If you like stories that published as they were being written, then read...
Gentle Reader, I'm about to blow your mind. Did you know that George Eliot was a woman?! I didn't know women could do the book words! She must have been really confused with a name like George.
Middlemarch has a lot in common with Serial because both are about drugs, sex and murder. Huh. I mean, both are about a provincial village grappling with issues such as the death of King George IV. Well. Okay, wait, got it. Both revolutionized the serial structure. Eliot was the first to delay the release of chapters, up the price and up the content. And Koenig is the first to serialize a podcast. Plus, I'm about to blow your mind again. Did you know Sarah Koenig is a woman?!
Charles Dickens is the master of the serial. His first novel, The Pickwick Papers, was the novel that made serial publications a thing. But if you're looking for excitement and intrigue, nothing beats A Tale of Two Cities. It's is an exceptional novel for two very important reasons (beyond the obvious thrilling adventure and melodic prose) — it proves that a good novel can start with the word 'it' and that a woman yielding knitting needles can be terrifying.
Eugène Sue made the serial the literature a la mode in Paris, and that does not mean he served it with ice cream. His story of a German Duke living in disguise in the streets of Paris was a potboiler but also important social commentary. His prophetic message was that Paris should maybe be a little nicer to its poor. The book was published five years before the Revolution of 1848, so it's possible Paris didn't quite get the memo. Many literary bigwigs, such as Karl Marx and Edgar Allen Poe, attacked the author for his un-nuanced characterizations of the lower classes, proving once again that life ain't easy for a boy named Sue.
Maybe you think the center of the world was New York, Beijing, Berlin or L.A. How wrong you are because actually, it's Skotoprigonyevsk. "Skotoprigonyevsk?" You say. Yes. Skotoprigonyevsk. This is the small town that cradles the plot of The Brothers Karamazov — a book that has everything. The second coming of Jesus Christ and a guest appearance by the devil? Check. A Law and Order-esque courtroom drama to convict the criminal of the century (who is also an innocent man!)? Hell yes. A philosophical treatise on the corruptive nature of atheism? You got that right. William Shatner? Yes. William Shatner. Take that, Beijing. It's all about Skotoprigonyevsk.
Here's another serial that predicted that exploitation of the lower classes wouldn't work out so well. When Beecher Stowe was introduced to Lincoln in 1862 he famously said, "So you're the little woman who wrote the book that started this great war." That's because the serialized Uncle Tom's Cabin reached tens of thousands of readers abolitionist newspaper, National Era. Which is pretty cool. I really did try to think about something funny to write here, but it turns out there is nothing funny about Uncle Tom's Cabin.
The Portrait of a Lady was Henry James' first big book. He'd written some short stories and made a splash with "Daisy Miller," but this was the first novel. It was published as a serial in the Atlantic Monthly. (I would like to take this opportunity to plead with the Atlantic to bring the serialized fiction tradition back.) The story has everything a big book should — love, valor, freedom, and Americans going nuts in Europe.
If you like mysteries that solve crimes of the past, then read...
The Daughter of Time is the best work of literature ever to be produced by a gym teacher. Josephine Tey, a Scottish mystery writer born to the name Elizabeth MacKintosh at the turn of the century, wrote witty and suspenseful murder mysteries centered on a fictional Scotland Yard detective named Alan Grant. In this, his most renowned adventure, Grant spends the entirety of the book curled up in bed with photos of Richard III. Get your mind out of the gutter — he's solving a mystery. Who killed the princes in the tower? Because it wasn't poor Richard, who as it turns out, was really just misunderstood.
If you like mysteries without heroes, then read...
The Spy Who Came in from the Cold by John le Carré
Hah. Remember when the Russians were terrifying? Yeah, that's done.
If you like contemporary, urban mysteries, then read...
Gone Baby Gone by Dennis Lehane
Dennis Lehane's dialogue is so good, reading Gone Baby Gone almost feels like listening in on a true story. His understanding of rhythm and cadence is much like that of a radio producer's. If what you love about hearing is the act of listening to the numerous perspectives from each unique voice, then this is the book for you. The only difference is that Lehane applies his gift to the Boston accent, so that's wicked pissah.
If you like Baltimore, then read...
The Accidental Tourist by Anne Tyler
Enjoy being mildly depressed and insecure about the lower stature of your once viable American seaport city? Welcome to Baltimore.
And, as a bonus:
If you like listening to mystery stories then download Mike Detective and Thrilling Adventure Hour.
If you just like listening to stories then download New Yorker Fiction Podcast, Selected Shorts.
If you like big stories doled out in small pieces check out DailyLit.com and FiveChapters.com.
Images: Courtesy of Elise Bergerson, BBC, Wiki Commons (6), Paramount Pictures, Miramax, Warner Bros.