What Will Happen to Prim In 'Mockingjay Part 1'?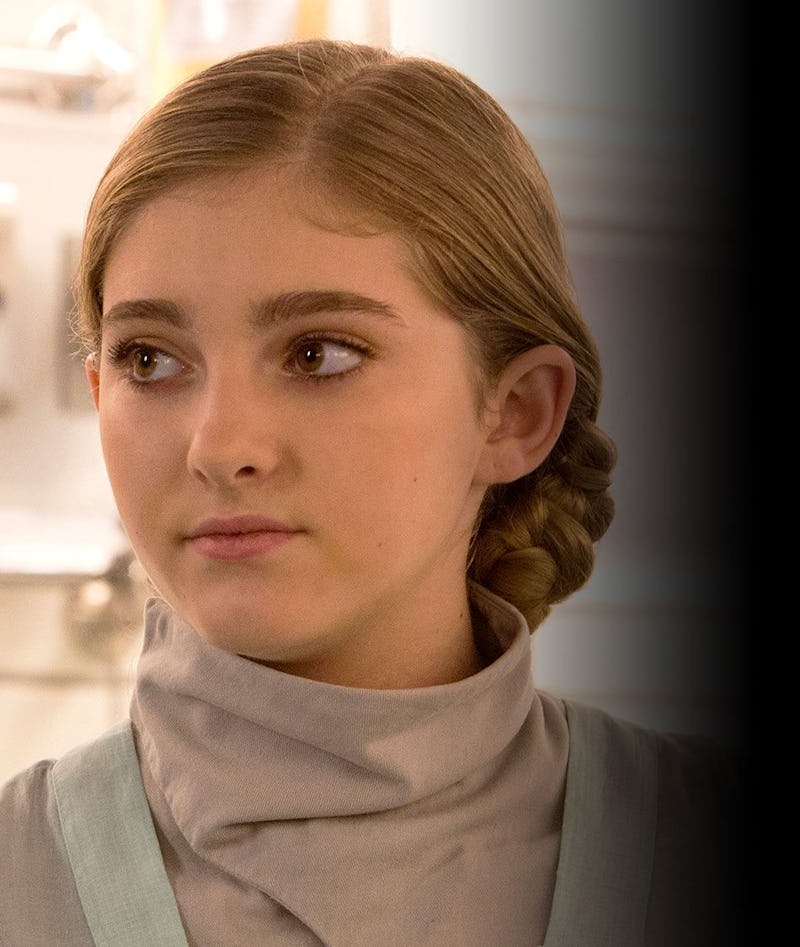 As excited as I am to see the latest Hunger Games installment, I'm also kind of dreading it. Mostly because I'm afraid to watch all the sad parts. Spoilers ahead. Hijacked Peeta and injured Katniss are about all I can take for one movie. But will Prim die in Mockingjay Part 1, too? I was counting on them saving that horribleness for the second film so I could delay the inevitable. But ever since Jennifer Lawrence promised the ending of Part 1 would leave fans "pissed," I've been afraid anything could happen.
It's not that the first two films were all daisies and puppy dogs, but somehow having Peeta and Katniss on the same team made things more manageable. They were in it together. Now that they're apart all bets are off. There's going to be death and destruction all over the place. And even though I read the book and know what's coming, movies can change things. Plus, everything is much more dramatic when you see it with your own eyes.
So you shouldn't take for granted that Prim's death will be in Part 2. Rumors have been floating around for months that her demise will end the first film. Will that actually be the case? I've come up with some theories to figure it out.
NO, BECAUSE IT HAPPENS AT THE END OF THE BOOK
Prim's death comes about 30 pages before the end of the whole novel. If the movie follows a chronological path, it doesn't make sense to kill her so early. It wouldn't give them much to work with for Part 2 if they end Part 1 with her death.
YES, IF THEY KILL HER IN A DIFFERENT WAY
In the book, it's (possibly) Gale's bomb that killed Prim. That's a pretty dark turn in the novel, and the movie might go another direction to absolve Gale of that crime. After all, Liam Hemsworth has a lot of fans and Lionsgate might not want to alienate them. Perhaps they'll kill Prim earlier in the story then, like in the District 8 hospital collapse. That way, it will give Katniss' fight against the Capitol more fuel, and Prim's death won't be marred in so much controversy.
NO, BECAUSE THEY MIGHT NOT KILL HER AT ALL
Fans of the series hated Prim's death. Maybe Mockingjay will do a little rewriting and allow her to live. I wouldn't mind that. (And can the same happen with Finnick, please?)
YES, IN A WAY TO THROW EVERYONE OFF
Maybe the first film will end with what looks like Prim's death to throw the audience off. Come Part 2 she'll still be alive (until the end of that film). It's a death fake-out to needlessly stress the fans, basically.
NO, BECAUSE FIRST THEY'RE GOING TO MAKE US FALL IN LOVE WITH HER
We haven't had a whole lot of Prim scenes because most of the first two movies focused on the action in the arena. Now that Prim is around all the time, the audience really has a chance to fall in love with her. And, based on what the trailers have shown, we will definitely love her. She gives sage advice to Katniss and helps out with injured soldiers — she's perfect. So for her death to affect us, Part 1 has to make us care about her first.
YES, BCAUSE THE SECOND FILM IS GOING TO FOCUS ON THE AFTERMATH
I would love an expanded epilogue or a better look at Katniss' life after the war. If they end Part 1 with Prim's death, Part 2 could be dedicated to the rebuilding of the future. It would require a lot of fill writing though, because there really is only like two chapters of content after Prim dies. But author Suzanne Collins helped with the movie adaptation, so maybe she approved some rewriting. I could be OK with that.
NO, BUT THEY'LL HINT AT HER DEATH
For example, coming into the Amazing Spider-Man series, most people knew Emma Stone's character Gwen Stacy was going to die. It's an iconic comic book death that happens when Peter Parker tries to save her with his web, only to have the sudden stop break her neck. In the first movie, they tease the viewers by having Gwen caught in a similar scenario. Peter throws her out the window and catches her with his web to save her.
People were shocked to think they'd kill her off so early, but she was actually fine (for the time being). My guess is they could do something similar with Prim. People know she's going to die and are waiting for it, so they'll tease it in the first part just to mess with us.
YES, IN A DREAM
Katniss' PTSD from her time in the arena is likely still giving her nightmares. Perhaps she'll dream that her sister dies as foreshadowing to when it will really happen in Part 2.
CONCLUSION
It's really unrealistic to kill her off in the first movie without rewriting much of the plot or leaving the second film with little to deal with. So I think it's safe to say Prim won't die in the first film. Don't worry though. There are still going to be plenty of heartbreaking moments in Mockingjay — Part 1 to make up for it.
Images: Lionsgate; andremendes, emmaosterbergg, peetamellarkthebaker, ffocusonyourabilityy/Tumblr; giphy (4); pandawhale