9 Actors Who Seemed Totally Miscast In Their Famous Roles, But Nailed The Part Anyway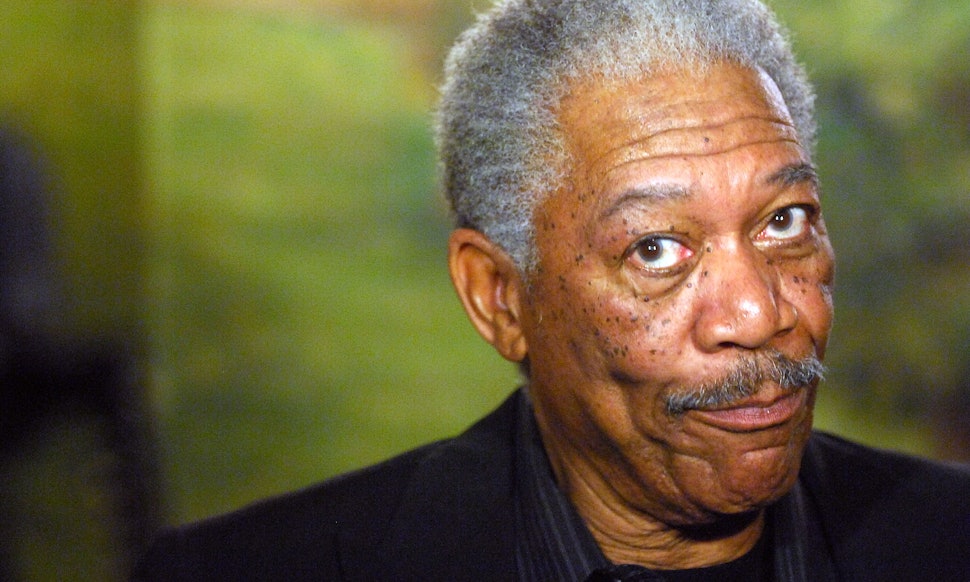 Gustavo Caballero/Getty Images Entertainment/Getty Images
It's no question that poor casting decisions can ruin what could have been a great film or TV show — after all, it is the actors that we have to watch on screen, regardless of how great the script their working with is. Considering the sheer amount of actresses who were considered for Katniss Everdeen before the role went to Jennifer Lawrence, watching the Hunger Games films now is like a live demonstration that a single actor can make or break a franchise. But sometimes the actors we think have been miscast have the ability to surprise us — sometimes enough to score major awards in the role fans were skeptical of them taking. So which actors nailed roles that the world thought they were wrong for? Click through to find out.
Morgan Freeman
Freeman didn't match the description of this Stephen King character at all — and it still became one of his most iconic roles.
'The Shawshank Redemption'
Freeman played Red in the famous prison drama, a character who got his name from his freckles and red hair. Freeman actually says a line directly from King's novella about his name being a reference to his Irish heritage — but, this time, it's written as a joke.
Image: Columbia Pictures
Charlize Theron
People cringed when they heard that this gorgeous actress was going gritty for the role of serial killer Aileen Wuornos.
'Monster'
Theron embodied the Wuornos in both her acting and her physical transformation. She was universally praised for the role and nabbed the Best Actress Oscar that year.
Image: Columbia Pictures
Heath Ledger
Comic fans were skeptical that the one-time teen heartthrob could pull off perhaps one of the darkest villains of this superhero franchise.
'The Dark Knight'
The late Ledger's final performance as The Joker in The Dark Knight could arguably be his best. The actor mastered the character's natural humor without ever venturing into campiness, all while staying true to the bleak nature of Christopher Nolan's world. It scored Ledger a Best Supporting Actor Oscar — sadly, it was given posthumously.
Image: Warner Bros.
Troian Bellisario
The then-unknown TV actress didn't have fans of the source material supporting her when she was cast, but that changed as soon as the pilot aired.
'Pretty Little Liars'
I firmly believe that no one could play Spencer Hastings as well as Troian Bellisario does on the ABC Family drama, but, before the show aired, fans were unsure about the casting choice. Bellisario simply didn't look the part of the blond Liar, and, at 24, she was almost ten years older than her character. Luckily, Bellisario's performance as the smart sleuth proved that she could overcome things like hair color and age.
Image: ABC Family
Cate Blanchett
Let's be real: no one expected Blanchett to be cast in a film about Bob Dylan as Bob Dylan.
'I'm Not There'
…And yet, somehow it just works. Blanchett shares the role of Dylan with six other actors, but it's her performance that resonates the most with audiences — possibly because the actress is just the best at embodying him. Who knew?
Image: The Weinstein Company
Donnie Wahlberg
Wahlberg was a New Kid On the Block when he was cast in this intense role, puzzling fans everywhere.
'The Sixth Sense'
You may not recognize Wahlberg in The Sixth Sense, and that's the point — he completely transformed himself for the role of a mentally unstable patient and totally nailed it.
Image: Buena Vista Pictures
Jennifer Lawrence
It's crazy to think that anyone has ever doubted the much-beloved J. Law, but, when she was first cast in this franchise, there was some serious fan outcry.
'The Hunger Games'
Can you imagine anyone else playing Katniss Everdeen? Probably not, but fans weren't exactly rallying behind Lawrence as their Mockingjay — she was labeled "too pretty" and "too blond" for the intense role. A darker hair color — and the fact that, oh yeah, she's phenomenal in the franchise — made fans jump on the J. Law train.
Image: Lionsgate
Steve Buscemi
Tony Soprano Buscemi is not, which is why some people were skeptical when they learned he would be playing an Atlantic City mobster.
'Boardwalk Empire'
Buscemi blew critics and fans away with his performance as corrupt politician Nucky Thompson. He even scored a Golden Globe for the part.
Image: HBO
Channing Tatum
Tatum was known for many things before nailing this comedy — unfortunately, most of those things were physical traits.
'21 Jump Street'
No one understood why Channing Tatum was cast in the comedic reboot of the TV series by the same name, but Tatum proved the world wrong by delivering one of funniest performances of the year. Fuck yeah, science!
Image: Columbia Pictures