'RHOA' Stars Kenya Moore & Claudia Jordan Have A Long Friendship History, But Will the Show Ruin It?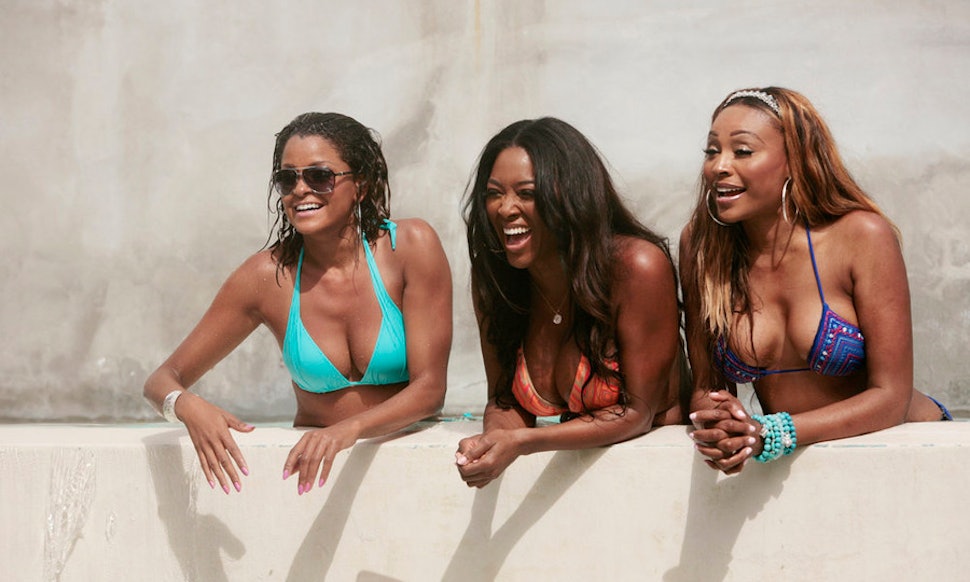 Real Housewives of Atlanta star Kenya Moore hustled hard to get her longtime friend, Claudia Jordan on the show. From what we've seen of the seventh season It's easy to understand why. But are they really BFFs or the kind of Hollywood friends who rarely see each other if a camera isn't around? And how will the show affect their longtime friendship?
They've Known Each Other for Years
But How Close Are They?
I don't think it's shocking that since Claudia has been taken into Bravo's so-bad-it's-good brand of reality TV that her friendship with Kenya has gained a much higher profile. Claudia's Instagram is now chock full of pictures with her, Kenya, and even Cynthia Bailey thrown into the mix. But are they just cool with each or outright besties? The two definitely seem cool with each other and have been spotted at events with each other in the past. But you would think if they were very close friends over the past decade of knowing each other there would be a bit more proof besides what exists on gossip blogs and red carpet photos.
Image: Laura Magruder/Bravo
They Both Have a Pageant History
As we all know Kenya was crowned Miss USA in the early 1990s, a fact she likes to bring up again and again. Claudia has her own experience in the world of pageants although not upper tier prestigious like Kenya. In the mid 1990s, Claudia won Miss Rhode Island USA.
Image: Derek Blanks Photography/Bravo
...And a Common Goal on The Show
Let's be real, Kenya didn't lobby to have her friend appear on the show as a regular out of the kindness of her heart. So what will Claudia bring to the show besides showing the warmer side of Kenya? Drama. Drama. Drama. A big storyline hinted at during the promos is Claudia getting involved with Porsha's ex-husband. While Porsha was relatively boring and cringe worthy during last season, her brutal fight and snappy comebacks involving Kenya were reality TV gold during the reunion. In a recent interview with Hollywood Life, Kenya said that Cynthia and Porsha's ex have a "long" and "juicy" history. Rumors have also been flying about Claudia and Nene having some fights of their own, too.
Image: Laura Magruder/Bravo
They Support Each Other Off-Screen Too
How Will The Show Affect Their Friendship?
Reality TV may be (mostly) fake, but the shade is all real. If there is anything I've learned from years of watching The Real Housewives series is that women remain friends as long as the producers who make the real money on these shows think it's worthwhile for ratings. Will Kenya get jealous since Claudia is getting so much of the spotlight? Will Claudia's fighting backfire? By the time we get to the reunion will their fight rival the beatdown Porsha gave Kenya last season? Only time will tell. But hopefully, the friendship between Kenya and Claudia will remain intact no matter how ridiculous this season gets.
Image: Wilford Harewood/Bravo