11 Types Of Awkward Family Photos Everyone Takes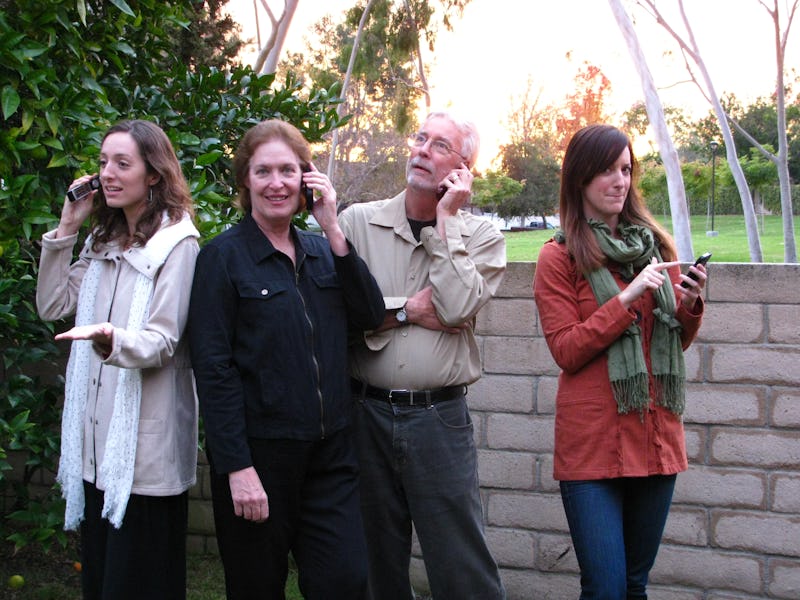 If you're like me, your post-Thanksgiving turkey coma is often cut short by a conscientious parent who finds Thanksgiving to be the perfect time to snap a family photo, perhaps for this year's Christmas card. In my case, that means lining up in front of a DSLR on a timer, in hopes of capturing a photo in which none of us is blinking — we failed so miserably one year that we finally put on sunglasses for the photo and called it a day.
Luckily, I am not alone in family photo woes. Bustle teamed up with Nine West so we can share a collective chuckle over the best and worst family photos we've taken over the years. Submit your photos (both new and #tbt) on Twitter or Instagram with hashtag #ForcedFamilyPhoto to win a gift card to Nine West.
First Prize: $300
Second Prize: $175
Third Prize: $100
We'll include the best ones in a slideshow on December 8 and winners will be notified on December 18. Say "cheese," and check out our favorite recent forced family photos to get inspired!
The staged family dysfunction
The people you send Christmas cards to probably haven't seen you in a couple years, so they just might fall for this.
The bad hair day cover-up
Getting photo-ready is such a drag. Why not just roll out of bed and throw on a mask?
The "too busy to be taking this photo"
This family decided a tease on people constantly being on their cell phones would be an appropriate Christmas card.
The casual Star Wars reference
Is your family too vanilla? Add a stormtrooper to the scenery.
The centipede group pose
It's like the whole family is one, even if just for a beautiful moment.
The overzealously Photoshopped
"We just got back from our family gymnastics class and thought, Hey, let's decorate the tree, and somehow caught this on camera!"
The angsty teenager
There's rarely a window of time in which one of the siblings isn't an angsty teen.
The professionally arranged portrait
This family spent hours getting set up by a photographer with the sole goal of "looking natural."
The unconventional vacation
At the time, this seemed like the perfect place to pull over and grab a scenic shot of the kids.
The unironic ugly sweaters
The key here is sweaters that are verrrrry similar, but not the same.
The "I'll be home for Christmas, wait can't make it, Skype me in?"
It's all to common these days — living a thousand miles away is no longer an excuse to escape the family photo.
Written by Dani Fankhauser
Images: Jessica Blankenship, Hayley Saltzman, Jenny Hollander, Jordan Rubin, Dani Fankhauser