Why The Rape Scandal At UVA Doesn't Surprise Me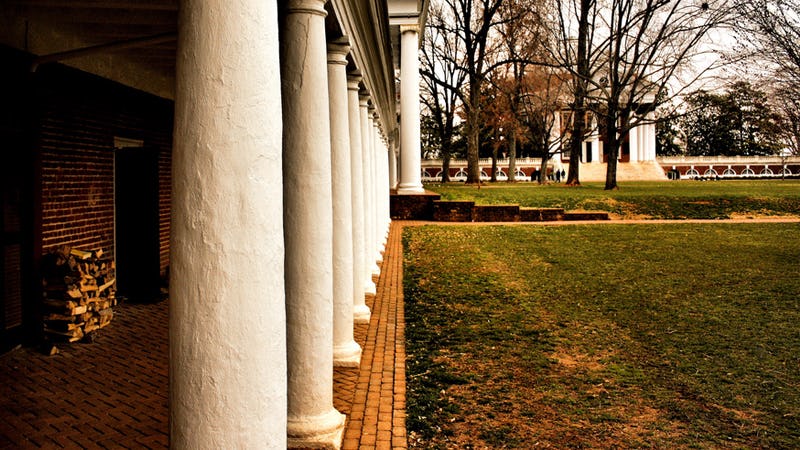 I remember my first UVA frat party. In a gaggle of ten friends, new and old, I crossed a solo-cup strewn lawn to the white-columned façade of one of the University's hallowed Greek institutions. Maybe it was Kappa Sig, or Delta Upsilon, or maybe it was Phi Psi. At the door, a brother was waiting to ask us the standard gatekeeper question: "Are you 21?"
Our friend Irene was first in line. "No," she answered honestly.
We had to find another frat.
It made for a funny story. How cute and naïve Irene was! Everyone knew that the brothers had to ask if you were 21, and you had to say you were. It was the standard procedure that allegedly absolved the fraternities of guilt in the event that they were busted by the authorities — which, in my experience, they never were.
I hadn't thought about that night at the cusp of my UVA career until I read Sabrina Rubin Erdely's Rolling Stone article "A Rape On Campus: A Brutal Assault And Struggle For Justice at UVA" this week. The article graphically chronicles the alleged gang rape of a UVA student called "Jackie" at the UVA Phi Psi frat house and the subsequent failure of the university to do anything about it.
While the issue of campus sexual assault is getting more and more attention across the nation, UVA — known for its Jeffersonian grace and "work hard, party hard" mentality — has still managed to duck under the radar of public attention, despite being part of a federal investigation and Title IX compliance review. As Erdely writes in Rolling Stone,
[T]he dearth of attention isn't because rape doesn't happen in Charlottesville. It's because at UVA, rapes are kept quiet, both by students – who brush off sexual assaults as regrettable but inevitable casualties of their cherished party culture – and by an administration that critics say is less concerned with protecting students than it is with protecting its own reputation from scandal. Some UVA women, so sickened by the university's culture of hidden sexual violence, have taken to calling it 'UVrApe.'
Since the article came out, my Facebook news feed has been blowing up. Friends and fellow UVA alumni are responding with anger and disgust — not at Erdely for her ruthless reporting, but at the fact that UVA needed a long-form expose by a magazine in order to be called out.
One alumna friend recalled to me how one of her best friends was attacked at a party. At the hospital, she was told that her hazy memory meant that she had likely been roofied. The woman never reported the incident. "I didn't understand why, especially since she knows who it was, but that's her thing so I just tried to be supportive," my friend remarked, adding, "I'm willing to bet most girls at UVA know someone or know of someone who has been attacked."
Granted, the people I hung out with in college were not part of Greek life or any of its trappings. We either ignored the "UVA basics" — the girls perpetually swathed in running gear and Northface, ordering scooped bagels from Bodos and gushing about how much they loved UVA to anyone who would listen — or mocked them. I never attended a single football game. My first year I went to a few frat parties after that first bust, but mostly, I got down with foreign exchange students at the European Society, hipsters at soirees thrown by the Declaration, the school's alternative newspaper, and at the occasional Bollywood dance party. Rugby Road was a dark street that my friends and I largely chose not to go down.
The reality, though, is that we were not exempt from UVA's culture of institutionalized violence and silencing of women. We were lucky, we tell each other now as we read about Jackie, just as we told each other when we read about Hannah Graham, and before that about Yeardley Love. It could have been any of us. Aside from telling the first year men of my class to think of the women sitting around them as their "sisters" at our convocation ceremony — obviously a highly effective precautionary measure — the University was silent on the issue of sexual assault throughout my four years there (2008-2012). Come Sunday morning, whatever happened in a seedy frat house bedroom was just another holdover of Saturday night. No one in the administration ever told us that we should not have to nurse the trauma of assault like a bad hangover.
Nothing really changed when Morgan Harrington, a Virginia Tech student visiting UVA for a Metallica concert, disappeared without a trace in October 2009. I remember hearing another student, with whom I worked at the school's catering operation, comment that Harrington "shouldn't have worn a skirt that short."
Things only became real when her body was found in a hay field outside Charlottesville three months later. Even then, because she was not a UVA student, the alarm was not as shrill as it should have been. The atmosphere has shifted, I'm told by friends still in the area, since the body of missing student Hannah Graham was discovered and traced to Jesse Matthews, the man responsible for killing Harrington (and first accused of sexual assault as a college student). People aren't going out at night to the same extent that they once were, choosing more often to stay in and drink; when they do go out, they are careful to travel in groups.
I'm willing to bet that this is only a temporary scare. "Text me when you get home," students will soon start saying again before sending each other off into the night. "Let's focus on your healing," UVA's Sexual Misconduct Board and support group will probably tell the next victims of campus rape.
The University has tried to palliate the outcry from Erdely's article with a tepid press release and by hastily making their "Student Sexual Misconduct Policy" available for public comment for the next two weeks. "The University takes seriously the issue of sexual misconduct, a significant problem that colleges and universities are grappling with across the nation," UVA President Theresa Sullivan writes, before detailing several new initiatives.
The HoosGotYourBack initiative, part of the Not On Our Grounds awareness campaign, was developed and launched in collaboration with students and with local Corner merchants to increase active bystander behavior.
A number of other initiatives are also planned for the spring. Among them are the implementation of a new student sexual misconduct policy and a related training program, a campus climate survey and an in-depth bystander intervention program that will include students, faculty and staff.
Will these "initiatives" actually remedy the deep flaws in UVA system? Have enough women been attacked to force the University to listen? Time will tell.
The fact is that I, too, loved UVA. I loved my UVA — the one of poetry readings, wine in the gardens, and ballroom dance competitions. I was largely able to ignore the noxious culture that castigates anyone who defies it — as students ignored Jackie, verbally and physically harassing her after she came forth with her story.
At best, too many UVA students are benighted. They are lulled into a sense of security that does not exist and that no one — not administration, not law enforcement — is truly dedicated to protecting. Even more dangerously, they are blindsided by love for their school, their professors, their traditions. It's in every interest of the administration to keep it that way, to continue selling the UVA brand of "Honor" with a capital "H" while its students yell the "Good Ol' Song" to drown out their classmates' cries.
We don't need more candles at a vigil. We don't need more team spirit. We don't need more expulsions for cheating, when no one is expelled for sexual assault, according to Rolling Stone's findings. We need to recognize UVA for what it is today: an institution that tolerates violence against women, and has allowed it to continue.
Image: Phil Roeder/Flickr