These Women Strip Down In The Name of Real Beauty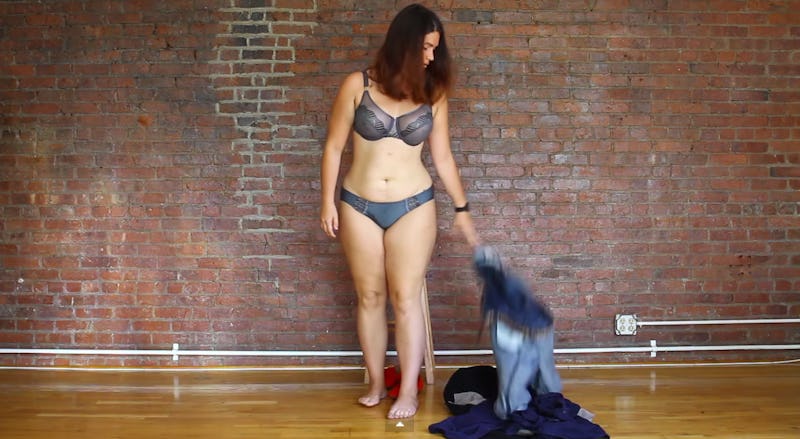 In the midst of a fashion industry that propagates the tall, thin, waify woman as the ideal of feminine beauty, it's hard to keep in mind that real beauty comes with within. Thankfully, Elisa Goodkind and Lily Mandelbaum are here to remind you with their new "I Am What's Underneath" documentary, which seeks to promote self-acceptance and celebrate self-expression. After experiencing their own confrontations with body image over the years, the mother-daughter duo remains committed to shattering the beauty stereotypes that have given rise to eating disorders, body dysmorphia, depression, and the like.
In order to fund their documentary, the women have created a Kickstarter campaign that details their personal stories and their vision for the project. They plan on traveling to five cities around the world to film various testimonials, while also creating satellite ambassador programs so that people from these cities can continue their efforts long after the documentary has finished filming.
Goodkind and Mandelbaum have already produced a viral "What's Underneath" video series, which can be found on their website, StyleLikeU. In the videos, they interview individuals of all races, genders, ages, and body types about things like confidence and self-image. In a unique twist, however, the women have the subjects of the videos remove layers of their clothing to demonstrate the truth of their mantra:
Beyond their efforts to redefine style, Goodkind and Mandelbaum contend that having their subjects strip down to their underwear helps them to feel empowered and vulnerable enough to share their stories. Even for those who have already confronted their insecurities head-on, the process serves as "a stage for catharsis," a way to heal the scars left behind by a society obsessed with body image and beauty.
What started off as a reaction from two women, then, has blossomed into a large and powerful collective voice. Recently, the "What's Underneath" documentary and video series have garnered even more attention after being featured in a Katie Couric interview. They've also received strong support from Tallulah Willis, who has her own episode on StyleLikeU. The growth of the movement is a testament to how many women have been denied the opportunity to express, and ultimately celebrate, their insecurities.
Fortunately, the "What's Underneath" documentary is here to change all this on a national, and even international, scale. With its new platform, the movement has the power to affect many, and perhaps even reshape the way we look at the fashion industry for good. Whether Goodkind and Mandelbaum are able to give a voice to thousands, however, or simply a select few, their message is clear:
True self-acceptance is not about looking like some made-up ideal of perfection. It is about the bravery to be in this world, exactly as you are, and not in the image of others. That is what gives a person style. That is what makes a person beautiful.
To get involved, you can help donate on the Kickstarter page or join the movement by posting a photo of yourself under the hashtag #iamwhatsunderneath.
Images: StyleLikeU, I Am What's Underneath