There's a Big 'Boy Meets World' Reunion on 'Girls Meets World,' a.k.a. Christmas Came Early! — PHOTOS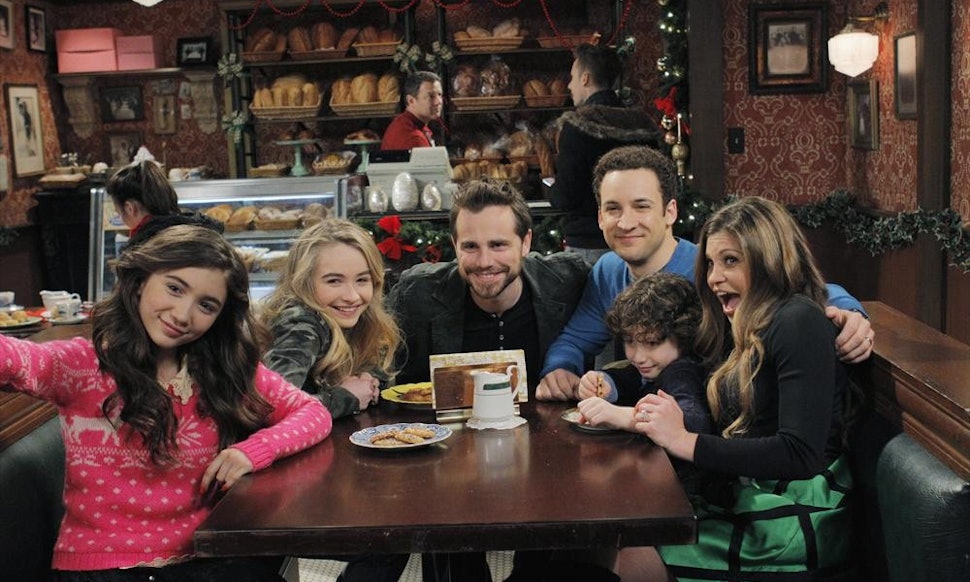 Another Boy Meets World reunion is set for Girl Meets World , and this time it's a big one. On the upcoming Christmas episode, "Girl Meets Home For the Holidays" (airing Dec. 5 on Disney Channel), Shawn (Rider Strong) will join the Matthews family for dinner, and that's not just Cory (Ben Savage) and Topanga (Danielle Fishel). Almost the entire clan will be there, with Cory's parents Amy (Betsy Randle) and Alan Matthews (William Russ) joining along with their youngest son, Joshua.
If you're having trouble remember Josh, it's probably because he was born in Season 6, which aired in 1999. He's a teenager now, and will be played by Uriah Shelton. No word on why little sis Morgan (Lily Nicksay) and older brother Eric (Will Friedle) aren't showing up for the pow-wow, but there will still be plenty of fun with Cory and Shawn back together. Apparently Shawn sees a lot of himself in Cory's daughter Riley's (Rowan Blanchard) best friend Maya (Sabrina Carpenter) and bonds with her and Riley. Click through to see all the holiday reunion fun!
Images: Disney Channel (15)
Cory and Shawn Have Fun
Just like old times, except Shawn has a beard.
Topanga and Amy Match
Perfect mother-in-law and daughter-in-law relationship here.
Alan Talks to the Whole Family
Giving life lessons, I presume.
Shawn Hangs Out With Maya and Riley
He fits right in, oddly enough.
Shawn Bonds With Riley
Reunion Selfie Time
Because there's never enough family photos with this gang.
The Family Gets a Surprise During Dinner
I bet this comes with a lesson, too.
Cory and Shawn Talk to Maya
Hopefully this isn't a scolding.
Alan Hangs Out With His Sons
Joshua is really all grown up. It adds up, because he was born in 1999 and that makes him 15 now.
This Photo Doesn't Look Staged at All...
Deep conversations, people.
Shawn Should Really Live With Cory Full-Time
Can they get their own spin-off?
Dreamy Beard Shot of Shawn
Shawn Likes Having Younger Friends
He's basically Riley's uncle, but he's a cool uncle.
Family Dinners Transport Us Back to the '90s
If you close your eyes for a moment, you can just imagine Eric, Morgan, and Angela there.