Sad Lunches Aren't Michelle Obama's Fault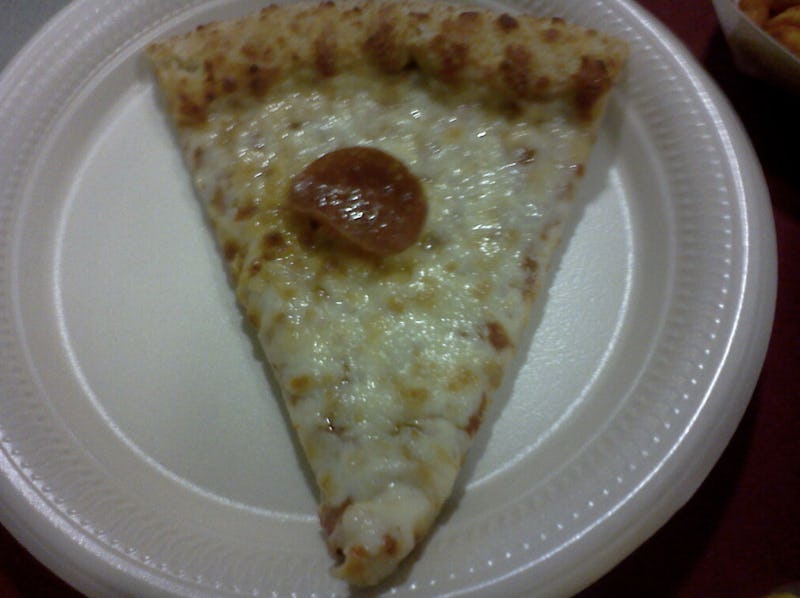 Remember your high school lunches? All those rubbery pizzas, flavorless burger patties, and crinkle-cut fries — so many crinkle-cut fries! Well, believe it or not, high school students may actually want to have those items back. Since First Lady Michelle Obama and the U.S.Department of Agriculture initiated new health guidelines for school cafeterias in 2012, school lunches have become healthier, yes, but also really, really sad. And the kids are not happy. In recent months, BuzzFeed reports, students have taken to Twitter to show off their gross lunches along with #ThanksMichelleObama, as a sarcastic dig at the first lady. But, clearly, this was not what Michelle intended for America's kids.
The new guidelines, which were the first changes made in more than 15 years, included swapping out fatty, high-sodium meals in favor of more whole grains, fruits, and vegetables. Whole milk was replaced by low-fat and fat-free milk while portion sizes became more regulated to limit calorie intake. Officially called the Healthy, Hunger-Free Act, these changes are part of Michelle Obama's overall initiative to promote better nutrition and reduce childhood obesity, which is a major problem in America with one out of three children being considered either overweight or obese.
In other words, it was a totally noble and necessary act. In fact, Michelle has dedicated much of her tenure as first lady to helping kids become healthier. Besides the Healthy, Hunger-Free Act, she is known for her Let's Move campaign, which also seeks to make America healthier, from reforming nutrition labels to making healthy foods more affordable and partnering with sports leagues to promote physical activity. You can't argue that our first lady cares about our health, especially the health of our children.
But somewhere along the way, the actual execution of the school lunch changes seems to have been botched. Which is obviously not the first lady's fault. But, alas, she's become a scapegoat for snarky teens with Twitter accounts.
When one thinks of healthy alternatives to square pizzas and chicken nuggets, one might picture delicious salads with grilled chicken, deli sandwiches with quality cold cuts, or roasted vegetable paninis. Or at least food that resembles food. But judging by these kids pictures, school cafeterias are still serving the same old mush they've always served, except with less salt and in smaller portions. Some students are still getting the same old rubbery pizzas, but just with less toppings — as in one pepperoni. Take a look at these lunches that may as well be wearing frowny faces.