Meet Lifetime's 'The Sisterhood' Cast Before These Ladies Start Their Journey Into the Habit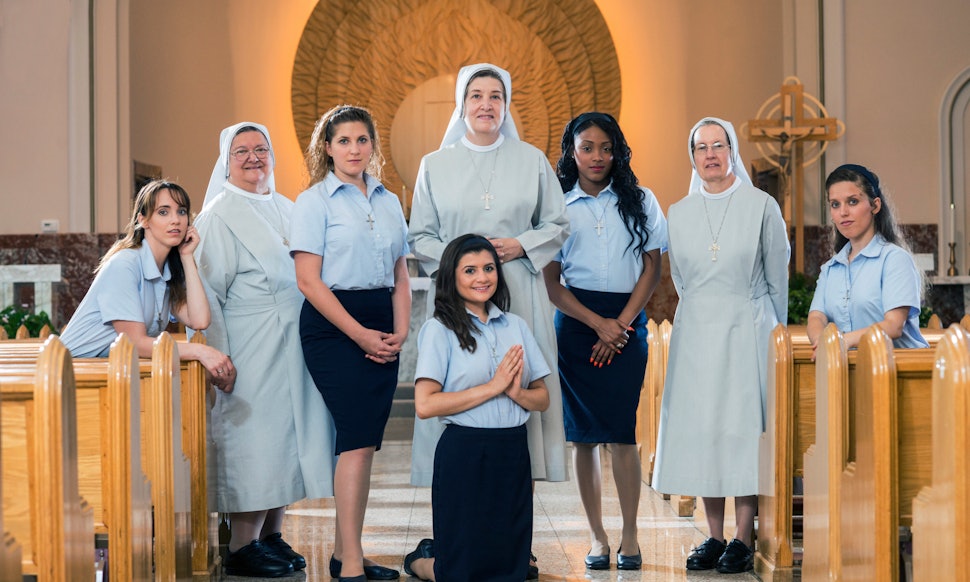 From Orange is the New Black to Jane the Virgin to Call the Midwife, nuns are kind of having a moment on TV shows these days, so it was only a matter of time before reality TV got in on the sister act. Lifetime's new docuseries The Sisterhood: Becoming Nuns is the first to answer that call.
Premiering Tuesday, Nov. 25 at 10 p.m., The Sisterhood follows five young women as they go through the first step toward becoming a nun: discernment. During discernment, the ladies will live and work in various convents across the country for six weeks, at the end of which they will decide if they want to continue on in the hopes of becoming America's Next Top Sister... or actually just a regular nun without all of the reality show trimmings.
Over the course of six weeks, these women will observe the vows of chastity, poverty, and obedience, which also means no makeup or (gasp!) cell phones. As you can probably guess from the fact that Lifetime decided to make a reality show out of this process, it's not going to be easy. Click through to meet the ladies who are brave enough to go on this spiritual journey.
Image: Scott Gries/Lifetime
Francesca DiPaola
At 21 years old, Francesca is the youngest of the cast members going through discernment, which means she will probably have the toughest time. Francesca just graduated from college, after all, so how could she possibly make a commitment like this already? It looks like that's exactly what this Harrington Park, N.J. native and her big Italian-American family will ask throughout this season. It's hard to tell what the bigger challenge for Francesca will be: being away from her family for six weeks (and even longer if she actually becomes a nun) or living without makeup. It could really go either way.
Image: Scott Gries/Lifetime
Claire Halbur
I'm convinced Claire is already a nun, and she's a mole planted by the more senior sisters at the convent to try to catch these ladies if they break their vows. She definitely seems to be the most pious member of the cast. The 26-year-old from Joliet, Ill. is a music teacher and church musician who loves to sing. She's also been living "a season of dedicated singleness" for about five years, which may sound crazy to you and me, but Claire actually seems quite content with her solitude. I don't even think she needs to go through discernment. Someone give this girl a habit already!
Image: Scott Gries/Lifetime
Eseni Ellington
It's common knowledge that nuns must be chaste and remain unmarried. That might be a problem for Eseni, who is currently in a relationship with her boyfriend, Darnell. Ironically, it's relationships with men that have driven Eseni to explore becoming a nun. Growing up, Eseni's father had a baby with another woman, so now Eseni admittedly has trust issues with men. The 23-year-old from Bronx, N.Y. now seeks the simple and drama-free life of a nun so she can avoid experiencing what her mother went through. But the possibility that Darnell's love could save her more than her religion is always in the back of her mind.
Image: Scott Gries/Lifetime
Christie Young
Christie takes the term "Brides of Christ" quite literally. Her relationship with Jesus tends to lean toward the more romantic side. When Christie is in prayer, she has visions of Jesus dancing with her, of meeting his mother, and of walking down the aisle with him as a bride would with her actual groom. Though the 27-year-old from Glendale, Calif. is a self-proclaimed flirt and is usually in a relationship, she's had a very spiritual upbringing, vowing to not have sex before marriage, and she has thought about becoming a nun since college. I would say that Christie is going to have a difficult time staying away from the boys, but it sounds like her relationship with Jesus is plenty fulfilling for her in that way.
Image: Scott Gries/Lifetime
Stacey Jackson
This 26-year-old from Huntington, N.Y. grew up wanting to be an actress, not a nun. However, reading the biography of Mother Dolores Hart, who left a promising acting career in the 1950s to become a nun at age 24, inspired Stacey to go down the same path. Since her connection to God is what always made her feel happy anyway, Stacey wants to see if the nun life is for her. Let's just hope Stacey won't have to abandon her artistic passion entirely, because she also makes these kind of creepy-looking dolls. However, they are made in the likeness of religious figures like Jesus and Mary, so that's got to count for something.
Image: Scott Gries/Lifetime