'The Flash's Latest Metahuman Could Be Good or Bad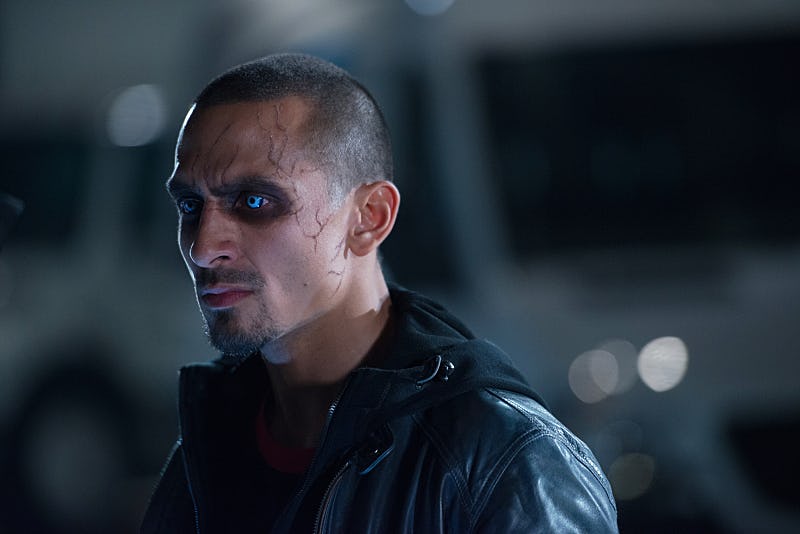 As The Flash continues its format with the "metahuman of the week" storylines, they're going to start diving deeper and deeper into the DC comic universe. And, hey, I don't think any of us are going to start complaining about that. Tuesday's episode brings a meta-human that not only comes from the DC universe, but a DC alternative universe. Metahuman Farooq, more commonly known as Blackout, joins The Flash and he's coming straight to Central City from the popular comic series, Flashpoint. So just who is Blackout, and what does he want with Barry?
First off, you've got to know that the events that happen in Flashpoint take place in an alternate timeline, where Barry's mother is still alive and his father is dead. Make sense? The long and the short of it is that Professor Zoom managed to figure out how to go back in time and erase everyone's memories and basically defeat Barry Allen once and for all, without altering his own timeline and evil plans. Got that? Perfect. Also, Wonder Woman is bad. But this is all here nor there. Let's not get into the strange and wonderful world of Flash time travel until we know that's actually a go on the CW series.
However, seeing as how The Flash hasn't gotten into its real time travel-heavy backstory, Blackout will very much be present in the here and now, and it looks as if he's going to bring along his Flashpoint character traits. Back in the comics, Blackout was able to harness (and often abuse) energy, which made him a powerful target for both sides, good and bad. While in the comics, he was considered a "good guy" he was also fighting against an evil Aquaman. So, you know, take this all with a grain of salt.
It doesn't look like The Flash is going that route anyway (at least, not yet) in Tuesday's episode "Power Outage," in which Michael Reventar will play Blackout. The episode synopsis even states that this character is a metahuman who can "harness electricity," and Blackout shows up in Central City with a bone to pick with Harrison Wells — so clearly the show is going the "bad guy" route for the character who was a good guy in the alternate universe. Still, pretty confusing. But hey, we'll take all the metahumans we can get.
Image: Diyah Pera/The CW