Easy Ways To Save Money On Your Beauty Routine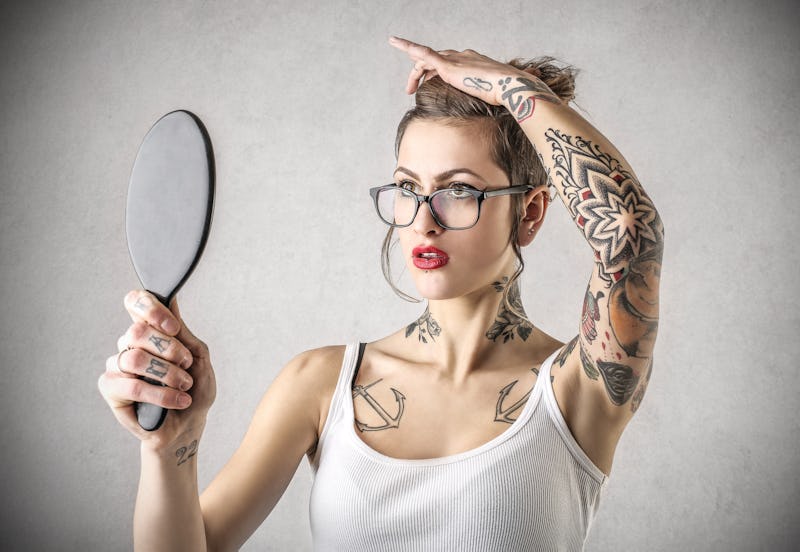 So you're getting ready for the day. How many steps is that? Washing, toning, treatments, moisturizers, foundation, concealer, eyes, brows, cheeks, lips... The more products involved in your beauty routine, the more fun (or exhausting) it can be. But the longer it is can also make it more, well, expensive. Beauty may not be pain, but it sure as hell is money. Of course you can always cut steps, and therefore products, in your routine to save some money on your beauty routine. But if you simply can't live without the extras, you can alter the way you shop to cut your spending instead.
To really reduce costs, utilizing samples can be helpful. I know those foil packets that come with purchases or are found in magazines can be annoying and seem like there is so little product inside, but they'll generally go farther than you think. Invest in some small sample jars (you can find them inexpensively at places like Coastal Scents) to empty your samples into. Certain products like eye creams can actually last for weeks of use when stored properly. And the best part of taking advantage of samples? They're totally free. Just ask for them at places like Sephora and Ulta. If you still prefer using full-size products in your beauty routine though, here are four more tips to get exactly what you want at a lesser cost.
1. Use Multi-Purpose Products
Left to right: Tarte Maracuja Oil, $46, Sephora | Stila Convertible Color in Sweet Pea, $25, Sephora | CoverGirl LashBlast Volume Mascara, $7, Target | Stila All Over Shimmer Duo in Kitten, $22, Sephora
Using products that are good for more than just one thing can save you both time and money on your beauty routine. Even if they aren't marked as such, a lot of beauty products have at least two uses. For example:
Even if oils are marketed for skin, you can also use them on your hair to the same purposes.
Cream lip or cheek products can be used on both lips and cheeks so you don't have to worry about excess products or whether your cheek color clashes with your lip color.
Depending on your brow color, use a clear, brown, or black mascara for both your lashes and to set your brows.
Champagne eyeshadow can also be used to highlight your face.
Bronzer can also be used as eyeshadow.
2. Know Your Dupes
Left to right: YSL Rouge Pur Couture Glossy Stain, $35, Neiman Marcus | L'Oreal Color Riche Extraordinaire Lip Color, $10, Jet
As much as we might love some high-end products, there are often more inexpensive, drugstore alternatives. They're not so hard to find either. Knowing which brands are manufactured together can be helpful, but there is also a wealth of dupe-related information on blogs and YouTube. All you have to do is search.
3. Pick What You Splurge On
Left to right: Make Up For Ever Artist Shadow, $17, Sephora | Shiseido Ultimune Power Infusing Concentrate, $65, Sephora | NYX Cosmetics Round Case Lipstick, $4, ULTA Beauty | Neutrogena Deep Clean Facial Cleanser, $5, Target
Generally, more expensive powder products will be better formulated than their drugstore counterparts. But cream products (lipsticks, foundations, cream eyeshadows, eyeliners, mascaras, etc.)? They're just as good at the drugstore.
Same goes for treatments. In your skincare routine, if you're going to splurge, make it on your serums and treatments. Cleansers and toners won't usually have anything magical in them to justify a bigger price tag — plus, they're only on your face for a minute, tops, before you rinse them off.
4. Participate in Programs/Sales
Beauty giants like Sephora and Ulta have loyalty programs where if you are a member, you will have opportunities for private or larger sales. During these sales, prestige brands like Urban Decay and Too Faced can be on sale for 10-20 percent off. Both stores also offer points with every purchase that can equal free samples at Sephora or cash towards future purchases at Ulta.
MAC has a recycling program where if you bring in six empty products, you can get a free lipstick. Lush also has a recycling program where if you bring in five empty black pots, you can get a free face mask.
And don't forget coupons! Places like Target, who offer in-house coupons will allow you to stack those with manufacturer's coupons to get even more money off your products.
Images: olly/Fotolia; Sephora