Which Stores Give Free Gifts on Black Friday? These 8 Are Good Bets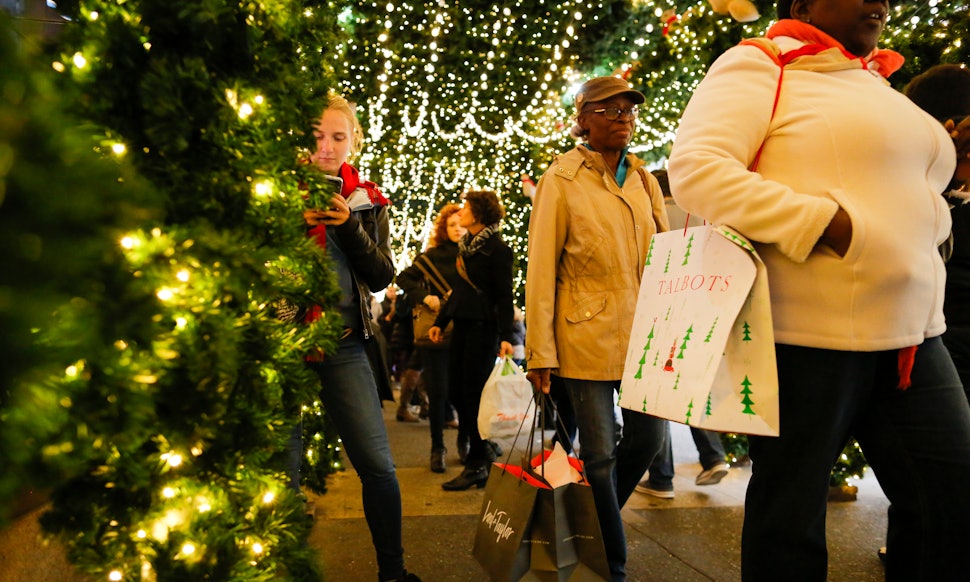 Eduardo Munoz Alvarez/Getty Images News/Getty Images
There are few things that are better than Black Friday deals. Your mom's mashed potatoes you just gorged yourself on the day before are probably one. Passing out, bloated and happy, on your parents' couch in a food coma after dinner, would be another. Something else even better than those crazy Black Friday price cuts? Black Friday freebies! Come on now, who doesn't love free stuff? Marie Antoinette may never have actually said Let them eat cake, but theses stores have said Let them have freebies and I, for one, am counting down the days...
If almost free stuff doesn't quite do it for you, click through the slideshow for some of the best Black Friday freebies of 2014!
Anthropologie
This year, all in-store shoppers will receive holiday poppers. They're filled with festive confetti and goodies like sweet treats and Anthro gift cards, valued up to $500!
Steve Madden
Steve Madden is partnering with Alex and Ani for Black Friday, which means trendy shoes and gorgeous jewelry! What could be better? For every purchase of $100, Steve Madden shoppers will receive a free bangle.
PetSmart and Petco
Do Fido and Fluffy want to get in on the stylish deals, too? Well, if you're one of the first 100 people in your local PetSmart on Friday, you'll receive a Christmas stocking full of goodies and treats for your pooch, plus a scratch card that could score you a $100 gift card.
At Petco, Pals Reward members will get a free photo frame and a $20 gift card for Shutterfly with any purchase — the perfect excuse to take some shameless selfies with your furry friend.
Staples
Your mother has been pushing you to send the family Christmas cards since you've moved out… and now you can! With any in-store purchase, Staples will give you 25 free 5x7 customizable holiday cards.
Half Price Books
This year, the popular bookseller is offering a free tote bag and $5 gift card to 100 lucky bookworms. Might as well pick up a book to read to pass the time while waiting in line at Costco…
Costco
There are tons of delicious goodies to eat in Costco, but what's even yummier is that warehouse club will be offering a free cookbook called Food The Costco Way to its customers. The cookbook, which features over 200 recipes and color photos, will be available from November 28 to November 30.
Stella & Dot
The always lovely jewelry and accessories line is offering a special, mystery gift to its Cyber Monday shoppers. The perfect excuse to buy some gold goodies for all your friends (or just yourself)!
Gold's Gym
Feeling like you might have overdone it at Thanksgiving dinner? Well, Gold's Gym has got you covered. The fitness center is offering totally free workouts all day long on Black Friday, if just running from store to store isn't burning enough calories for you.
Image: Fotolia