Did 'The Sisterhood's Enseni Ever Become a Nun?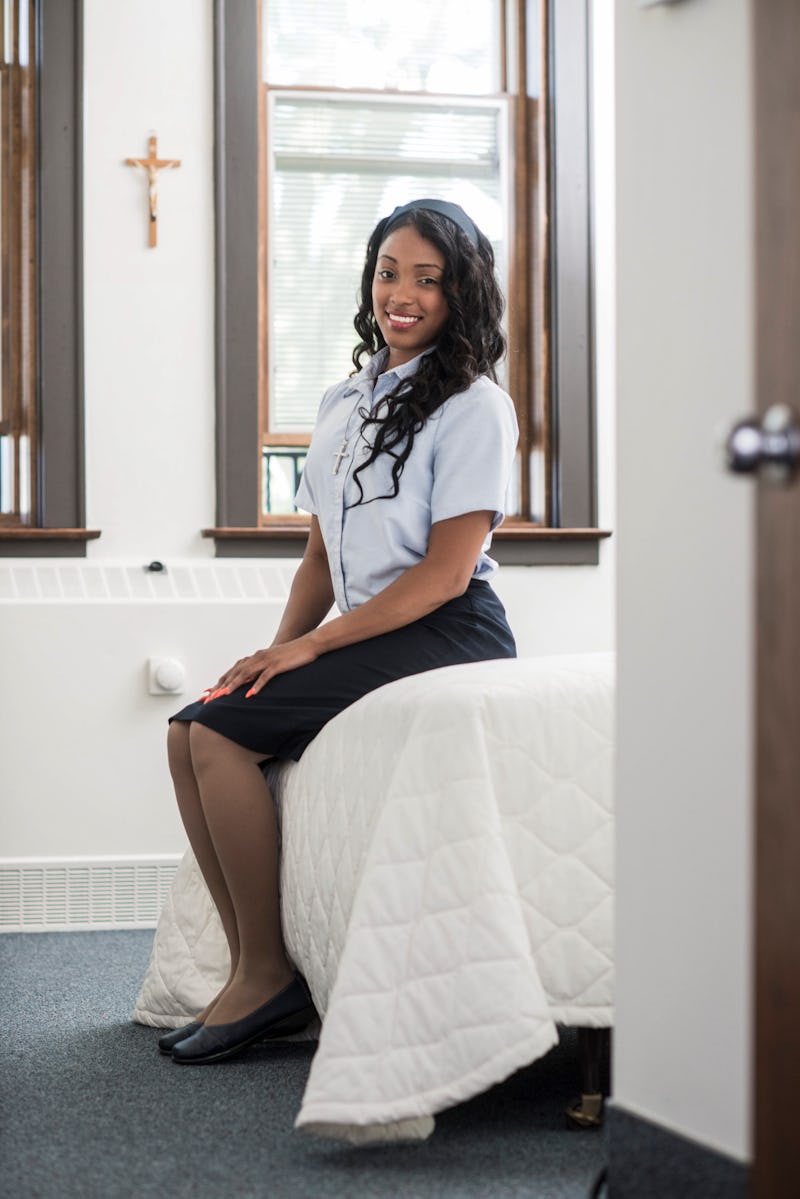 Following in the footsteps of the Amish, Catholic nuns are opening their doors to reality TV cameras to make a reality series. Lifetime's The Sisterhood: Becoming Nuns will follow several young women as they move into a convent in hopes of, well, becoming nuns. One of the potential sisters is Eseni Ellington, a former beauty queen and New York City resident who found her way back to religion after years of competing in local pageants and even running for Miss New York. But did Eseni actually become a nun? Since many women who go through this experience choose not to take any vows and just return to civilian life, there's a good chance for either outcome.
Usually, women who become nuns grow up pretty religious, so it's intriguing to see what would make Eseni, a girl who already had a successful modeling and pageant career, give it up to pursue a life of charity and piety. It's a pretty far cry from photo shoots or winning Miss America. She's deactivated a Facebook page she was using to promote her campaign for Miss New York 2014 (only the Google result for the page still remains), and her online modeling profiles are also defunct. Could she have totally left that life behind?
Eseni's been excitedly promoting the show on Twitter. While most nuns give up a lot of modern convinces, which would probably include a personal twitter account, some sisters do access the internet to promote their causes — and educating people about becoming nuns via Lifetime's show might be a worthy exception. Then again, some of the other cast members don't have Twitter accounts at all — is it because they're in a convent or just because they don't like social networking?
According to a clip from The Sisterhood , the convent where they are staying does not allow any electronics or nice clothing and makeup. So obviously Eseni is no longer staying there. However, become a nun has several long stages that can take up to two years of dedication and "discernment" (which is exactly what it sounds like; discerning if you want to become a nun or not) and one of the first is a period of moving away and staying in a convent of some kind. So it's possible that since then Eseni has either decided not to become a nun or that she doesn't want to become the same type as the cloistered nuns she stayed with during the taping of The Sisterhood. She could very well be in the early stages of staying with a less strict group.
But Eseni did leave one pretty big clue on her Twitter recently:
We can even see a little glimpse of her manicured nails in the photo. Would a convent have a copy of People lying around? Especially the Sexiest Man Alive issue? Not that nuns all have to hate pop culture or anything, but given that most of them take vows of poverty, it seems pretty unlikely that Eseni is one of them if she's spending her cash on magazines. But the only way to know for sure is to watch The Sisterhood on Lifetime — and she clearly knows that, because there are no hard answers to be found.
Image: Scott Gries/Lifetime