Val is Always There For Janel on 'DWTS'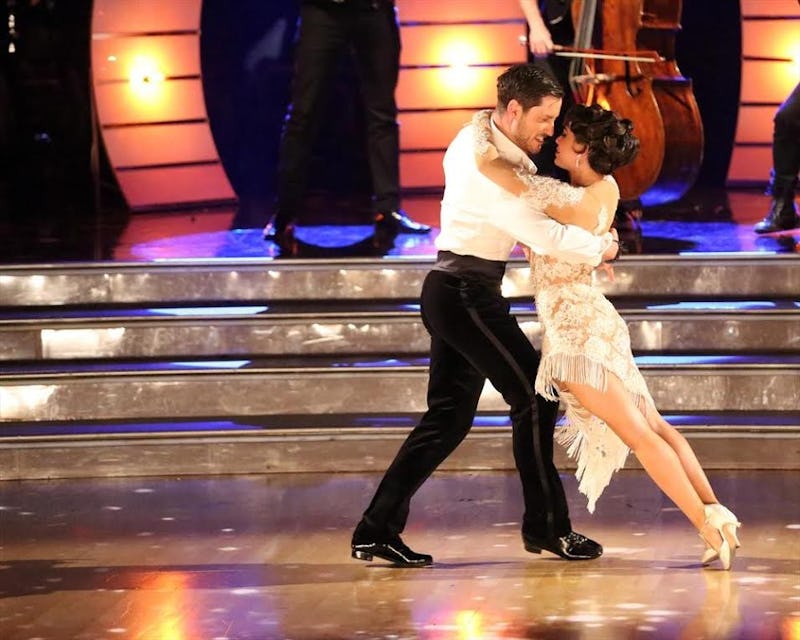 After weeks of success Team Janelskiy was bound to have a bad night and unfortunately it came during finals week. Objectively they didn't perform badly and even got a perfect score in one of their dances. But on Monday's Dancing With the Stars Janel Parrish was injured and it was clearly weighing heavily on her. I blame Pretty Little Liars for stealing her away for the Christmas special. Their 15 hour shooting days caused Janel and partner Val Chmerkovskiy to miss three days of rehearsal. As they were coming in late to the game, they probably overcompensated in practice and Janel ended up injuring her rib.
Despite being in pain, Janel and Val scored a 37 on their redo of a previous week's dance. It was a five point increase on what they scored the first time around which is pretty good. They also scored a perfect 40 on their freestyle. But it was easy to tell that Janel was really upset with how her body was behaving. "I have given three months of my life to this. I can't go home now," she said at the start of the show. After their performance she had tears in her eyes because she really wants to win this. It would be so unfair for an injury to take that chance away from her.
But, if there's a silver lining to everything, it's that Val was 100 percent there for her. During her medical examination, Val sat by her side in the doctor's office to offer encouragement. "It doesn't matter what happens in this competition you're the best. You're the best for me and that's all the matters," he told her.
I swear if they don't start dating soon I'm going to jump through my TV screen and force them to go out.
Val continued to have Janel's back throughout the night. After their first dance, he told Erin Andrews how proud he was of Janel for working through her pain. "I feel grateful to share this incredible journey with this incredible person." Aww.
So yes, Janel had an off night, but it'll probably end up OK. She and Val still performed very well. And even if they do go home without the Mirror Ball, Janel seems to have captured Val's heart which is better than any trophy anyway.
Image: Adam Taylor/ABC