Which 'DTWS' Couples Are Dancing For the Trophy?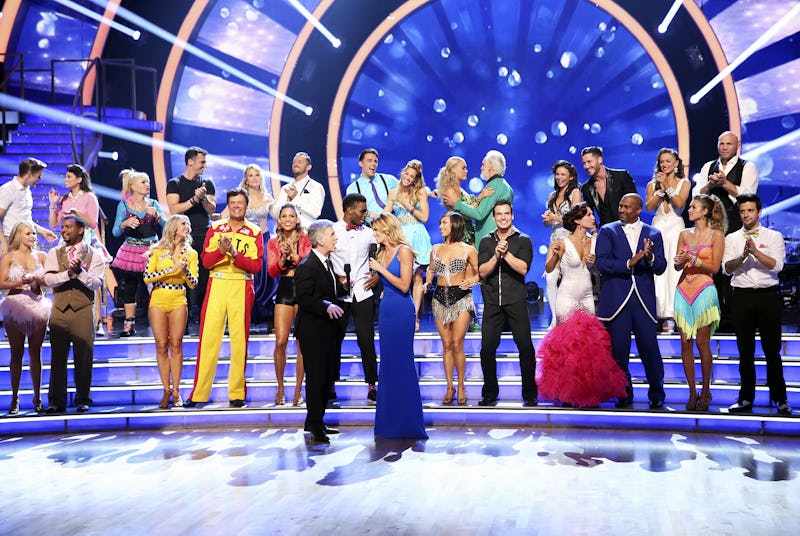 On Tuesday night Dancing With the Stars will crown their victor, but who won't be joining the Mirror Ball competitors? Unfortunately Bethany Mota and Derek Hough were eliminated on DWTS and will not perform during the finale. It was tough to watch anyone go home on Monday. The final four couples were superb all season and have come so far, so losing a fan favorite was especially hard.
Now that Mota and Hough are out, only three remain to perform to dance for the coveted DWTS trophy. Alfonso Ribeiro, Sadie Robertson, and Janel Parrish are all safe and still in the running. That's great news for their fans, but Team Motough is really upset. But instead of posting angry tweets, I noticed that their supporters are simply thanking them for a wonderful season.
It's a response that's right in line with how Mota and Hough handled the news themselves: full of poise. "I was just hoping to make it past week two," Mota said after the elimination. She achieved that goal and so much more. "I've discovered things about myself that I didn't think I could ever do," she told the show's hosts.
Hough was equally gracious, thanking Mota for being his partner. "I'm so proud of her. This has been an incredible season," he gushed. "She's an amazing role model." Then Hough turned his attention to his fellow competitors and wished them luck in the finale.
For as disappointing as it must be to go home when you're so close, they handled themselves very well. And I'm happy to report the fans are as well.
There's nothing that warms my heart more than fans who are compassionate on social media. Plus, they're right in singing their praises. Bethany Mota did a really great job this season. She was the first YouTube star to ever grace the stage and she gave it her all. And that's something both she and Derek Hough should be proud of, no matter the end result of the show.
Image: Adam Taylor/ABC