What TV Shows Are On Thanksgiving Week? You Won't Be Left Totally Without Your TV Standbys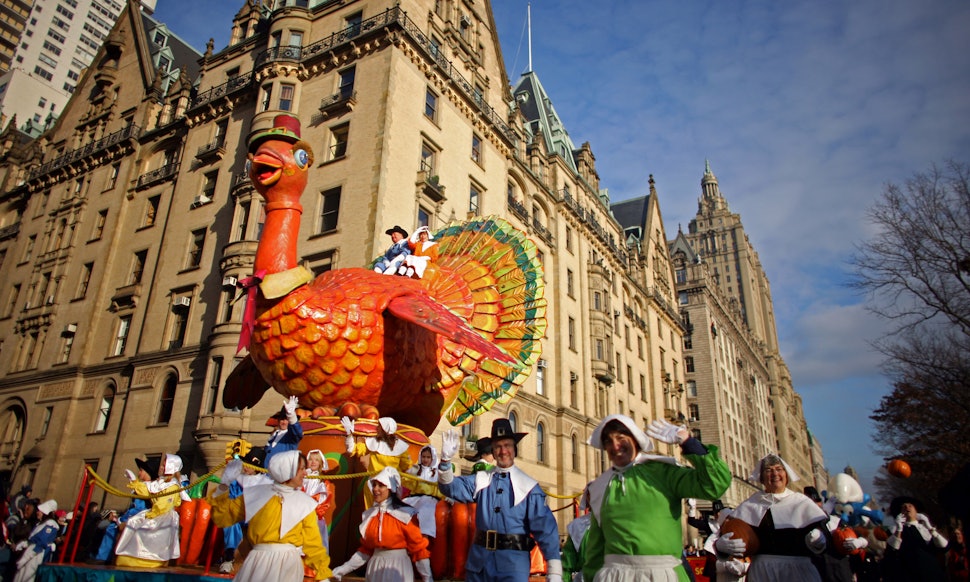 Yana Paskova/Getty Images News/Getty Images
It's Thanksgiving time and you know what that means — it's a short week, which is expected to end with all of us eating (and perhaps shopping) to our heart's content. Definitely one of my favorite weeks of the year. But what about the part when we're all done stuffing our faces and ready to veg out in front of the TV? That's tradition, too — or maybe that's just what I do, post-Thanksgiving dinner. Either way, don't worry, you can still watch new episodes of some shows this Thanksgiving — not all of them will be preempted or in reruns.
This week is a mixture of new TV and Thanksgiving and Christmas specials to get you into the holiday spirit, but also give you new awesome episodes to watch while you hum some Christmas tunes, put up a decorative tree, and marathon all the best holiday movies. But first things first — let's chow down on that Turkey (or Tofurkey) on Thursday, watch the Macy's Thanksgiving Day Parade, and enjoy the day off.
Check out what's new, what's not, and what's special in our handy slideshow guide to TV this week.
Image: Getty Images
Tuesday
You're in luck. Right before the holiday specials take over the small screen, some of the TV shows you know and love are airing new episodes Tuesday night. CBS is all new with fresh episodes of CSI, Person of Interest, and NCIS: New Orleans. CW is also refusing to take a break, airing new episodes of The Flash and Supernatural. Fox's New Girl is new, too, with a Thanksgiving-themed episode.
For competitive reality TV fans, ABC's Dancing with the Stars and NBC's The Voice are brand new as they near crowning winners of their respective contests.
Wednesday
ABC will fill the 8 p.m. hour with the classic holiday special A Charlie Brown Thanksgiving, in place of the now-canceled series Selfie and Manhattan Love Story. CBS keeps its schedule in tact and all new with fresh episodes of Survivor: San Juan del Sur - Blood vs. Water, Criminal Minds, and Stalker. Fox is also delivering new editions of Hell's Kitchen and Red Band Society.
Fans of NBC's Mysteries of Laura, Chicago P.D. and Law & Order: SVU will have to wait until next month to see what the characters are up to. NBC is pre-empting all three to air two specials: The Making of Peter Pan Live! and the laugh-filled Saturday Night Live Thanksgiving compilation of holiday-themed sketches. CW is airing the Thanksgiving-themed 1987 movie Planes, Trains, and Automobiles in place of Arrow and The 100.
Image: Virginia Sherwood/NBC
Thursday
Ah, Thanksgiving Day. Be sure to pair your turkey-eating with the long-time tradition of watching the Macy's Thanksgiving Day Parade, airing live on NBC during the day. CBS remains dedicated to airing nothing but new TV this week, airing brand new episodes of Mom, Two and a Half Men, The McCarthy's, and Elementary. After that, expect to see football, puppies, and repeats (not a bad thing).
If you missed out on ABC's newest Shonda Rhimes-produced hit How to Get Away With Murder, the network is re-airing two episodes on Thursday night, after a Robin Roberts-hosted special called Thank You, America! airing in Grey's Anatomy's 8 p.m. timeslot. Fox's Cause for Paws: An All-Star Dog Spectacular will preempt Bones and Gracepoint. CW is airing episodes of the comedy Who's Line is It Anyway? to give Vampire Diaries and Reign the week off.
NBC is airing a football game that will most likely extend itself into primetime — it's the Seattle Seahawks at the San Francisco 49ers, if it matters to you.
Friday
The sharks are still airing on ABC on the day after Thanksgiving, but it'll be a rerun of Shark Tank, which will follow a holiday-themed edition of America's Funniest Home Videos. Last Man Standing and Cristela are taking the week off. CBS has a new episode of The Amazing Race, a repeat of Hawaii 5-0, and two Christmas specials airing in place of Blue Bloods: Frosty the Snowman and Yes, Virginia. Constantine and Grimm are both new on NBC.
It's all Christmas on the CW, which is airing the specials Grandma Got Run Over By a Reindeer, Kung Fu Panda Holiday Special and Merry Madagascar in place of its regular programming. Fox is airing reruns of MasterChef Junior and Gotham.