Where are the Clothed Women in 'Wolf of Wall Street'?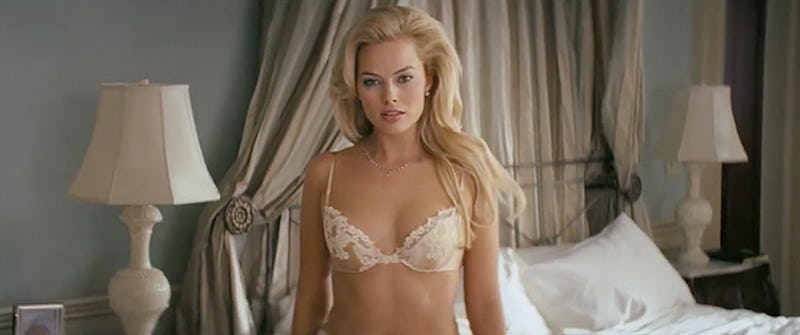 Martin Scorsese's The Wolf of Wall Street looks legitimately good. After all, the film, which centers on a a stockbroker (Leonardo DiCaprio) and a scam that scored $200 million from investors, combines the director's strengths: Crime (hello The Departed!), period (oh hi, stove pipe hats of Gangs of New York), and levity (it's been too long since we've seen you, Hugo)!
But there's also a surprising weak point in the trailer — though Scorsese has directed strong female characters in previous pictures (The Aviator, Casino, The Age of Innocence), there's a remarkable lack of women featured in The Wolf of Wall Street. At least, women featured with their clothes on.
Out of the nine shots of women featured in the trailer, four depict bikini-clad partiers, and all nine treat the film's women (including the top-billed Margot Robbie) as sexy backdrops. Granted, we can cut Scorsese some slack: Not only is he working off source material — Jordan Belfort's memoir, The Wolf of Wall Street — but financial firms are famous for their boy's club reputations. And it's easy to imagine things were even worse in the 1990s, when the film takes place.
Still, the mere presence of at least one fully clothed woman in the trailer might have left a better taste in my mouth. But I have faith in The Wolf of Wall Street. (Even if it stars the now-insufferable Jonah Hill.) Paparazzi shots from the set prove that Robbie is considerable more clothed at some point in the movie. And how could I not have a full heart for a film that stars Friday Night Lights' Kyle Chandler?