Meet Grumpy Cat's New Movie Foe, Isaac Haig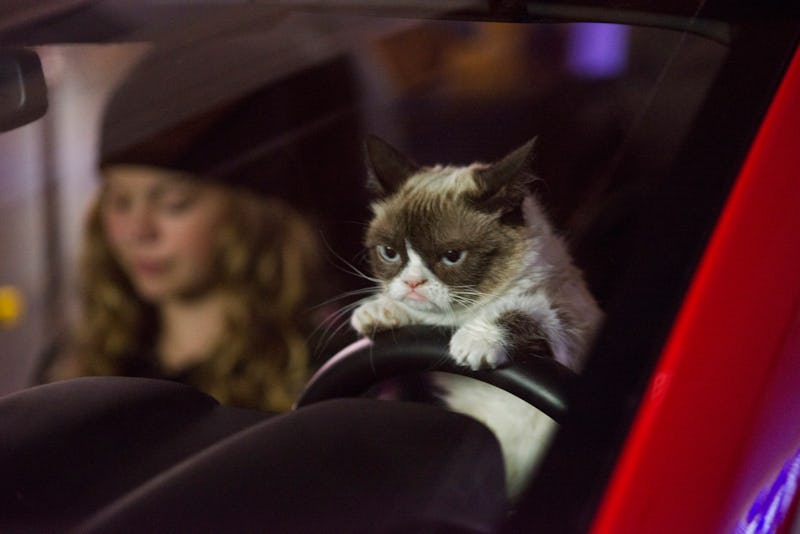 Move over Smelly Cat, there's a new kitty taking the world by storm (and she literally doesn't even care). The popular celebrity feline, known to us as Grumpy Cat, has made it to such massive stardom that she was officially offered her very own Christmas special, airing Nov. 29 on Lifetime. Grumpy Cat's Worst Christmas Ever will find the two-year-old cat living in a mall pet shop, but no one wants to take her home. Until one morning a 12-year-old girl name Chrystal makes a wish for one true friend she can depend on and — drum roll — enter Grumpy Cat. But the twist is that Chrystal can hear the sarcastic, pessimistic comments going on in Grumpy's head. In case you've never seen a cheesy but cute Lifetime movie, something tends to go wrong and this time it's a planned kidnapping of an expensive mall dog that Grumpy hates. So who's the Christmas Scrooge of this new Lifetime Special, you might ask? My bets are on the hot, scruffy Isaac Haig, who plays Donny in the film.
You might recognize Isaac Haig from the musical King of the Camp, but the most crucial thing to know about Isaac is that he's an attractive Canadian singer/songwriter with a voice that would make girls swoon if they only got the chance to hear it. With any luck, he'll belt out a Christmas tune or two as Grumpy Cat realizes the true meaning of Christmas.
Grumpy Cat's inability to enchant the mall-goers enough to find a home causes her to develop a sour outlook on life. But according to Lifetime, an incident at the mall inspires a unique friendship between Grumpy and Chrystal. At first Chrystal is skeptical about Grumpy's, well grumpiness, since she is the only person who can understand the feline, but maybe a little understanding is exactly what Grumpy Cat needs this Christmas. Two men, Isaac Haig and his cohort seen in the tweet above, attempt to kidnap an expensive, exotic dog from the very same pet shop Grumpy just escaped from — and Grumpy Cat plays a part in spoiling their evil plan.
Even though Grumpy Cat will insist it was still the "Worst. Christmas. Ever," I think by the end of film, we'll know she feels otherwise. I just hope Lifetime will leave enough screen time for Isaac to develop his character, because everyone could use a little more of that face this Christmas. If his voice, as heard in the video below, doesn't inspire you to DVR Grumpy Cat's Worst Christmas Ever and play it on repeat, I don't know what will.
Grumpy Cat, whose real name is Tardar Sauce, has become one of the most famous cats of all time during her two years on this earth and it's time we celebrated her. Parks and Rec's Aubrey Plaza is lucky enough to embody Tardar Sauce in her very first acting appearance, alongside Haig, and it's one you don't want to miss.
Images: Chris Helcermanas-Benge/Lifetime; Giphy