Cleveland Protests The Shooting Of A 12-Year-Old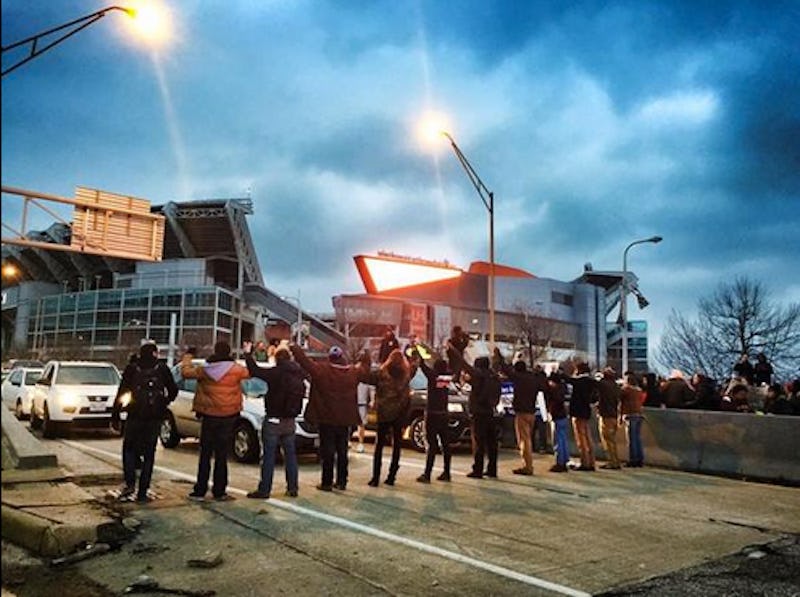 Hundreds of people blocked exit ramps on Tuesday in Cleveland, creating a temporary human barricade during rush-hour traffic in protest over Cleveland's police shooting of 12-year-old Tamir Rice. The protests rolled into the nationwide demonstrations over police shootings, employing several familiar elements used in the protests for Michael Brown.
Chanting "Hands up, don't shoot!" and "Hey! Ho! These killer cops have to go," the crowd, nearly 200 strong, managed to cause traffic diversion in its peaceful protest. Demonstrators blocked cars by standing and laying in major intersections and ramps. A freeway was blocked for an hour before the crowd returned to Cleveland's downtown square and dissolved. Cleveland Police Chief Calvin Williams said on Tuesday that he would let the protest continue.
The protests come in the aftermath of Saturday's police shooting of Rice. Officers were responding to a 911 call about someone waving a gun at a recreation center, which turned out to be a toy air-soft gun missing its orange safety indicator. Officers said they asked Rice to raise his hands, and he want for the toy in his waistband. After sustaining bullet wounds in his torso, Rice was taken to the hospital and underwent surgery. He died on Sunday.
Police will release the video clearly showing the incident at a press conference on Wednesday.
Images: Twitter/Abbas Hamideh