30 YA Books You Can Judge By Their Covers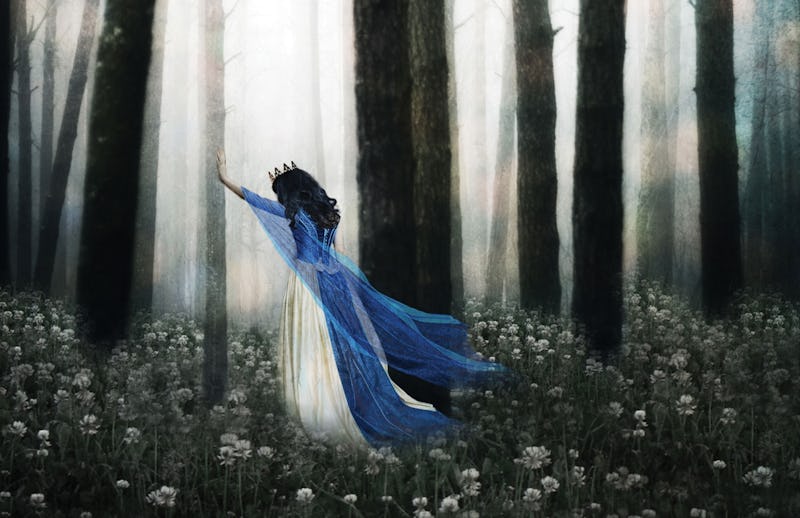 Billowing dresses, luxurious landscapes, couples of all sorts locked in mid-embrace — this is what you're used to finding on the covers of YA novels. So when the same images are used over and over again, how does a publisher make a book stand out in such a crowded field?
The trick is to treat a cover like a work of art. Luckily for readers, publishers are going the extra mile, creating covers that cause a reader to drop everything and make grabby-hands. Beautiful books? Yes!
But there's one problem: This leads to a most disheartening phenomenon for the avid reader: falling prey to the age old trick of judging a book by its cover. Nothing's worse than picking up a book based off some gorgeous art and having the content not live up to the hype.
Some books, however, are beautiful inside and out. They'll make your personal library look simply gorgeous, and you'll want to return to them again and again. These 30 are among those special books, drawing you in with their art like a siren song from the shelf, but keeping you there with their brilliant stories:
Strange and beautiful, indeed. This cover doesn't give away much if you haven't read the book, but it's an excellent hint at the mystery that awaits.
Cress by Marissa Meyer
A rope of hair, a young girl, a darkened room. This cover sets the scene for the reinvention of Rapunzel as a princess trapped in space marvelously.
This cover is a bit brooding, with a few mixed signals thrown in: the flower crown, the virginal dress. But this cover can be trusted, because the book is both light and dark, intricate and simple, a love story, and not a love story.
This Russian-steampunk-inspired cover looks beautiful on your shelf, and holds an amazing story within.
Featuring the art of the famed underwater photographer Elena Kalis, this cover is haunting and beautiful, to match the story within.
With the central imagery of ivy intertwining through the words of the title, this cover looks a little spooky. And since the story's about witches and secrets, that's pretty fitting.
Alison Sekemoto is just a vampire trying to do what's right in this post-apocalyptic world, and a heroine as strong as her deserves a cover as strong as this.
As far as billowing dresses go, this artwork nails it beautifully. The story of a girl trapped in the underworld is foreshadowed in the smoky details.
Stray by Elissa Sussman
A melancholy, gorgeous dark cover for a book that's intricate and, yes, gorgeous.
This pretty cover was a wise choice, seeing as the book is about trolls trapped by a witch's curse. But it's about much more than that, as the artwork depicts.
A book about a teenage Harpy? Admit it, you already want to read it. But this feather festooned cover closes the deal.
At first glance it's just a pretty necklace... that is, until you see the knife stabbed through the middle. It's a great way of showcasing the dainty and dangerous story within.
A girl on a rocky coastline, staring up at a lighthouse suffused with an eerie glow? Count me in.
At first glance, this looks almost too pretty. But it debuted to rave reviews for a reason, and that's not just because of what's on the front.
The publicity tagline is "lyrical, gothic, and magical," and this cover makes that promise well.
The tantalizing whisp of smoke on the cover lures you in, and the intriguing tale of jinnis and mixed identities is worth the plunge.
It's a complex cover... with a complex story to match.
A beautiful, late-summer walk that holds a story just as perfect as those waves.
This is a dense, original fairy tale, with a cover you can't stop staring at.
A mystery about a castle and what lies in the center of it is the driving force of both this book and its cover.
Golden tattoos and golden skin tease a tale of secrets and lies.
Perhaps the most stunning debut cover of the year with a story that does not disappoint.
A ghost, a slaughterhouse, and the young girl at the center of it, all depicted in the shadows and gauze of this beautiful cover.
This is a striking cover and a striking book that's soared to the top of bestseller lists since its publication.
You wouldn't think a retelling of Jane Austen's Persuasion could work when set in an alternate island universe, but it does. The cover's a beautiful bonus.
Maggie Stiefvater doesn't write your usual kind of books, and so her books deserve unusually beautiful covers.
If Gatsby were reimagined as a teenage daughter of a senator, this is the kind of cover (and book) it would have.
It's a story of family, loss, and first loves, reflected in the deeply evocative cover art.
This book started off as a self-published novel, but was snapped up quick by a traditional publisher because of how stunning the story is. This cover lives up to that promise.
Assassin nuns and historical intrigue are the selling points of this story, and the beautiful girl on the cover in a sweeping red dress might not seem to fit... until you notice she's holding a deadly weapon.