The Top 10 U.S. Towns for Holiday Spirit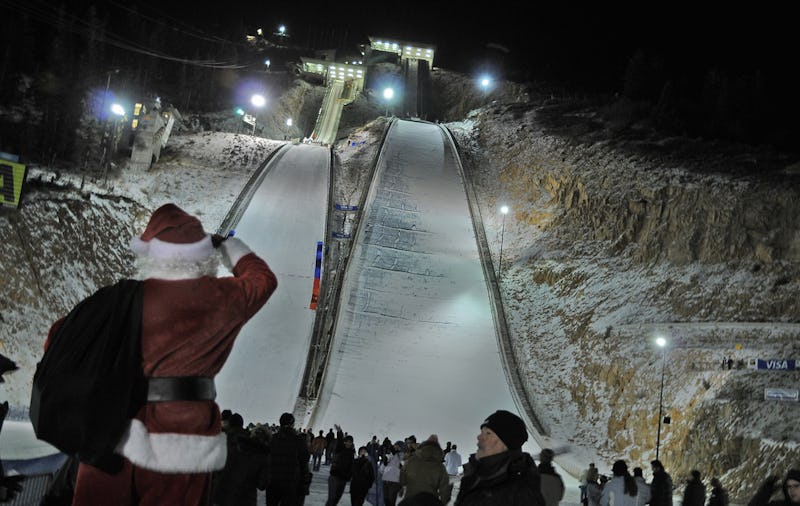 Now that Thanksgiving is here, the winter holiday season is about to kick into high gear — so why not usher in its arrival by checking out the top 10 places in America for holiday cheer? As part of their America's Favorite Places survey, Travel and Leisure collected data from readers about hundreds of towns across the country, scoring them on their holiday cheer factor and ranking them accordingly. The survey considered a bunch of different categories, from department store shopping to Christmas/holiday lights; the top 25 towns also each boast some unique holiday traditions, as well. Fun fact: Santa goes skiing in one of the locations. For reals. I have photographic proof, and it's just as impressive as you think it is.
But hey, even if your town didn't make the list, don't sweat it; the holidays are only what you make of them, after all. If there's one thing I learned from The Nightmare Before Christmas, it's that summoning up your own holiday cheer is all that's needed for a fabulous and festive time.
Check out the top 10 cities and towns below; see the list of all 25 places over at Travel and Leisure. Happy holidays!
1. Aspen, CO
I'm not at all surprised to see that a place in Colorado took the top slot; when most people think of the quintessential white Christmas, what they see in their heads probably looks a lot like a quaint town in the Rocky Mountains. The big draw here is apparently the food: Cookie exchanges, public s'mores roasts, and amazing holiday meals at places like the Ajax Tavern.
2. Vail, CO
One word: Skiing.
3. Ogunquit, ME
This? This fills me with joy and delight. My folks have a summer place up in Ogunquit, and although it's really effing cold in the winter, it is absolutely gorgeous. If you're in the area, don't miss the Christmas by the Sea festivities. Awww. Now I feel all warm and fuzzy inside.
4. Nantucket, MA
The holidays in New England are pretty awesome (source: I grew up there). There's something about coastal towns during the winter season that's just the best. Nantucket has loads of activities, from shopping to wine tasting, so get out there and spread some holiday cheer.
5. Naples, FL
Who says you need snow to celebrate the holidays? Have all the fun without the cold by heading to this Florida destination. Nothing says "holiday spirit" like the annual TUBA Christmas brass band concert, right?
6. Breckenridge, CO
I've never witnessed the Race of the Santas, but it's on my bucket list. Seriously, you guys — all those red-clad figures sprinting down the streets of Breckenridge must be a sight to behold.
7. Lewisburg, WV
Apparently there is a bakery in Lewisburg simply called The Bakery that serves pumpkin bagels. Right now, I am like this:
8. Beaufort, NC
Have a very Southern holiday by watching the Crystal Coast Christmas Flotilla parade during the first weekend in December.
9. Carmel-by-the-Sea, CA
There's a gigantic tree located at the corner of Junipero and Ocean avenues that gets all lit up during a huge celebration at the beginning of the holiday season in Carmel; this year, it's taking place on December 5. Don't miss it!
10. Park City, UT
The Sundance Film Festival isn't the only event Park City is known for. Santa likes to hit the ski slopes on Christmas Eve before parading down the city's PayDay trail. Skiing Santa? You win.
Head on over to Travel and Leisure to see the rest!
Images: chuck.miser, dianaoftripoli, Kari Kilgore, Massachusetts Office of Travel and Tourism, Denise Wauters Johnson, ncculture, tomkellyphoto/Flickr; Lewisburg WV, Carmel-by-the-Sea/Facebook; WeKnowMemes