Winter Nail Art For Any Skill Level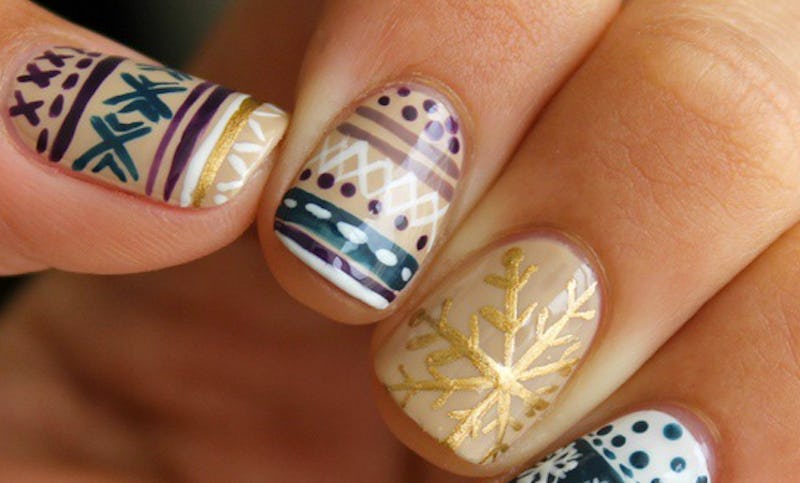 Let's face it. The power of a good manicure is real. And when it comes to the winter season, an appropriate one not only keeps up the festive spirit but also takes away some of the cold-weather blues. Here in central North Carolina, we don't tend to get much snow (if we get snow at all), so this time of year is my favorite to break out the white glitters. But maybe the best part of a winter nail art is that basically any color scheme will work.
Jewel tones, midnight blues, foils... anything, really, is winter appropriate. And if you're not into all the dark hues that are generally associated with the fall and winter, opt for some pastels instead. Where they might have been considered "out of season" for the fall, whites and pastel blues are perfect for the winter. But if you like to go a little harder with your manicure, nail art can really take your winter theme to the next level.
Instagram has a whole host of amazing winter-themed manicures, but these are some of my favorites. Whether you want to make up for a lack of snow with some frosty nail art or want a cozier feel with sweater nail art, these manicures can inspire any skill level.
Easy
Sweater-inspired nails? Yes, please! Though these are stamped on, nail wraps make getting this complex look super simple.
Give your nails a frosty look with snowflake decals. Silver or white ones will look gorgeous against any polish color.
Nails will look like a winter wonderland with white polish and holographic glitter.
Medium
Start with a blue-toned ombré, and top it off with stamped or free handed snowflakes.
Strategically place white glitter and pearl accents for a frosty effect.
Utilize a classic French manicure as a snowy base for a winter landscape. And how cute is that snowman?
Difficult
Up your sweater-weather game with coordinating patterns. Make sure to have a dotting tool and striping brush on hand (heh) for this one.
Top of your wintery gradient with snowflake glitter and a cute penguin accent.
And if it's too cold to make snowmen outside, make them on your nails. Bonus? These ones won't melt.