How To Spend Christmas with The Muppets & Scrooge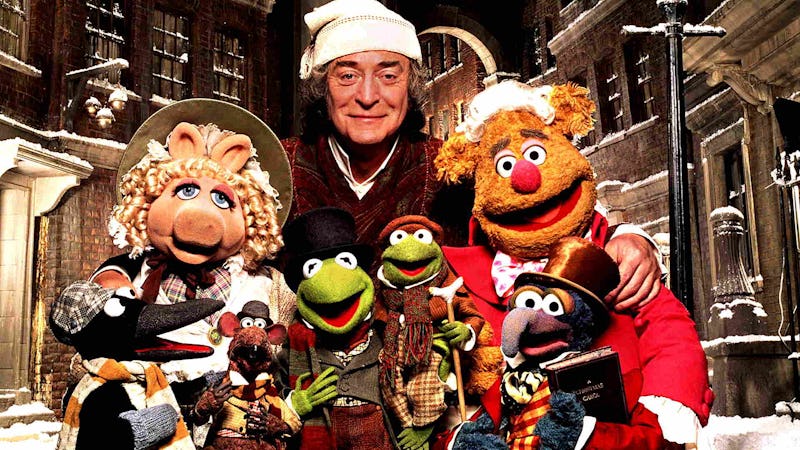 I have never been one for the holiday season. But I can't lie, I love a good holiday movie, the weirder or more genuinely heartfelt the better. What's one holiday film I watch nearly every Christmas season? The Muppet Christmas Carol . It's one of the few films that always lifts my spirits every time I watch it, which has been essential during holiday seasons when I am celebrating solo. Plus, I have always loved Miss Piggy and her oddly antagonistic romance with Kermit. And the film has Michael Caine as Scrooge! So, what's not to love?
If you want to watch The Muppet Christmas Carol this year, I have good and bad news. There are currently no TV listings for the movie, but it is available to stream on Netflix Instant, as well as to purchase on iTunes and Amazon Instant Video. You can can also purchase the DVD on Amazon. However, The Muppet Christmas Carol isn't the only movie worth watching this time of year. If you like holiday films that are joyful, heartfelt, and even sometimes a bit weird, you'll enjoy everything on this list. For the record, all of these films and shows can also be found on either Netflix Instant or Amazon Instant Video. Without further ado...
Trading Places
Eddie Murphy's street hustler takes on the well-mannered, high-financed existence of Dan Aykroyd through a set of only-in-the-movies circumstances. Hijinks ensue.
Futurama
Futurama is always at its best when it balances irreverence, outright weirdness, and genuine emotion. So you can't go wrong watching the gang of Planet Express deal with a killer robot version Santa Claus in the Season 2 "Xmas Story" episode.
White Christmas
The 1954 film is full of such joy even family members who don't usually give classic films a chance will love it.
The Holiday
First of all, Jude Law looks gorgeous (especially in glasses). The homes traded by Kate Winslet and Cameron Diaz's characters in the beginning of the film are envious in their beauty, and sometimes you just want a cute, harmless movie that makes life seem so much simpler than it really is.
Miss Fisher's Murder Mysteries
This is definitely off the beaten path, but after finishing watching both Seasons 1 and 2 for the first time, I couldn't help but recommending it. Miss Fisher's Murder Mysteries is as delightful and frothy as a good gin fizz. It's a heady mix of gripping murder mystery, saucy dames, romance, and just plain fun. For your holiday marathon check out the Season 2 episode "Murder Under the Mistletoe." While it would be better if you watched the entire show before this episode (and you should!) you won't be lost at all if you've never seen this fun show before.
The Apartment
Are you looking for a holiday film that is both bittersweet and immensely heartfelt? Do you love classic film but don't know where to start? Then The Apartment, the Billy Wilder film from 1960, is perfect for you. I'm pretty sure I can argue successfully (no matter how much alcohol-laced eggnog I've had) that The Apartment is the most well-written, emotionally moving, and honest holiday movie ever. Point blank period.
Images: Buena Vista Pictures; daysuntilchristmas, eyesfrontphryne/Tumblr; Giphy (3)