100 Years of Beauty in 1 Minute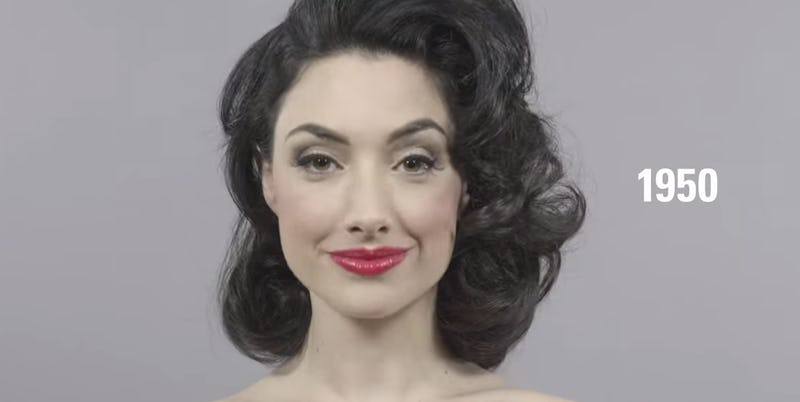 It can be exhausting keeping up with new trends. I mean, one day long hair is in and then the next everyone in Hollywood is cutting their hair into bobs and lobs (a word that I still don't think we really needed). But if you think trends changing every season is overwhelming, try getting a handle on beauty trends throughout history. A new YouTube video, 100 years of beauty in 1 minute, shows beauty standards over 100 years, and it's safe to say that things have gotten a lot less glam in the 2000s.
The video, which is one-minute-long, goes through a quick time lapse from 1910 to 2010. The model cycles through the flapper look (think short, bobbed curls and painted lips), to the 40's pinup (slightly longer hair, elegantly coiffed and porcelain doll-like make-up), to the 60's mod (bombshell, voluminous curls, sea green eye-shadow and pink lipstick). But as the decades near the present, you see the looks get a lot more....relaxed. The model even channels Alanis Morissette in the 90's with long, straight hair and a pretty much bare face. 2000 hits on grunge with a smokey eye and messy-hair, and 2010 is pretty much what you'd expect it to be — loose beach waves and the model snapping a selfie. Watching this video makes me slightly embarrassed for this decade's imprint on beauty. Can we somehow transition back to the timeless glam, please?
Images: Youtube