12 Holiday Gifts For The Beyoncé Fan In Your Life — PHOTOS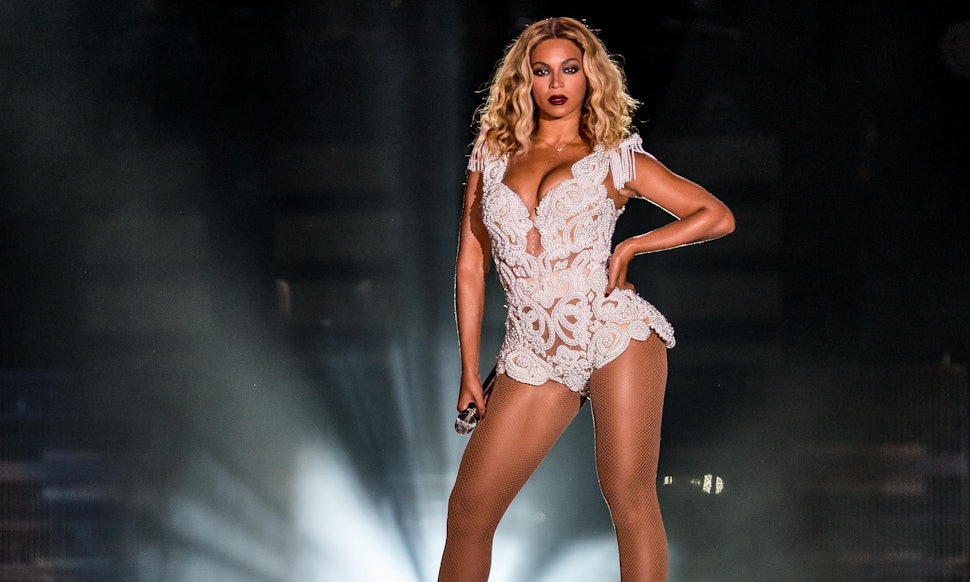 Buda Mendes/Getty Images Entertainment/Getty Images
There's a lot of extremely tacky fan merchandise out there. But of course, if you're a fan of Beyoncé, it follows that you'd be a lover of non-tacky things, given that Beyoncé is the Official Queen of Everything, including Class and Style. If you're in the midst of holiday shopping and have a fervent Bey Hiver in your midst (or are one yourself and want to have a cheeky treat yourself moment), I've found all the Beyst Beyoncé Beyounty on the Internet. It's aBeyzing. And everything on this list is designed to fit in with the most design magaziney interiors and "far-shun dah-ling!" wardrobes, because no Beyoncé fan wants a pair of tacky resin Beyoncé face earrings or an Ed Hardy style bedazzled tour shirt. No, we want the hot ish: Manolo Blahnik-level Beyoncé merch and fan art.
Whatever your still Beyting heart desires, I've got it on this list, from art prints, notebooks and pencils to mugs, apparel and even tools for religious worship. Beyoncé is truly the gift that keeps on giving, so why don't spread a little Bey-style joy this holiday season? "I've got too much Beyoncé in my life!" said no body, ever, so shower yourself and all the other Beylievers (yes, I'm co-opting that, Bieber) in Bey Drunk Love.
This fan art print from Society6 reminds me of a vintage horoscope drawing. Oh, to be born under the sign of Beyoncé!
"Bey Yourself" Framed Art Print, $34, Society 6
For the writer in your life (hint: me) these cute notebooks are the perfect gift, because what better way to seek creative inspiration than under the muse Beyoncé?
Beyonce Notebook Set, $13, Etsy
I'm not generally one for wearing your music on your t-shirt, but this pop-art mash-up of Beyoncé and the Queen of England is incredible.
Beyonce the Queen T-Shirt, $20, Etsy
Put the Queen and her King up on a Beyoncé fan's wall this holiday season so they can show their allegiance to the monarchy.
"Royal Carters", Framed Art Print By Claire Hylands, $61, Society 6
Devotional candles of celebrities are a "thing" now for sure, but all the rest are idiotic. Beyoncé's is the only one that counts because she's the only one worth worshipping.
Beyoncé "Lady Bey" Altar Candle, $13, Etsy
I love, LOVE this "Drunk In Love" retro style poster for its reference to Jaws. LOVE.
Beyonce Surfboard Poster, $17, Etsy
A perfect way for a Beyoncé fan to enjoy morning coffee is with the addendum that despite their stale breath, baggy eyes and unbrushed hair, they are indeed flawless for having woken up like that.
"I Woke Up Like This" Gold Mug, $15, Etsy
These embossed pencils are a delightful edition to any desk, even if said desk owner hasn't picked up a manual writing device in years.
Flawless Beyoncé Pencil Set, $8, Etsy
Sure we've got "Drunk In Love" and "Flawless" now but "Single Ladies" will always hold a special place in a Beyoncé fans heart, so this holiday season say it with "Single Ladies" typography.
Of all the merch to come out of Beyoncé's visual album, the "Surfboard" sweatshirt is the only thing a real fan needs.
"Surfboard" Crew Neck Sweatshirt, $41, Beyonce
This is a printable piece of art so it means you can print one for yourself and one for your friend, and ask yourselves each and every day, "What WOULD Beyoncé do?" (The answer, in case you were wondering, is always "Be amazing" or "Fix her dress while pretending you're not kicking her husband").
"What Would Beyonce Do" Printable Wall Art, $3, Etsy